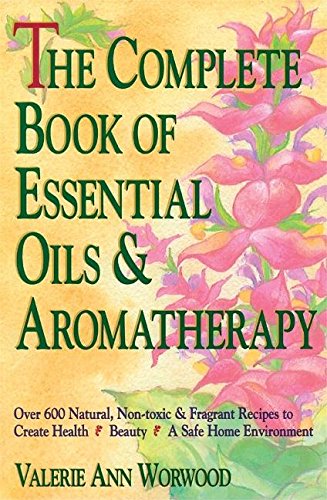 
 
The Complete Book of Essential Oils and Aromatherapy
Book Overview
This Description may be from another edition of this product.
Looking for books on essential oils?

Completely updated essential oils book: The Complete Book of Essential Oils and Aromatherapy might be the best aromatherapy book available anywhere. And, it just got better

If you liked Modern Essentials, you'll love this essential oils favorite: The Complete Book of Essential Oils and Aromatherapy, Revised and Expanded is a necessary resource for anyone interested in alternative approaches to healing and lifestyle. This new edition contains more than 800 easy-to-follow recipes for essential oil treatments from Valerie Ann Worwood, a consultant and expert on the clinical uses of essential oils internationally.

Explore the multitude of benefits of essential oils and aromatherapy: In her clear and positive voice, Worwood provides tools to address a variety of health issues, including specific advice for children, women, men, and seniors. This aromatheraphy book also covers self-defense against microbes and contaminants, emotional challenges, care for the home and workplace, and applications for athletes, dancers, travelers, cooks, gardeners, and animal lovers. Worwood also offers us her expertise in the use of essential oils in beauty and spa Read More chevron_right
Frequently bought together
Frequently Asked Questions About The Complete Book of Essential Oils and Aromatherapy
Books like The Complete Book of Essential Oils and Aromatherapy
What should you read after The Complete Book of Essential Oils and Aromatherapy Book? Here is a list of books to read if you read and loved The Complete Book of Essential Oils and Aromatherapy
Book Reviews
(13)
Did you read The Complete Book of Essential Oils and Aromatherapy? Please provide your feedback and rating to help other readers.
Must Have Book

Derived From Web

, Apr 20, 2022

This is the book your doctor, dentist and the CEO's do not want you to read. Essential oils are not only for the human body, but also for pets, gardens and the whole house. The author also covers many of these subjects in his book. Also included are many oil solutions that can be used by consumers with allergies or low tolerance for some alternative oils. Really an excellent book and I would highly recommend it to anyone that is seeking to unlock nature's medicine cabinet, said Robert Hein.
good resource

Derived From Web

, Apr 20, 2022

I selected this book largely because of the great reviews, and I was not disappointed, he said. The book traces the history of essential oils and their uses. She explains why some oils are more expensive than others, how the oils are extracted from the plants and how the body gets rid of them. The book categories themselves are larger than those of most medical books, which include everything from congestion to bug bites to beauty. I also really enjoy that the author lists her recommended oil blends to use, but also has a list of all the oils that are good for whatever you are talking about. This is helpful because most people don't have every single drop of oil she mentions.
Love the book, hate the formatting of the Kindle version

Derived From Web

, Apr 20, 2022

I really like this book, and I think it's great. The only problem is that the text goes off of the end of the digital page and wraps into the next line on the right side. You end up with text on top of text and unable to read parts of it. It is very rare and seems to be confined to tables that are wrapping incorrectly. Still it is irritating and seems to happen most frequently when recipes for oil blends are being viewed. It's just that bad enough that I wish I had ordered the paperback version. However, I can't say what the hell is in there. In some instances, I can't. Only 26 percent of the book has been completed. It may get worse and better from here. Super annoying.
A good book!

Derived From Web

, Apr 20, 2022

Pauley also writes a good book on essential oils and aromatherapy. It has some great ways to index oils, so you can find what you're looking for. It was definitely helpful to me in deciding which oils to purchase for my beginner's set, and then which others I wanted to slowly obtain, he said. The one thing I do remember about this, and I apologize if I am wrong as I don't have the book near me for reference, but I also remember thinking that it was a little outdated. I don't know when it was written and I apologize if that is not the case. It's just that there is so much info out there on oils that is really up to date and I'm always trying to keep up with it and keep track of the content, So it would be really nice to have a bound copy like this book with completely updated information! HBO said it would renew the series "Vinyl" for another two seasons.
Aromatherapy

Derived From Web

, Apr 20, 2022

Amazon also sells the book as an e-book. I really like the way the author laid out the concepts in the book, said Dr. Robert O'Neill, director of the federal Centers for Disease Control and Prevention. Even tells you how to use the book to better understand what you are looking for, but also describing chemotypes, and adapting them to suit your needs. There are multiple charts with drop-down arrows that provide more information about the oil, carrier, or how to use the sprayer. In addition, he provided information on the essential oils that one should have on hand to care for daily needs. This book is well-written and easy to assimilate, said Paul LiCalsi. Essential Oils for Beginners is a book for the beginner and those who enjoy learning more about essential oils and their use to improve our daily living. The book is rated 4 out of 5 by Amazon. com. However, you may not always get exactly what you need for that treatment.
NOT FOR EVERYBODY

Derived From Web

, Apr 20, 2022

Essential Oils: The Handbook for Home Use is just okay, covers just about everything you can do with essential oils, except perhaps too much. I really didn't want to cook just because you can add the oils to recipes, and there are too many food recipes as far as I'm concerned, but then again, I guess that's what makes it a complete book on essential oils. Of course, it cover the holistic and beauty topics well also, but I wouldn't buy this book if I had it to do over.
A Great Resource

Derived From Web

, Apr 20, 2022

Yes, I was reluctant to get this book, but I'm glad I did. There is a wealth of information on essential oils in the book, which will surely come in handy for years to come. Definitely a great resource for anyone who's interested in these essential oils, even if they just got into using them, Caron said. There are so many great books out there, I'm glad I chose this one.
My daughter had this book and I borrowed it from ...

Derived From Web

, Apr 20, 2022

After reading several of her books, I decided to order my own book so that I could give hers back to her. She uses this book all the time to get information about essential oils. I am new to the essential oil use and this book has helped me tremendously.
Too muchh information

Derived From Web

, Apr 20, 2022

It was great to hear the creator of the game say it was just TMI _ I just wanted an easy DIY read, it was too detailed for me. Tried one of the acne recipes and it actually burned my face plus it was confusing what phase 1 phase 2 phase 3 was.
Essential Oil reference book

Derived From Web

, Apr 20, 2022

This book is a great go-to reference guide, highly informational on a wide variety of essential oils, their uses and applications, recipes and tips. The book walks the reader through the many uses of essential oils and how they can be used topically. He said safety was his number one priority and that Bombardier employees "performed admirably." The book includes a section on pet care which I have referenced multiple times.