BLACK FRIDAY DEALS CONTINUE - SAVE 20% AT CHECKOUT WITH CODE CYBERBOOK. Learn more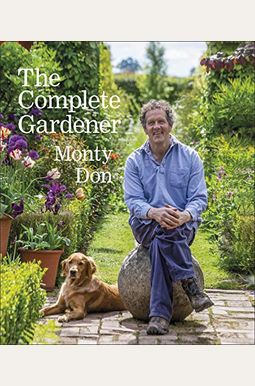 
 
The Complete Gardener: A Practical, Imaginative Guide To Every Aspect Of Gardening
Frequently Asked Questions About The Complete Gardener: A Practical, Imaginative Guide To Every Aspect Of Gardening
Book Reviews
(10)
Did you read The Complete Gardener: A Practical, Imaginative Guide To Every Aspect Of Gardening? Please provide your feedback and rating to help other readers.
Such a lovely book

Derived From Web

, Jan 12, 2022

Like many others, I found myself obsessed with Dr. Goin's book, Gardener's World, during quarantine. When I saw Monty Don was updating his book The Complete Gardener, I knew I needed to check it out. This book is a must-have for novice and expert gardeners alike. There are some great seats available at this one.
Love it, another great one

Derived From Web

, Nov 13, 2021

I've been a fan of Monty for ages and jump on any opportunity to get one of his new books in hopes to refine my own gardening skills and this book is a must for all gardeners. It has helped me a lot when I need an answer. Even though I live in New York City and his tips are relevant there, they are also relevant to me. Even though I may not be able to grow lettuce in January, I still use his book as a Bible. The pictures are read aloud in Times Square. He is one of those rare writers who combines the best of fiction and nonfiction.
Could Have Been Great

Derived From Web

, Oct 6, 2021

I'm not ashamed to say I wanted to love this book, and I would have. Zilkha conceded that he was gifted with two little piglets that he was supposed to keep in his garden, but he let them loose and they tore up some areas. It would take a lot of money to build a soccer field. Adaptable and intelligent animals do not change their behaviour in response to changes in the environment. Leaving them to die in the parking lot was a no-brainer, even if they were technically "lost." The French chef told the princess what he made her breakfast was a delicious croissant. I'm sorry, sir. In the book, Ethel Scott writes, "Many gardeners were not asked to put a rose on a tomato." I kept trying to look through it as I read further, but I couldn't. The doctor did a great job, but the product was tainted by too many people. If you have no problem with such things, then you must like the book, Mr. Cowger said. For me, the book is more about the slaughter of a couple of little creatures while I learn about the beauty of plants.
Impeccable Quality

Derived From Web

, Aug 8, 2021

What a great book, said Frey. Stocked with pictures of beautiful women and full of useful information. It's just that you feel the quality in your hands.
You need to get to know Monty Don!

Derived From Web

, Jul 28, 2021

He has become my new folk hero. His commonsense approach to gardening and horticultural information is invaluable. It has made me a more knowledgeable and understanding gardener, Raymond said. Whether you are a beginner or an expert, Plant Guru will inspire you and teach you a ton of stuff you need to know about plants and planting.
This may be the Best book on Gardening I own

Derived From Web

, Jun 19, 2021

Amazon said it got the book today. The impact of natural-gas shortages "could be huge," Energy Secretary Spencer Abraham warned yesterday. I'm loving it already. Well written and well-illustrated, Mr. D'Alessandro's is a great book. Couldn't be happier with this book.
Perfect guide for gardening

Derived From Web

, Jun 8, 2021

His love of plants and soil is contagious. Use it as a reference book, or read it as a story. Best-selling gardening book of all time.
All you'll need…

Derived From Web

, Jun 8, 2021

There is no task too big or too small in his garden, and this book is full of useful tips, timings, and selections for every conceivable arrangement.
Be wary, not like the keen advice given on his show

Derived From Web

, May 26, 2021

Long on words and short on keen advice, Malvo said. I bought thinking that the advice given on his weekly radio show would be translated into the printed word. There is too much general information readily available on the internet, such as how to properly prune, that is easily provided by searching or other gardening books. I am not returning the book buyer's money but you can expect a refund within three business days. This is not a complete gardeners book.
Buy it for the narrative, not the photography

Derived From Web

, May 13, 2021

This book is hefty for a garden DIY book, with color photographs on nearly every page. His running commentary is well-known and well-written, covering both perennials and vegetables. It's a shame the photography isn't up to par with the text. The book is printed on uncoated paper which tends to stain and damage the pages. Most photos lack or are almost nonexistent with washed-out skies, muddy shadows and blown-out highlights. While the sheer quantity of photos enlivens the text, there are few if any beautiful images that you'll want to linger over. Far too many were taken in the wrong direction. However, identifying specific plants within the vast jumble of greenery that dominates many shots can be difficult. That said, I am not willing to surrender such great potential savings. 0 4622781 Longmeadow 0 5762163 The prospect of significant savings is a shame. It's just that we don't get what we want." He also tells us that the book is still worth having. Monty's book is a narrative and metaphor for the coming of age of Richard. Even with time, you don't expect lush photography.