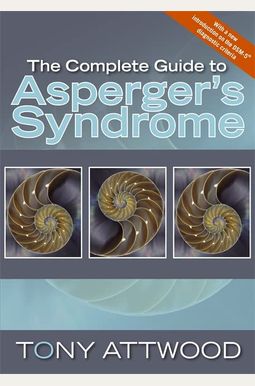  
The Complete Guide To Asperger's Syndrome
Book Overview
This Description may be from another edition of this product.
The Complete Guide to Asperger's Syndrome is the definitive handbook for anyone affected by Asperger's syndrome (AS). Now including a new introduction explaining the impact of DSM-5 on the diagnosis and approach to AS, it brings together a wealth of information on all aspects of the syndrome for children through to adults.
Drawing on case studies and personal accounts from Attwood's extensive clinical experience, and from his correspondence with individuals with AS, this book is both authoritative and extremely accessible. Chapters examine:
* causes and indications of the syndrome
* the diagnosis and its effect on the individual
* theory of mind * the perception of emotions in self and others
* social interaction, including friendships
* long-term relationships
* teasing, bullying and mental health issues
* the effect of AS on language and cognitive abilities, sensory sensitivity, movement and co-ordination skills
* career development.
There is also an invaluable frequently asked questions chapter and a section listing useful resources for anyone wishing to find further information on a particular aspect of AS, as well as literature and educational tools. Essential reading for families and individuals affected by AS as well as teachers, professionals
Read More chevron_right
Frequently bought together
Frequently Asked Questions About The Complete Guide To Asperger's Syndrome
Books like The Complete Guide To Asperger's Syndrome
Book Reviews
(10)
Did you read The Complete Guide To Asperger's Syndrome? Please provide your feedback and rating to help other readers.
Now I Understand

Derived From Web

, May 21, 2022

I am just uncoordinated and not trying to hurt myself. That my escape into the imagination does not mean that I am insane. This book explained all the things I just couldn t understand about who I am. It also explained why other people respond in the way they do to me. My mother did not reject me, she thought it was her fault that I was different. And now I understand that I don 't have to be afraid all the time. There is much more to read and take on board. Tony Attwood thanks you for writing this book.
Must have if you have an interest in the subject

Derived From Web

, May 21, 2022

I don 't think you'll find a better book on the subject of Asperger's syndrome available. I did, however, give this to a layperson who was my friend without any background in this kind of stuff and they found it too complicated or in depth. I personally thought it was great and accessible, but if you're just starting to research this material, buy this book and then another introductory book as well.
Such valuable information

Derived From Web

, May 21, 2022

This book has a lot of valuable information for someone with Asperger or their family. Reading is essential. It covers many aspects of the syndrome, ways to deal with them and recognize them.
The most helpful book on Aspergers

Derived From Web

, May 21, 2022

I read a lot of books on Aspergers because there are very few books out there on IPD or NLD. Most of them are aimed at the parents of recently diagnosed young children, but as an adult on the spectrum, I was looking for a reference book that covered a wider range of issues. This was the only book I found that spoke about issues that adults might encounter, possible solutions and specifically how Aspergers affects women, both directly and indirectly. After having this book, every other asperger is basically useless.
AS for the average person

Derived From Web

, May 21, 2022

If an individual is interested in Asperger and has not a PHD. I recommend this book highly in psychology. The personal testsimonies are the best at bringing the symptoms to a personal level.
Best book on Asperger's

Derived From Web

, May 21, 2022

This book is by far the best information source for Asperger - syndrome. If you don 't have time to read many books on this issue, this is your book.
No table of contents in the kindle version!

Derived From Web

, May 21, 2022

A kindle update with the extra info would carry this to a 5 - star review. Due to this oversight, some readers may prefer the hard copy.
Everything I Could've wanted to know, and then some!

Derived From Web

, May 21, 2022

The information dates from 2007 before the DSM-V came out, but is really the only criticism I have of it. I've highlighted everywhere I saw myself in descriptions... at least 13 of the book is highlighted, and when he describes Aspies in marriage, it's like he heard every complaint that my mother made about my father in 34 years of marriage. If you're an adult, especially an older one, then this won 't help AS much, but it will at least confirm that you are not crazy and that is worth its weight in gold.
I have Asperger's Syndrome

Derived From Web

, Aug 7, 2021

I was recently diagnosed with asperger's syndrome and reading this book has been quite helpful in identifying areas in my life where the syndrome affects. I thought I was a little bit crazy ''. It is nice to find out that I am not! Pro is well presented, clinical as well as anecdotal evidence researched, and the language is not so scientific that I can not understand it. I can 't think of Con 't!
Best resource on ASD/Aspergers!

Derived From Web

, Jan 27, 2018

I was recently diagnosed with ASD and bought 3 copies of this book to loan to friends and family as I slowly tell them of my diagnosis. I read many different books on autismasperger's, and this is by far the best. Tony Attwood explains the condition in a way that is easy to understand and approach even for non-experts or people who had never heard the condition before. I would highly recommend this book to anyone who is recently diagnosed, thinks they might have it, has friends or family on the spectrum or is just interested in it and wants to learn more about it.