BLACK FRIDAY DEALS CONTINUE - SAVE 20% AT CHECKOUT WITH CODE CYBERBOOK. Learn more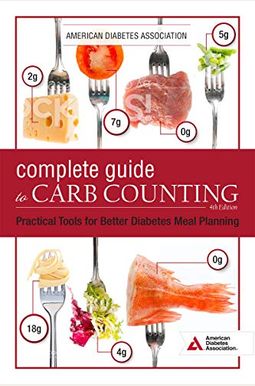  
The Complete Guide To Carb Counting, 4th Edition: Practical Tools For Better Diabetes Meal Planning
Book Overview
The bestselling guide to carb counting from the American Diabetes Association is now better and more comprehensive than ever
If you are managing type 1 or type 2 diabetes, you need to know your carbs--what they are, which foods contain them, how many you're eating, and how to match them to your medication. This new edition of the bestselling guide from the American Diabetes Association is here to help.
The completely revised Complete Guide to Carb Counting, 4th edition, from the nutrition experts at the American Diabetes Association, provides you with the knowledge and the tools to put carbohydrate counting into practice. Updated from top to bottom to include the latest science on meal planning, low-carbohydrate diets, and evidence-based nutrition advice, this edition also introduces and explains carb counting concepts as you'll need them in your diabetes care plan. Inside, you'll learn:
Why carb counting helps you manage your blood sugar
The amount of carb to eat
How to count the carbohydrates in meals
How to count carbs using food labels, restaurant menus, and your eyes, too
Much more

This is THE meal planning system every carb-counting person with diabetes needs to manage their blood glucose, now updated and more comprehensive than ever.
Frequently Asked Questions About The Complete Guide To Carb Counting, 4th Edition: Practical Tools For Better Diabetes Meal Planning
Book Reviews
(10)
Did you read The Complete Guide To Carb Counting, 4th Edition: Practical Tools For Better Diabetes Meal Planning? Please provide your feedback and rating to help other readers.
Carbohydrates: what to eat and how much to keep you healthy.

Derived From Web

, Apr 8, 2021

This is a great book for people who want to learn why it's important to count calories. I have kept my numbers in a good range and I am pre- diabetic. I have learned how many serves I need to keep my health up. This is a long process of loving myself enough to care about what I put in my body. You can make better choices and still have cake if you commit yourself to learning what your daily requirement is and portion control.
Rip Off

Derived From Web

, Feb 9, 2021

I was looking for a book with complete counts. That is what it says on the cover. The book is very thin and not complete on diabetes. There are a few pages of food listings. The counts are incorrect. The seller wants to top it all off by shipping it back for $5.99. I ship by media mail several times a week and this little book costs less than $3 to ship. I can either dump it in the thrift store pile or send it back with a partial refund. Thank you so much, huge ripoff. Stay away from the seller. It's!
0 stars more apropriate

Derived From Web

, Dec 2, 2020

This doesn't give any more information than what is available for free on the internet. Not worth buying
Great book for anyone who was just told they have pre-diabetes or diabetes.

Derived From Web

, Oct 17, 2020

This book helped me a lot. Everything you need to know if you have pre- diabetes. It is easy to read and comprehend. It will be easier because of the great examples. A lot of different types of food have a list of carbs. There are resources for a lot of things. I would recommend it to others.
Not exactly what I was looking for

Derived From Web

, Jul 12, 2020

I was looking for a book that had all the foods in it with the count. The book is good for people new to diabetes.
Definitely Not Complete Book on Carbs In Your diet.

Derived From Web

, Sep 18, 2019

A book with a complete list of foods was what I wanted. The book isn't detail oriented in which foods it lists. Eggs should be included in this list. Many people eat them. I ordered a book that has everything from popular restaurants. This book does not have that in it.
book

Derived From Web

, Aug 22, 2019

It will help me control my intake. It would be good for a person with a diabetes. I didn't find it very helpful because I was just looking for diet info.
Must have

Derived From Web

, Jun 30, 2019

This is critical. I couldn't find online guides that fully covered this topic. There is a lack of free information. It's a great book, I bought it. Since this is so important, more info should be readily available.
Best book ever on carbs!

Derived From Web

, Jun 28, 2019

The book is great. I wish I had this when I was first diagnosed with diabetes. My sister has just been diagnosed and I purchased for her.
Great Book

Derived From Web

, Apr 2, 2019

This book and Choose your Foods were recommended to me by the nutrition class I just took. It will be a good reference for me, as it is clearly written. I know I can't remember everything we talked about in class. I enjoy reading this book to refresh my memory and discuss what I learned in class.