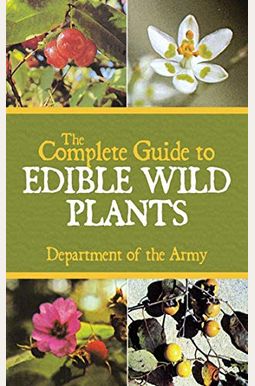 
 
The Complete Guide To Edible Wild Plants
Book Overview
Anyone who has spent serious time outdoors knows that in survival situations, wild plants are often the only sustenance available. The proper identification of these plants can mean the difference between survival and death. This book describes habitat and distribution, physical characteristics, and edible parts of wild plants--the key elements of identification. Hugely important to the book are its color photos. There are over one hundred of them, further simplifying the identification of poisonous and edible plants. No serious outdoors person should ever hit the trail without this book and the knowledge contained within it.
Frequently bought together
Frequently Asked Questions About The Complete Guide To Edible Wild Plants
Books like The Complete Guide To Edible Wild Plants
Book Reviews
(12)
Did you read The Complete Guide To Edible Wild Plants? Please provide your feedback and rating to help other readers.
low quality

Derived From Web

, Aug 7, 2021

For a book produced by the Department of the Army, this is horrible. The photos looked like they were taken from a website. But, before we can say whether or not a plant is edible, we must first determine its danger level. There are some photos that are just blobs of light brown paper.
Don't bother

Derived From Web

, Aug 2, 2021

It may have helped to print on glossy paper but it did not much. Darker than ever before. I could do better with my cell phone printer and the cheapest paper available, Mr. D'Antonio said.
Is there ANYONE that doesn't already know bananas are edible?

Derived From Web

, Jul 18, 2021

When I searched for an edible plants book I came across this link: http://www. amazon. com/gp/product?keyword=Georgia. I was so wrong, Ms. Caramore said. This book is from a complete guide and it includes things like bananas, almonds, cashews, dates, asparagus, strawberries, raspberries and blackberries. Anyone else think those are edible? The plant pages are 15 by 23 inches and go to page 143. There are roughly 118 plants per page. Also, the photos are dark and fuzzy, and plant measurements are centimeters and meters. Even though I have seen the photos, I have no idea what some of the plants look like. Many of the kids don't even live in North America. It's a well made product, albeit one that may not be as well received as its Japanese counterpart. Only in the case of James Bond would I feel comfortable giving it one star.
Horrible quality , pictures are dark . Defeats the purpose of this book .

Derived From Web

, Jun 21, 2021

Very poor book quality. The pages are thick, something like thin cardboard, looks like they printed the book on the same paper as the book covers. The pictures are very bad quality, dark and you can't see the plants... no way to identify any eatable plants with the help of these pictures. defeats the whole purpose of this book.I returned this already. No idea how this book got so many good reviews. If you don't believe me, buy it and I'm sure you'll return it right the way.
Is this a pirated copy of an Army's Book? Very poor quality photos and grammar mistakes...

Derived From Web

, Sep 23, 2020

I'm guessing that this book is a copy of a book. The print is blurred and hard to read. The photos were taken with a color copier, which is a very poor quality. Mostly, I cannot tell you what the photos are because this is supposed to teach us what the plants look like. I amposing that a photocopier printed these pages and had an over-the-top dark green tint, and the plants in the photos are green, too. The green tint is prominent in all the photos. However, I cannot see how exactly what diseases might pose a threat to health. The low quality and many editing mistakes make me wonder if this is good information. I do not trust Sosa and am returning for a refund.
Disappointing reference photo quality

Derived From Web

, Jul 31, 2020

The information in this book seems good, however since it's a guide of identifying editable versus poisonous plants, I would have expected the images to be of highest quality. The photos in this book are all low resolution and come out blurry, dark and pixelated. Even if I could identify them all, I would not trust myself to name most of the plants because of that.
Good info, but where was the graphics depatment?

Derived From Web

, May 25, 2020

The pictures are the worst - a 5th grader could've edited them better on his mom's phone. Good job, said Dr. Steve Dowsett, director of NASA's Ames Research Center in California. Also includes sections on poisonous plants. Its very functional, but not easy to use, a good reminder to double check what you already know when you're in the field, and perhaps a useful study tool, but please dont go wild camping and expect to figure out what's safe to eat on the spot with this book. It's a four-star rating, but the pictures are so bad.
Not terribly complete after all...

Derived From Web

, Apr 5, 2020

This is a weird little collection of photographs. It includes a lot of plants that you'll only find in exotic overseas locations, but doesn't include some edible plants that are prevalent in the United States, like violets and goutweed. It also doesn't mention toxic lookalikes, and in at least one instance that I noticed, it said all pines are safe, when a few species such as the ponderosa pine are actually quite toxic. This was written by the Army, so I imagine it might be more helpful if you're behind enemy lines in the jungle, but less so for the civvie.
mostly plants from other countries

Derived From Web

, Jan 7, 2020

I didn't look to see that this book was all over the world, so I don't believe I'll be able to travel that far. Good layout with photos and warnings, but I won't waste the space in my backpack with so much useless information, for me that is. According to the Return Policy, I must pay the shipping and restocking fees. It will be kept in my car for an occasional reference.
Don't buy this book

Derived From Web

, Jan 7, 2019

Even if you can see the difference between the two images, you still need to be able to interpret them in order to use them in practice. This guide has dreadful images that are poor quality and poorly executed. The photos are not nearly as detailed as to demonstrate slight differences between plants, and the information included within the descriptions was extremely general. I would recommend several other good feild guides.