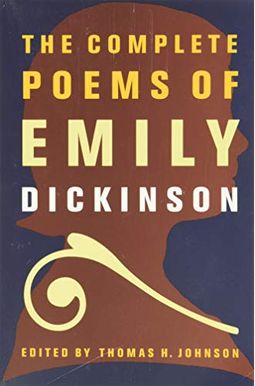 
 
The Complete Poems Of Emily Dickinson
Frequently Asked Questions About The Complete Poems Of Emily Dickinson
Book Reviews
(11)
Did you read The Complete Poems Of Emily Dickinson? Please provide your feedback and rating to help other readers.
Yes!!!!!

Derived From Web

, May 20, 2022

Just take your time and read them all, a few at a time, don 't rush or push or quit, learn as best you can the landscape of thought and reflection natural to her time in Western Massachusetts, the two lives she lived, the natural one in which she was embedded and the inner one her own questioning, assessing, exploring, sometimes doubting the world.
Emily Dickinson is one of the great poets of the ages and this volume by Johnson ...

Derived From Web

, May 20, 2022

Emily Dickinson is one of the great poets of the ages, and this volume by Johnson is a true rendering of her work, as she wrote :
Getting a better feel for Ms. Dickinson's personal character.

Derived From Web

, Sep 4, 2021

When I first started high school, I read some of her poetry. In reading her poetry now, I am at age 18 getting a feeling of unhappiness and a dark side in some. Still love the ones with which I am familiar. An adventure reading this book through... just read it and will continue off and on.
It's not you, it's me...

Derived From Web

, Mar 18, 2021

I don 't know what it was, but I really struggled to get through this collection. I know it is considered classical and the poetry is indeed beautiful, but I could not connect with it on a personal level. The only section that I did not grasp was the very last, dedicated to death and eternity. I felt like Ms. Dickinson truly revealed the enormous power of her talent in those final poems. I wish I could feel the same about the rest of her poems, but it just didn 't happen. It's a case of "it's not you, it's me " so read it and make your own decision.
This is an "economy" publication, not produced with sturdy materials

Derived From Web

, Feb 10, 2021

Paid for a new brand copy, but received a book with the bottom edge notched, which also carried over to the first 8 pages. I understand that this book is an "economy " publication so that I acknowledge that it would look worse with little use.
The Best Dickinson collection!

Derived From Web

, Sep 10, 2020

I am very happy to have a collection of poems by Emily Dickinson. This book is presented in very good condition and is a great service by the seller! This is the best editor of the Dickinson collections. So hard to have such a nice copy! I love Emily Dickinson's poetry ''.
Not the Johnson edition as advertised

Derived From Web

, Jun 15, 2020

This is not the edition listed on the Amazon website. Furthermore, it is almost unimaginable unless you want to read through Dickinson's poems from beginning to end simply. There is no index to first lines or other ways to find individual poems, and the search function on the Kindle does not work to find items within the book that is read within the book. This purchase was a total was a waste of money.
Everything Emily wrote, in chronological order

Derived From Web

, Jan 18, 2020

Emily Dickinson was a slightly deranged Dada poet of the late 19th century, trapped inside the body of a 19th century spinster matron. No one would want to take more than a few pages at a single session, but having her whole life in front of her allows her to read the good stuff. After a while, her limited style and range can be disappointing, but her work is astounding in small doses, which is how she wrote it. If you believe in reincarnation, it is amusing to think of a brilliant male poet who was forced to live in some form of expiation for an entire lifetime as Emily Dickinson.
Very nice edition of the Complete works.

Derived From Web

, Jun 2, 2018

This is the 1951 Thomas H. Johnson edited edition of all Emily Dickinson's work. It has been an interesting journey comparing the three volumes of 1890 with each other. It should be pointed out that the world may never have heard of Emily Dickinson without the work and dedication of the original publishers, which would have been a terrible loss.
Here is Dickinson's intended version.

Derived From Web

, Aug 30, 2017

That is because an editor changed the poems before publishing them long after Dickinson's death, but this collection, edited by Thomas H. Johnson, has Dickinson's original syntax and words. The difference can be stark. Consider's poem 1544 is poetic : Here is the modified version who has not found the Heaven below Will fail of it above. God's residence is next to Mine, His furniture is Love. Here is the intended version of it above --For Angels rent the house next ours,Wherever we remove --There is no comparison. But be careful - it looks like only the hardback is the intended, i.e. Thomas Johnson, version.