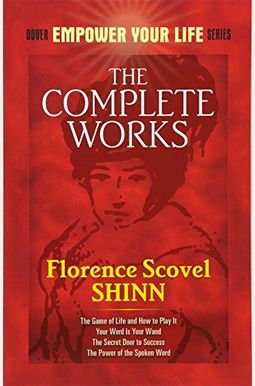 
 
The Complete Works Of Florence Scovel Shinn
Book Overview
This Description may be from another edition of this product.
Florence Scovel Shinn profoundly altered the approach to personal growth and spiritual exploration. This collection features all four of her classic works, offering a wealth of affirmations and success stories.The Game of Life and How to Play ItFirst published in 1925, The Game of Life and How to Play It has inspired thousands of people to find a sense of purpose. Florence Scovel Shinn asserts that life is not a battle but a game of giving and receiving. Whatever we place into the world will eventually be returned to us. This audiobook will help listeners discover how the mind plays a leading role in the game of life.Your Word Is Your WandYour Word Is Your Wand contains powerful affirmations that will help listeners obtain what they want in life and banish what they don't. As applicable today as it was in 1928, this critical guide has been a resource for many people seeking to improve their situations and conditions.The Secret Door to SuccessFlorence Scovel Shinn established herself as one of the most practical prosperity writers of her era. The Secret Door to Success is a series of talks and lectures given by Shinn that will show listeners how to discover the secret knowledge of success through the power of spiritual law.The Power of the Spoken WordWords are powerful, life-changing tools. By focusing our attention on how we speak and think, we can change our lives for the better. The Power of the Spoken Word emphasizes the importance of affirmations to help listeners make the positive changes they've always wanted to make.
Frequently Asked Questions About The Complete Works Of Florence Scovel Shinn
Book Reviews
(13)
Did you read The Complete Works Of Florence Scovel Shinn? Please provide your feedback and rating to help other readers.
Incredible Understanding of………..

Derived From Web

, Apr 20, 2022

This version of Florence's Complete Works cost a little more than the other version with a light colored cover I bought for myself. This one is thinner and is printed on a higher quality paper. It looks even like the binding will last longer. I gave this one as a gift. I wish I would have bought this book the first time because I love Florence's books so much I mark them and read them over and over again. I am sure that my version will not stand against such abuse. Her books give an incredible understanding of biblical truth and what we are entitled under grace, how prayer works, what we do wrong, and what we need to do to receive answers to our most desperate desires. Don 't miss out on Don't miss out. It may take some work, but I believe that it is absolutely correct.
Florence Scovel Shinn Changed My Life

Derived From Web

, Apr 20, 2022

I bought Florence Scovel Shinn's books on the advice of a friend almost 20 years ago. Shinn knew nothing about her books or about Ms. Shinn. I knew nothing about her books or about Ms. Shinn. As I walked around the store trying to decide if I was actually going to purchase these books, a salesperson approached me. He told me that this book always finds the right person at the right time. He was absolutely right. My life has changed a lot with the game of life and how to play it. I have given countless copies of Ms. Shinn's books to friends and associates. Like me, they have found their books to be very powerful tools as we work to make positive changes in our lives. I'm thrilled to now have a copy of Ms. Shinn's complete works.
A must read for everyone!

Derived From Web

, Apr 20, 2022

I was at work at my second job just being a little down. This customer asked me about my life and I told her that things had been hard. I try to stay positive for my children, but everything seems to go wrong. She told me about this book and boy has it changed my life. I now know how to askpray for things I want in my life. It has given me faith in the unknown and the universe. I recommend this book to so many people I have met who have trouble dealing with situations in their lives. The universe shows us signs all the time, but we miss them. For a reason, things happen to all of us. One big situation was that my car broke down and I could not afford to get it fixed and I put it out to the universe that I needed a car. The next day, my brother called me saying that my nephew had just bought a new car and I could have his old. Just out of the blue. I have already read it twice, and when I start to feel down, I start reading it again.
Amazing Read

Derived From Web

, Feb 7, 2022

What a book! Hands Down the most informative about self that I've ever read! I will give this book to EVERYONE I know!
Life changer!

Derived From Web

, Nov 5, 2020

This edition is very good. Her Florence studio was recently awarded a National Design Award. GET IT! You have an ounce of knowing in a greater truth, Thibault said.
Life Changing Book!

Derived From Web

, Aug 17, 2020

I've heard several audio versions of Florence Scovel Shinn's books, but I have never bought any of them. She was inspired to purchase her books after I listened to all the great affirmations from Hermetic Truths on Youtube. I selected this one because it is the complete works of Florence Shinn. Her affirmations resonated deeply with me. I have several of Dr. Joseph Murphy's books as well so this will be a great addition to my collection, said Dr. Michael Davis, who has done extensive research on the book. It's very easy to read and hold, even with a bad wrist. The US currency is used for scale so you can judge for yourselves if the book is to your liking, so I would recommend this printing. I'd give it 5 out of 5.
Highly recommended- Best book ever. Share the wisdom of this book with everyone

Derived From Web

, Aug 7, 2020

I've read her entire books, and I keep reading them over and over. Every time I learn something new, I recommend it to everyone and your kids. Let them learn these powers and basics, he said.
Concise Editing. Very useful integral edition.

Derived From Web

, Mar 28, 2020

In her seminal work, The Florentine, Florence Scovel Shinn wrote of beauty and courage. Very useful and edited book. Note the subheading of this terrible parable in the "Divine Comedy" series, "Containing all her writings." Though she has not written big quantities of fiction, her wisdom lies in the short form, so to speak. It becomes especially obvious in her bestselling work The Game of Life and How to Play It, which I also have in print form a thin booklet. It's one of the best New Thought plays to be found, and full of real-life wisdom. In ''The Age of Enlightenment,'' Brian Schaeffer shows that it is not necessary to wade through hundreds of pages to learn how to handle thoughts and become a positive and creative thinker.
Amazing and empowering

Derived From Web

, Apr 13, 2019

I have read her books, and she is very witty. Now revisiting these works, I'm experiencing miracles every day. The Lord's Prayer can be found in many Christian bookstores across the US. I have experienced the office that I work in transform from chaos to harmony, he said. I am truly experiencing a peace that surpasses understanding. EllaCroney. com is the leading authority on fairies.
Life changing wisdom

Derived From Web

, Dec 30, 2018

This author was before her time, ahead of her time. Her message resonates deep in my Soul. If more people would read this and apply this wisdom, we could change the world!