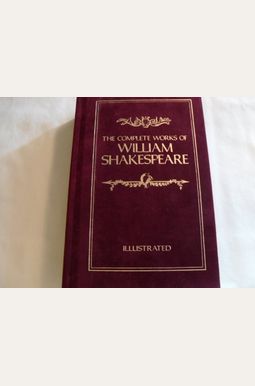  
The Complete Works Of William Shakespeare
Product is currently Out of Stock.
You can add it to your wishlist and you will be notified once we receive a copy.
Frequently Asked Questions About The Complete Works Of William Shakespeare
Book Reviews
(14)
Did you read The Complete Works Of William Shakespeare? Please provide your feedback and rating to help other readers.
book cheaply bound

Derived From Web

, May 30, 2022

Poor Review is for the quality of the binding, not content content is fine. This is a complete works, but within the first couple of games the glued binding cracked open. It never occurred to me to try a replacement copy from Amazon, so I did not. I bought my copy when this second Ed was first released, I tried to hold it together, but the paper is too thinnish to sew stitches. I have never had a binding book like this on me before, just reading it. The quality was poor.
Great cover. Looks like a King James Bible.

Derived From Web

, May 30, 2022

I love this issue with the Gilded Pages. I am becoming a Shakespeare geek and I love carrying this book everywhere. I would really not like to comment on the esthetics of the book, but I would praise the author just like countless people worldwide - wife and throughout the ages.
There are some problems about the book

Derived From Web

, May 30, 2022

Well, the book contents are strictly what the cover says : there are no studies or comments on Shakespeare's works. You will find only the pure texts of each story. The other negative point of the book is its huge size, what makes reading probably only within your house. And the tiny letters, what really handicaps reading. If you are not going to buy every Shakespeare's work, don 't read this book, prefer another.
Very satisfied with the product

Derived From Web

, May 30, 2022

Very satisfied with the product, can 't wait to digest it. Quite fast delivery... but a small problem with payment issues at customs that I couldn t understand, but once it reached me, it was a great pleasure and satisfaction.
Not for students or new readers of Shakespeare

Derived From Web

, May 30, 2022

The lack of glossary or footnotes, as well as the scant introduction to each play, makes this compilation more suitable to the Shakespeare veteran than the casual or even the novice reader. I regret not buying the Pelican Complete Shakespeare before checking it out.
No footnotes but good

Derived From Web

, May 30, 2022

You know stuff that helps translate Shakespeare's difficult language. Other than that, it is great! Just like the pictures.
Excellent compilation of plays and sonnets

Derived From Web

, May 30, 2022

Good compilation of plays and sonnets. Nevertheless, it is not for the beginner without having to make any annotations or definitions for hard words.
Cheap leather cover, and damaged

Derived From Web

, Jun 9, 2021

This is just a review of the leather-bound version. I don 't know much about the Kindle version. I was aware that I received a used version but the version I received was still disappointing. The cover isn 't a real leather and is not tied very well, so it probably won 't have a long lifespan. The cover is a cheap plastic over which feels like a plush under, so it is squishy and not at all durable. The copy I received had a split all the way down one side of the cover at the back corner. In short, I recommend paying an extra $10 or so for a better version, unless you have it just for one-time use.
The Hardback Copy of THE OXFORD SHAKESPEARE SECOND EDITION Is Excellent

Derived From Web

, Mar 16, 2021

I have not seen the Kindle edition that many reviewers here disapprove of, but the hardcover edition is first-rate. The paper quality is good, the text font is easily legible, the character names are fully spelled out each time they are used, the feel of the book is substantial. Moreover, the price is excellent. If you are looking for a complete Shakespeare work that you can delight and lose in, this is the one to add to your basket-durable, legible, well made and one of the crown jewels of stage and life.
Do Not Buy This Book

Derived From Web

, Feb 2, 2021

This book is terrible, I do not buy it first of all, I needed a book for the school so bought. The issue is that there is no form of organization in this book. There is no table of contents, so if you, nor page numbers, nor are categories for which all the works of Shakespeare fall in a jumbled mess just there. Next, the pages aren 't even filled and this looks like they took a picture of a book and pasted it on the page. There are even lines and arrows around the book future, proving someone else's point about this probably being a library book that someone copied and published. Please don 't read this book, but it is.