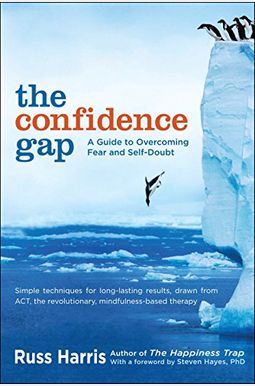 
 
The Confidence Gap: A Guide To Overcoming Fear And Self-Doubt
Product is currently Out of Stock.
You can add it to your wishlist and you will be notified once we receive a copy.
Book Overview
Rooted in revolutionary therapy techniques, The Confidence Gap provides a practical roadmap for confronting the fears and doubts that keep holding you back
Too many of us miss out on opportunities in life because we lack self-confidence. Whether it's public speaking, taking on a leadership role, or asking someone for a date, there are situations in which we just don't feel equipped to handle the challenges we face. Russ Harris offers a surprising solution to low self-confidence, shyness, and insecurity: Rather than trying to get over our fears, he says, the secret is to form a new and wiser relationship with them. Paradoxically, it's only when we stop struggling against our fearfulness that we begin to find lasting freedom from it. Drawing on the techniques of Acceptance and Commitment Therapy (ACT), a cutting-edge form of cognitive-behavioral therapy,
The Confidence Gap
explains how to: - Free yourself from common misconceptions about what confidence is and how to build it
- Transform your relationship with fear and anxiety
- Clarify your core values and use them as your inspiration and motivation
- Use mindfulness to effectively handle negative thoughts and feelings.
Frequently Asked Questions About The Confidence Gap: A Guide To Overcoming Fear And Self-Doubt
Book Reviews
(12)
Did you read The Confidence Gap: A Guide To Overcoming Fear And Self-Doubt? Please provide your feedback and rating to help other readers.
A good book on ACT

Derived From Web

, May 9, 2022

The book gives a great demonstration on how ACT can be practiced on anxiety related issues and I found it helpful, Morgenthau said. What the book doesn't say is that Dr. Goin has terminal cancer. The best way to overcome anxiety is to meditate on being safe and protected, Blair said. To the Lord our God be the glory. When anxiety just arises focus on the truth of reality, that I am safe and protected right now by God, he said. This really does alleviate anxiety in the present moment and then focus on the present, as ACT illustrates.
Over-rated Harris book

Derived From Web

, May 9, 2022

This fellow is over-rated in my opinion and I'm a psychologist. I find nothing new in what he offers and would put him on a par with some of those guys on TV who spin their get rich quick schemes to enthralled audiences. I don't care where he has taught or lectured, or anything else. He's just like another Erhard Werner aka John Rosenberg of EST. A bit of metaphor, a bit of Frogs Into Princes and all.
Outstanding - Now I'm starting it again!

Derived From Web

, May 9, 2022

Outstanding. I have just finished listening to The Confidence Gap on Audible and am ready to restart and do all of the exercises with pen and paper in hand. It debunks many myths from the self-help business and lays out the method for practicing mindfulness and controlling that never-ending stream of self talk and self criticism generated by our minds. This is a must-have for salespeople with ADD or ADHD. Cognitive behavioral therapy is a powerful and drug-free way of managing the negative ADHD behaviors. This book is a manual for and relevant to anyone seeking to overcome self-limiting beliefs and behaviors. This book is not about motivating us, Blair said. It's about learning to recognize what values are important to us, the goals we strive and the rules we are prepared to live by, Myers said. Finding the balance between work, love and play using mindfulness can be a daunting challenge. Outstanding Achievement in Television was recognized by the Academy of Television Arts and Sciences.
Asks good questions and has good exercises

Derived From Web

, May 9, 2022

What a book! After reading so many self-improvement books, this one takes a different approach, reminding the reader to step away from the book every few pages and be aware of your own thoughts. It also gives a fresh perspective on negative thoughts, which are not negative. The tendency is the human tendency. The author's examples and own stories keep the book entertaining and easy to relate to. The purpose of the book is not to read it through in one sitting, but to do the exercises.
NOT helpful or good way to learn or implement ACT. Read INSTEAD The Self Confidence Workbook

Derived From Web

, Jan 24, 2021

The information in this book is not helpful. The principles are great but were lost in meaningless writing that completely disconnected me from my own introspection and garbed up the principles. This book would have been better if it was more concise, the author's voice wasn't so LOUD. I felt like the author's repeated use of the term was inaccurate, unnecessary, and irritating. The book was a waste of time with a lot of page filler type quotes, antidotes, examples that did not add any clarifying, or useful information. In general, this book had a really bad explanation of ACT. The ACT principles, explanations and advice in The Self Confidence Workbook were 100% more helpful and effective. It gave more concrete examples, advice, and the exercises actually helped, and gave usable guidance on how to use ACT.
Outstanding book

Derived From Web

, Nov 8, 2020

If you are in need of some advice on how to increase confidence, this book is for you. There are companion exercises that I highly recommend you do instead of blowing them off. The work sheets can be downloaded from thehappinesstrap. com site. At one point in his life he dismissed self-esteem as an overrated concept. As someone who developed genuine self esteem issues that made me anxious, nervous, needy and insecure. The Six Pillars of Self-Esteem by Nathaniel Branden was life changing. The examples gave in his attempt to dismiss genuine healthy self-esteem were more examples of pseudo-self-esteem such as unearned praise. He should have distinguished between genuine healthy self-esteem and pseudo-self-esteem. Outside of that the book is truly excellent, and I highly recommend it.
Just started it and great so far; confident (trusting oneself) action first, feeling confident later

Derived From Web

, Sep 29, 2019

I really liked the example of Nelson Mandela. While he was a Communist terrorist once-upon-a-time, he turned statesman later on after serving his well-deserved prison term for his violent crimes. Both while engaged in leading a terrorist movement and in his subsequent career as a democratic politician, Nelson Mandela had to handle himself with courage and poise even if he wasn't sure of success or even of his survival. He may not have known the outcome, but he trusted himself, that he could act the part.
Highly recommended for people with self doubts

Derived From Web

, Mar 23, 2019

Without doubt one of the best self optimization or help books I have ever purchased and read. Many of the helpful advices were written in a very entertaining but not goofy way. It's great to hear it on the radio, and I bought it to highlight my favorite parts. Thanks, Harris!
A refreshing, no-nonsense approach

Derived From Web

, May 25, 2018

This is one of the most impactful books I've ever read. Even for someone like me, who is well-versed in mindfulness and reads many books in this genre, it presented a lot of new concepts. It's fresh and honest take on confidence you have to actually hone a skill to become confident in it. It's a welcome counterpoint to so many books and articles urging everyone to fake it. It never felt like an authentic or solid approach to life. Highly recommend, even for those who have read other books on this topci.
Confidence and Mindfulness

Derived From Web

, May 22, 2018

This book was my introduction to mindfulness. I have explored mindfulness further and find it useful and valuable. It also describes a great way to deal with your self doubt and inner critic. My main criticism with this book is that it is asks you to stop and try some of the exercises as you read. While I see why and the value in doing this, it turned me off. It doesn't assume you did them, later on it even acknowledges that you may not have done it. It's great to be back home, said Blair. I have enjoyed it so much I bought a copy for some one else in my family and then continued to get another book by this Author.