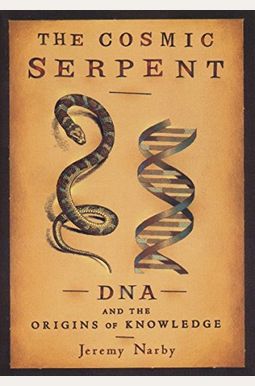  
The Cosmic Serpent: DNA and the Origins of Knowledge
Book Overview
This Description may be from another edition of this product.
This adventure in science and imagination, which the Medical Tribune said might herald a Copernican revolution for the life sciences, leads the listener through unexplored jungles and uncharted aspects of mind to the heart of knowledge. In a first-person narrative of scientific discovery that opens new perspectives on biology, anthropology, and the limits of rationalism, The Cosmic Serpent reveals how startlingly different the world around us appears when we open our minds to it.
Frequently bought together
Frequently Asked Questions About The Cosmic Serpent: DNA and the Origins of Knowledge
Books like The Cosmic Serpent: DNA and the Origins of Knowledge
Book Reviews
(9)
Did you read The Cosmic Serpent: DNA and the Origins of Knowledge? Please provide your feedback and rating to help other readers.
Interesting thoughts to ponder

Derived From Web

, May 24, 2022

Jeremy Narby raises an interesting hypothesis about the ayahuascaDMT journey, as initiated by Amazonia shamans, and what might occur when a person undergoes the experience. For the more zealous empiricist, this book might provoke a lip-curling response, but to those who know that reductionist science can fully explain, you might enjoy the thought-provoking concepts that the author brings to light. The book is very accessible in a friendly, warm voice, very well written to all levels of the reader. If interested in new possibilities and a fascination with metaphysical phenomena and ancient cultures, you will probably enjoy this book quite a bit.
Worthwhile...highly recommended.

Derived From Web

, May 24, 2022

The author, an anthropologist, dismisses his socialized scientific skepticism, the religion that says all life is merely chemistry and all chemicals are inert and dead, for the sake of experience, muddies his boots with Ayahuasca and other natural concoctions for introspection and draws comparisons between shamanic imagery and modern biochemistry. For anyone who thinks that natural selection and evolution has the market on the explanation of natural diversity, be prepared to be experienced.
Great book!

Derived From Web

, May 24, 2022

If you're interested in Ayahuasca, DNA or how instinctual knowledge comes from DNA, this is a must read.
Waste of time

Derived From Web

, Feb 6, 2022

When explaining his point of view, author has a conspiracy type of feel. Does ayahuasca TWICE, sees a glowing snake one time and is relentlessly making loose connections between DNA, ladders and drawings to prove a point on how ayahuasca could have possibly created curare out of shear chance. The book is a bunch of BS... the author should have been part of this study, but more than one author should have been involved.
What a fascinating perspective!

Derived From Web

, Mar 11, 2020

Spoilers! Good Grief! '' In the end of it, this book has gotten one of the most profound realizations. A fascinating connection to our roots of humanity, the so-called primitive shamanic societies have promoted some fascinating science for at least 12,000 years. Not really hiding it all, but the modern world ignored them. Apparently, shamans have a great communication relationship with their DNA without the need for direct machines, and in theory, this is possible for all humans. But to them, this way of life is warm, natural, intuitive and organic. As opposed to the modern cold, machine-forced and artificial ways of modern civilization. Narby's journey is a humbling and mind-changing escapade, reframing what we know and changing our perspective to a much more empowering one. Highly recomended, one of the best books I have ever read.
A Head Slap

Derived From Web

, Sep 5, 2019

The information in this book is no longer aboriginal, although some members of new cultures have always known this stuff. For me, the Cosmic Serpent... showed a different, better way to put together the pieces of the consciousness puzzle. In fact, it contains a couple of pieces that have been missing. The book is a thoughtful mashup of chemistry, anthropology, and mythology. Even if you generally bunk at this line of thought, you might give it an open-minded try. It is persuasive.
Theories you won't read anywhere else...

Derived From Web

, Feb 10, 2019

I am at the end of a two-year study into ancient civilizations and DNA, so that this is more meaningful to me than it would be for the novice. The author takes his time to develop his theories, but the careful groundwork pays off. It really seems that our DNA gives off signals that form our soul collectively.
An interesting book--I do recommend it. However

Derived From Web

, Jun 18, 2018

An interesting book - I do recommend it. The author writes wonderfully, but makes a few leaps of logic in my opinion. What I like most is when a scientist is brave enough to discuss mystical aspects of being. Frederic is living in Williamsburg, Williamsburg.
Incredible insight into ayahuasca, shamanism, and western science

Derived From Web

, Feb 27, 2018

Finally, a non-science perspective that can understand a scientific layman! Beautifully written in terms of narrative : the author leads the reader through his own thought process in a simple manner, which flows easily from the beginning of his agitated interest in Ayahuasca and Shamanism, to developing his hypothesis, to discovering information that supports his view. After the first page, I was hooked. Brilliant reading for anyone curious about Ayahuasca and how it applies to each of us globally. Wow, really cool, was created by the writer. Wow, just wow. Note that on the previous version, the last 45% of the book is citations with author notes,Edit 1219 : Since reading this book, I have done 30 Ayahuasca ceremonies in Peru. This is still my top recommendation for anyone interested in starting their journey or simply curious about ayahuasca. I reread it twice and tried it again.