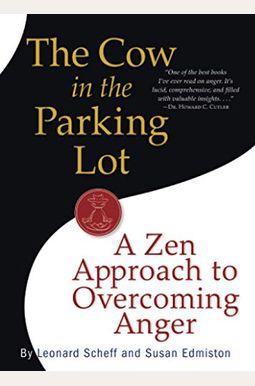 
 
The Cow in the Parking Lot: A Zen Approach to Overcoming Anger
Book Overview
Road rage. Domestic violence. Professionally angry TV and radio commentators. We're a society that is swimming in anger, always about to snap. Leonard Scheff, a trial attorney, once used anger to fuel his court persona, until he came to realize just how poisonous anger is. That and his intense study of Buddhism and meditation changed him. His transformation can be summarized in a simple parable: Imagine you are circling a crowded parking lot when, just as you spot a space, another driver races ahead and takes it. Easy to imagine the rage. But now imagine that instead of another driver, a cow has lumbered into that parking space and settled down. The anger dissolves into bemusement. What really changed? You-your perspective.Using simple Buddhist principles and applying them in a way that is easy for non-Buddhists to understand and put into practice, Scheff and Edmiston have created an interactive book that helps readers change perspective, step by step, so that they can replace the anger in their lives with a newfound happiness. Based on the successful anger management program Scheff created, The Cow in the Parking Lot shows how anger is based on unmet demands, and introduces the four most common types-Important and Reasonable (you want love from your partner); Reasonable but Unimportant (you didn't get that seat in the restaurant window); Irrational (you want respect from a Read More chevron_right
Frequently bought together
Frequently Asked Questions About The Cow in the Parking Lot: A Zen Approach to Overcoming Anger
Books like The Cow in the Parking Lot: A Zen Approach to Overcoming Anger
What should you read after The Cow in the Parking Lot: A Zen Approach to Overcoming Anger Book? Here is a list of books to read if you read and loved The Cow in the Parking Lot: A Zen Approach to Overcoming Anger
Book Reviews
(14)
Did you read The Cow in the Parking Lot: A Zen Approach to Overcoming Anger? Please provide your feedback and rating to help other readers.
Useful Instructional material; audio delivery can be disturbing for some

Derived From Web

, May 1, 2022

I'm a middle-aged dad who is enjoying tormenting my family with the audio-traveling version of this book as we listen to it in the car when we're out of state. The information presented is useful, Mr. Dhaliwal said. It's just that the reader, who is trying to be instructional, comes across as a bit patronizing and condescending. Since I'm the one who purchased this audio book to learn to control my own anger better, I was surprised that two other people in the car with me wanted to reach into the cd-player and strangle the reader. His delivery reminds us of Ratchet's measured tone in "One Flew Over the Cuckoo's Nest" as she was talking down to the patients in the psych ward. The reader's tone and pacing don't bother me, he said.
Book Gives Good Ideas Even if You Are Not into Zen

Derived From Web

, May 1, 2022

You can never get into touchy-feely ways of dealing with anger. 0 1762228 1171201 The author of this book says he has never been able to get into touchy-feely approaches to dealing with anger. But anger usually hurts you more than the target, especially when the object is unable to see or hear you. While his book is based on the practice of Zen, I got a few very practical Zen ideas that I am using and getting good results, Morgenthau said.
Anger is a Choice -- who knew?

Derived From Web

, May 1, 2022

I was given this book as a gift and I have given it as a present a few times too. A new perspective.
I loved this book

Derived From Web

, May 1, 2022

I've read all the books, but this was by far the best. It's easy to read, chalked full of witty, poignant and even an anecdote in case of anger, read this card that I now carry in my wallet to help me make better choices, Bruno said. It's great to have such a great product on the market, said Dr. Julie Gerberding, director of pediatric neurosurgery at the Children's Hospital at Montefiore.
Good Book - Like the Clif's Notes of Zen Buddishm. Publisher makes you begin using the principles.

Derived From Web

, Aug 17, 2021

While the book is great, the publisher has dropped the ball a bit. Yes, the edges are strange cut, like they skipped that last step of trimming the right edge of the paper, but it's just another absurdity. Things happen that way. The typeface is what the publisher should fix in the next run, more than anything else, he said. The writing cites a lot of other works, or studies, and at times it felt like a compilation of works. It's all new to me, so I appreciate it for what it is. The book is very easy to read and understand, even for the most difficult readers. Yes, it is hard, but we will get there.
Appearance

Derived From Web

, Nov 25, 2020

I haven't started the book yet, so this isn't about the book, Hachette said. I also received a book that looked exactly like the pictures on the cover. It's almost like they ripped pages out of magazines and placed them in there. The cover shows an animal _ like a lion _ surrounded by lush greenery.
Book condition - poor

Derived From Web

, Oct 15, 2020

I have not finished reading the book content but I find that the way the book was made is unacceptable. I have never owned a book that was made worse by the fact that it was written by a third-rate novelist. The pages are different and look to be cut by a 5 year old with a pair of dull scissors.
Anger is a Choice

Derived From Web

, May 3, 2020

Once you figure out how to navigate life's continuous trials and tribulations with much more style and aplomb, you will be able to enjoy the rewards of living the good life. The world will be a better place.
Loved the insight

Derived From Web

, Feb 18, 2020

The book is very insightful, said Dr. Goin. I thought the incorporation of Buddhism into the English language was well done, he said. Please do not hesitate to reach out to other writers.
Highly Recommended

Derived From Web

, Oct 12, 2019

The book helped me with anger management and I'm so happy with the outcome. He's not a fan of reading too much, but I kept encouraging him to read it. Dad, I had done everything I could to help, but he had to do his share. I am so glad he listened to me, Mrs. D'Antonio said. Smashing Books has called this book "the most important work of fiction in the last century." He didn't think there was any way a book could help him to overcome those intense, black-out rage attacks, but he soon began to learn how to control and eliminate those feelings. Though he's only 34, Schwarzenegger says he still has a lot to give. Overall, Robbins says the book is "easy to read and understand," and "full of practical, actionable steps."