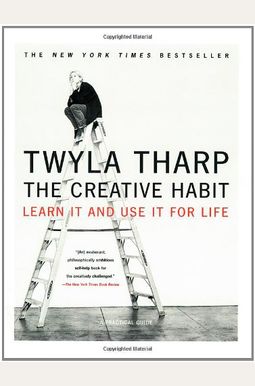 
 
The Creative Habit: Learn It And Use It For Life
Book Overview
One of the world's leading creative artists, choreographers, and creator of the smash-hit Broadway show, Movin' Out, shares her secrets for developing and honing your creative talents--at once prescriptive and inspirational, a book to stand alongside The Artist's Way and Bird by Bird.
All it takes to make creativity a part of your life is the willingness to make it a habit. It is the product of preparation and effort, and is within reach of everyone. Whether you are a painter, musician, businessperson, or simply an individual yearning to put your creativity to use,
The Creative Habit
provides you with thirty-two practical exercises based on the lessons Twyla Tharp has learned in her remarkable thirty-five-year career. In Where's Your Pencil? Tharp reminds you to observe the world -- and get it down on paper. In Coins and Chaos, she gives you an easy way to restore order and peace. In Do a Verb, she turns your mind and body into coworkers. In Build a Bridge to the Next Day, she shows you how to clean the clutter from your mind overnight. Tharp leads you through the painful first steps of scratching for ideas, finding the spine of your work, and getting out of ruts and into productive grooves. The wide-open realm of possibilities can be energizing, and Twyla Tharp explains how to take a deep breath and begin.
Frequently Asked Questions About The Creative Habit: Learn It And Use It For Life
Books like The Creative Habit: Learn It And Use It For Life
Book Reviews
(16)
Did you read The Creative Habit: Learn It And Use It For Life? Please provide your feedback and rating to help other readers.
The Best!

Derived From Web

, May 9, 2022

This is probably the best book on creativity that you will read this year. I am not a dancer, but the creative habit addresses artists and business leaders alike. This is more than creative suggestions to stimulate your practical juices and not the same ol'; you have read before. Generous with deep perspectives, philosophy and real life insights. What do you do when you are in a jam with your project or story or music? How can you move forward the energy you need to unleash? Muscle - Memory was for me an eye opening. About this, Twyla has something to say.
Helpful

Derived From Web

, May 9, 2022

It is helpful to know about. But some of the exercises are more based on the attempt to answer existential questions about yourself. The author uses herself as a test subject for these exercises, and naturally comes back to her beginnings and the innate reasons for being as a resource to gather creative ideas. But I couldn 't finish the book because the author kept talking about herself the whole time outside of said exercises and then uses famous figures in history to support her choices in life. Despite her intentions, her need to validate her career choices shows up whenever she talks about her unique name, her upbringing, her earlist memory, etc. I appreciate that her book's main message is that ingenuity, creativity and talent all result from consistent, hard, unglamourous, habitual, and exemplary work. But this message is overrun by the author's introspection of herself.
A Book That Made Me Wish I Could Spend Some Time With The Author

Derived From Web

, May 9, 2022

There is something about the tone of this book that connected me to Soul with Twyla Tharp. She generously gives us her best advice about the mindset and habits of life that are intrinsically linked to the identity and success of the artist. She shares her life and those of a number of her collaborators. I use the term generously because she shares frankly, empowering all who takes her advice to heart. She comes across as a person who is utterly committed to her art-being an artist is not something she does - it is something she is. This clearly comes across. But she does not romanticize the identity of the artist, insisting that artists are born more by hard work and consistent discipline and habits than being born. She even shows how Mozart, the genius of geniuses, reached his heights due to intensive disciplined practice and habitual practice. I highly commend it ''.
Twyla Tharp is a goddess!

Derived From Web

, May 9, 2022

Stop the whining and do it. I have recommended this book to all my painting students.
it's kind of like a manual for creativity

Derived From Web

, May 9, 2022

This is a very interesting book, it is kind of like a manual for creativity, but it has really interesting ideas and stories. Get it for yourself and know any creativeartistic type.
My New Creative Bible

Derived From Web

, May 9, 2022

The book of Twyla Tharp is my new Christian Bible. She is not only a great choreographer, but also a talented writer. I found myself recording notes so that I could try her creative recommendations.
This is a really lovely book with tons of useful techniques for the creative person and also a great ...

Derived From Web

, May 9, 2022

This is a really nice book with tons of useful techniques for the creative person and also a great personal narrative.
I know nothing about dance and choreography, but the ...

Derived From Web

, May 9, 2022

This book is a gem for anyone who works in life at creative endeavors.
Pass

Derived From Web

, Jul 1, 2021

Not only was it difficult to get through, it did not offer much for those outside the creative arts lifestyle. I felt that the author was constantly praising herself and talking to the reader. The exercises weren't helpful and some were just silly.
Refreshing and inspiring.

This book offers honest and blunt insight into the creative life...sharing simple steps that make it approachable for anyone. Written by a dancer, but applicable for every kind of creative.