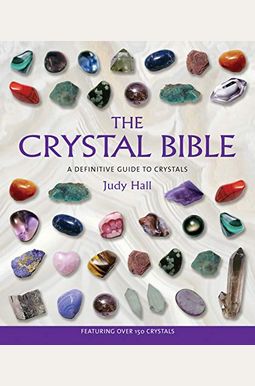 
 
The Crystal Bible: A Definitive Guide to Crystals
Book Overview
A comprehensive and beautifully illustrated guide to crystals.
Find a known crystal instantly or identify an unknown crystal in this easy-to-follow directory that includes photographic identification, detailed descriptions, and information on the individual properties of each crystal--including the spiritual, mental and psychological, emotional and physical effects, plus its use in healing. It's an indispensable reference for crystal lovers everywhere.
Frequently bought together
Frequently Asked Questions About The Crystal Bible: A Definitive Guide to Crystals
Books like The Crystal Bible: A Definitive Guide to Crystals
Book Reviews
(14)
Did you read The Crystal Bible: A Definitive Guide to Crystals? Please provide your feedback and rating to help other readers.
Pretty good book!

Derived From Web

, Apr 20, 2022

This book is good. It has all the stones that I can think of. I would like to match the colors of the stones but I can't remember their names. Other than that is the only thing. It is a good book.
Amazing Books!

Derived From Web

, Apr 20, 2022

My son wanted me to get all 3 of Judy Hall's Crystal Bibles for his girlfriend. I looked in them and fell in love. There are many beautiful pictures of the crystals in their raw form, and how they look after being tumbled. There is a quick reference to the effect of crystals and the Zodiac. This is a small part of the book. I like that it's 400 pages and not an average book, neither are the other two books that I have read. I have taken out many crystal books from the library. I have #1 and I'm sure I'll order 2 and 3 before I can read half of it. Enjoy.
LOVE IT

Derived From Web

, Sep 7, 2020

I have been reading this book for two weeks. Everything is in here. I purchased it after reading the reviews. There is a crystal book that you can find.
Very informative !! So much info in a small book !! Def worth buying !!

Derived From Web

, Aug 27, 2020

I like the book. A lady from the spirit place told me to look at it. It's very informative. I want to learn all about it all. Thank you. !
Not worth the price listed

Derived From Web

, Aug 26, 2020

I was led to believe that there would be a lot of crystals and stones to identify when it is just popular. If it was cheaper, it would have been less disappointing.
Nice content just smaller page size than a normal book

Derived From Web

, Jun 11, 2020

I was waiting for this book to come. I was very disappointed when it arrived, it's much smaller than I expected. The pictures are pretty and descriptive. I wish the pages were larger. It can be hard to hold with my carpal tunnel.
Excellent Crystal resource book for use and understanding crystals

Derived From Web

, Mar 10, 2020

A great source of information for learning all the particulars of Crystal. There is a single Bible on how to select, use, clean, and use crystal. I like the book.
Comprehensive and user friendly.

Derived From Web

, Nov 7, 2018

This is what I was hoping for. A lot of cyrstals are covered in the book. I was happy to see how each crystal is broken down. A lot of books talk about one main color, but other colors have slightly different properties. This book is more detailed. The colors and forms of both quartz and calcite are explained in detail. Part of the pages on calcite can be seen in the picture I included. The size of the book is great. It's thick but has a smaller frame so it's easier to carry around. This could fit in my purse. I've been looking at this book for a while now. I'm glad I bought it. It did not fail to impress.
Great quick reference book

Derived From Web

, Aug 22, 2018

This is the first time I have purchased a series by Judy Hall. The first volume covers over 200 crystals. I'll be purchasing volumes 2 and 3 and I love how each crystal description includes photos to help identify it. I appreciate that rarity and sources were included. There is information about the spiritual and physical impacts of crystals on the body. The book is a great quick reference and has a lot of great information. It's small and easy to carry in my hand. I recommend it to beginners.
Not worth the money

Derived From Web

, Aug 12, 2018

The basic scientific identification for the same stones is not included in the full of over simplified quotes and attributes. There is no real historical information at all. Don't read this book if you want to learn more about the crystals and stones. Look somewhere else.