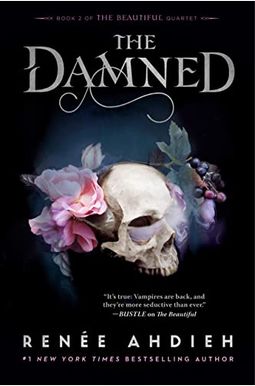  
Frequently Asked Questions About The Damned

Book Reviews
(3)
Did you read The Damned? Please provide your feedback and rating to help other readers.
Atmospheric

Derived From Web

, Nov 13, 2021

After that ending of The Damned, I had to order and immediately get my hands on the Beautiful! There is something about this series and Anne Ahdieh's writing that makes me just fly through the pages without even realizing it. '' Both of these books are really tasty slow-burning stories that I can not get enough of. This sequel delves deeper into the paranormal and some of the history of this world that I loved to see. I also really enjoy the atmosphere that Renée creates in her stories. I am immediately drawn into this world and can 't get enough of the characters and their journey. The story is situated right where the first book left on a crazy cliffhanger, so that it was fun to watch it really ramp up at the end of the book! I wasn 't sure if there would be more stories in this world, but from the ending, I say yes. Indy, I'm coming for it and can 't wait to read more!
A little all over the place

Derived From Web

, Sep 14, 2020

Usually I want to read everything again by Renée Ahdieh the second I finish it, but this series I am struggling with. I love Celine and Bastian and adored a lot of the aspects of the first book, but felt like the ending was partially great and predictable and partly just a huge info dump that didn 't make any sense. Before this sequel came out, I thought it would explain and contextualize this info dump, but it added like 30%... and then it did so much more that made me feel like the book was so far away from its original storyline and allure. I love Bastian and Celine, as well as the other amazing immortal members of the Coeur des Lions, so that I will read the rest of the series as it comes out, and do hope that things are a little more tightened and pared in some places!
The First Book Was Better

Derived From Web

, Jul 25, 2020

Let me address this by saying that The Beautiful '' was a five-star read for me and I thoroughly enjoyed it. The Damned, not so much. She lost when she began introducing all these fantasy creatures like Fae, Goblins, Werewolves and Monsters in the other realms like Tip '', and I just couldn t get into it. It is too bad, because this was one of my most anticipated books of the year. Don 't get me wrong, the book was not all bad, and there were some parts that caught my interest, but I just felt like adding all these other elements took away from the story and the relationship between Celine and Bastien that you had in the book.