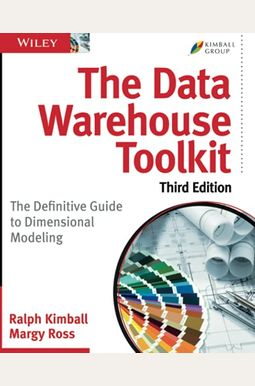 
 
The Data Warehouse Toolkit: The Definitive Guide To Dimensional Modeling
Frequently Asked Questions About The Data Warehouse Toolkit: The Definitive Guide To Dimensional Modeling
Book Reviews
(11)
Did you read The Data Warehouse Toolkit: The Definitive Guide To Dimensional Modeling? Please provide your feedback and rating to help other readers.
Great reference material!

Derived From Web

, Apr 25, 2022

This is the second time I have read it. The second edition was also revised, bringing some updated material to the table. Also, the fact that I purchased the Kindle version makes it a great reference source for when I need to resolve non-typical business requirements and need a quick refresher. I've read basically all of Kimball's books and follow his method, but this book for me is not only the foundation to his method, but very entertaining and easy to read, too. This product is highly recommended by business intelligence consultants. The book is highly recommended reading for anyone who has ever worked with the Kimball Group.
Great conceptual framework

Derived From Web

, Apr 25, 2022

Big Data, Analytics and Business Intelligence are some of the fields I work in. The Data Warehouse Data Kit is something I have really enjoyed reading through and expanding my knowledge of data warehousing. Concepts are good, I like the layout, and the fact that updates and revisions have good additional content is a plus.
Helpful to Business Users as Well as Developers

Derived From Web

, Apr 25, 2022

The book is intended for use by DWBI developers, but as a business user, I found it helpful to understand the process. Beginning with an overview, followed by a series of case studies illustrating various techniques, the book goes back to an overview. In a generous gesture of uncharacteristic compassion, I would have preferred having all the book's appendices arranged in a spiral-bound format. The book got more and more detailed as the case studies came in, Raymond said. Even with repeated attempts, I would have more diagrams, Mr. Bolten said. Nevertheless, I found this very useful in understanding the process and structure of data warehouses and how it pertained to the data warehouse at my place of business.
Still in process of review - appears to meet expectations.

Derived From Web

, Apr 25, 2022

The book is generally praised. However, I am unable to provide better feedback at this time.
Disappointing

Derived From Web

, Apr 25, 2022

DB2 was the subject of a course I took last year. What it offers is a lot of common sense packaged into complicated lists, laws and technical jargon invented by Kimball in an attempt to present concepts as more sophisticated than they really are. Rounding Out the Dimension Table: 6. This is step six out of nine steps in the design of a data warehouse. The step has a good few paragraphs devoted to it, but in reality all that happens is making sure that your column names are easy to understand. If you are planning to learn something about data warehouse design, there are probably many other sources that can present the same information in a more accessible and concise way. It will save both time and money.
The gold standard

Derived From Web

, Oct 22, 2021

I've read this book several times, in bits and pieces, over several years. This is by my side, every data warehouse project. Nevertheless, I have yet to run into a data warehouse question that wasn't answered by this book. Even for a technical book, it's pretty easy to read.
Solid content, big problem on kindle

Derived From Web

, Apr 29, 2020

The content is fantastic and is as expected from the Kimball Group, said Mr. Dhaliwal. However, there is one big issue with the kindle edition - the index is virtually useless. There is no way to find the pages related to any of the key concepts in the index because it is all static text with no location pointers or page numbers.
Useless for developers/engineers

Derived From Web

, Feb 17, 2020

The book is a terrible read, full of business-side clichés. There are just a handful of technical glitches left to be corrected. Everything about Amazon was centered around the business domain. What a bummer for developers looking to build better products using less expensive materials.
Excellent Resource for Data Warehousing course

Derived From Web

, May 29, 2019

Good organization, starting with basic DW tables, moving to design concepts, variations on ETL architecture, and closing out with DW life cycle planning, he said. The book, "21," includes chapters on accounting, supply chain, marketing, operations and others. This is a great introductory video for anyone trying to understand data warehousing and analytics.
I liked it more than I thought I would

Derived From Web

, Oct 21, 2017

This seems like a good explanation of why normalization isn't helpful for most of the end-product data analysis. I do wish there was less Kimball marketing in the text. The book was originally written by Ralph Kimball, who also served as the book's translator. There was no such thing as a "Thank God There Wasn't a Afterword."