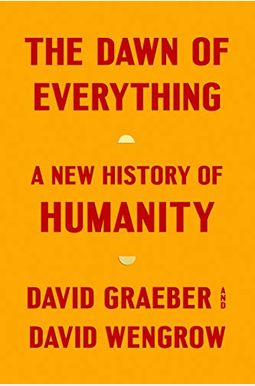  
The Dawn of Everything: A New History of Humanity
Book Overview
A dramatically new understanding of human history, challenging our most fundamental assumptions about social evolution--from the development of agriculture and cities to the origins of the state, democracy, and inequality--and revealing new possibilities for human emancipation.

For generations, our remote ancestors have been cast as primitive and childlike--either free and equal innocents, or thuggish and warlike. Civilization, we are told, could be achieved only by sacrificing those original freedoms or, alternatively, by taming our baser instincts. David Graeber and David Wengrow show how such theories first emerged in the eighteenth century as a conservative reaction to powerful critiques of European society posed by Indigenous observers and intellectuals. Revisiting this encounter has startling implications for how we make sense of human history today, including the origins of farming, property, cities, democracy, slavery, and civilization itself.
Drawing on pathbreaking research in archaeology and anthropology, the authors show how history becomes a far more interesting place once we learn to throw off our conceptual shackles and perceive what's really there. If humans did not spend 95 percent of their evolutionary past in tiny bands of hunter-gatherers, what were they doing all that time? If agriculture, and cities, did not mean a plunge into
Read More chevron_right
Frequently Asked Questions About The Dawn of Everything: A New History of Humanity
Book Reviews
(12)
Did you read The Dawn of Everything: A New History of Humanity? Please provide your feedback and rating to help other readers.
Fascinating analysis but a bit of a slog

Derived From Web

, Mar 18, 2022

I learned a lot about ancient cultures that I had never heard of in this book. The writing style was hard to get through. This is probably a reflection of my own limitations, as much as the intellectual complexity of the subject.
A heavy tome.

Derived From Web

, Mar 6, 2022

I put Leviathan down a long time ago because I thought it was really thought-stimulating. I felt the same emotions after watching 'Dawn'. Human social and political development is not linear.
It's a hard read for most people

Derived From Web

, Feb 20, 2022

The work of two brilliant men is called The Dawn of Everything. Life is too short for me. I think it's a good reference book for anthropology students.
THINK ABOUT HOW WE THINK

Derived From Web

, Feb 17, 2022

How To Explain History is a great rewrite. Historiography is related to the sciences. Every generation needs this kind of self-examination. I stopped my case.
Very interesting and different viewpoint on societies

Derived From Web

, Feb 8, 2022

As we look at our societies and compare them to the past, it's very timely and applicable. A lot of time is spent researching societies outside the bell curve. Takes a hard look at the inequalities in society. It's worth everyone's time.
Thought-provoking

Derived From Web

, Feb 4, 2022

There is a wide-ranging look at what we know about pre-historic communities. It's refreshing to have another think about what we consider inevitable and what might be possible for communities of today.
Got this book based on all the I guess intelligent people out there., lots of show off big words👇

Derived From Web

, Jan 23, 2022

Look at this briefly and feel that it is readable, not having every other word looking it up. What purpose does it serve in the real world? If all the word dumpers used their intelligence to save our planet, we would be a better place.
reveals that Native Americans from Great Lakes area had major impact on French revolution

Derived From Web

, Jan 13, 2022

The nature of democracy and governance among American Indians goes back to the 1500s, when many traveled to France and spoke perfect french, because of the French Jesuit missionaries who were impressed with their eloquence. Their culture involved no private property or money, no judges or prisons, but very effective societal morals enforced by penalties imposed on the families of perpetrators and not the perpetrators themselves. It shows that there was more civilization in America a century before 1620. The French and Indian War was fought to fight British colonials.
A more accurate human history/anthropology

Derived From Web

, Jan 5, 2022

The book does a great job of showing how our ancestors lived. This only serves to strengthen their argument, that instead of simply moving towards empires and industry, humanity has created a variety of different types ofgovernmental structures throughout our species' anthropological history. It is a must read for those looking for a more accurate view of the past.
Sane. Cogent.

Derived From Web

, Nov 14, 2021

We live in a society that promotes war and capitalism. What will it take to steer the boat in a better direction? The book gives us some ideas. The book will ferret out stagnant academics and political hacks. The two Davids wrote a needed text for us to read.