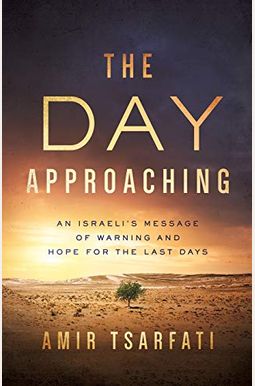 
 
The Day Approaching: An Israeli's Message of Warning and Hope for the Last Days
Book Overview
Are You Noticing the Signs of the Times?
In the Bible, Jesus spoke about the signs that would make it clear His return is near. What are those signs? And are they evident today? As a Jewish native Israeli who is a Christian, Amir Tsarfati has a distinct perspective that weaves biblical history, current events, and Bible prophecy together to shine light on the mysteries about the end times. From his vantage point in the Middle East and through careful Bible study, Amir points to evidence that informs us the return of the Lord is imminent. In
The Day Approaching
, you will learn.
God's plans for the world, Israel, the church, and you
that the signs of Christ's return are visible all around us
about the smoke screen of deception that will lure people away from truth
how even now God is revealing Himself to people and changing their hearts
of the wonders that await us in Jesus' future millennial kingdom
As you seek hope and clarity about earth's final days, let the Bible alone be the resource you turn to for answers.
Frequently bought together
Frequently Asked Questions About The Day Approaching: An Israeli's Message of Warning and Hope for the Last Days
Book Reviews
(16)
Did you read The Day Approaching: An Israeli's Message of Warning and Hope for the Last Days? Please provide your feedback and rating to help other readers.
Excellent book

Derived From Web

, Mar 4, 2022

Amir Tsarfati is an excellent writer. He is a master storyteller, opening the pages of the Bible, explaining history, or as it is often called, His story ''. He makes the Bible come alive with humor thrown in here and there and at the same time shows us how it started, where we are today, and how it will end when King Jesus returns. I thought I knew the Bible well, but Amir has deepened my understanding with this well written book. I highly recommend '' it. Don 't be persuaded by the negative comments. Everything written in this book is in the Bible, everything written in it. It is not his opinions, it is truth.
Cover stuck to packaging!

Derived From Web

, Mar 4, 2022

Cover must have a label on it. It was pulled off and the sticky was still sticky, so not only are there label remnants, but it also sticks to the packaging. I've now got a mess .
Great read!

Derived From Web

, Feb 2, 2022

This was a very good perspective and very informative. I recommend this for sure. I answered a lot of questions. He writes well and it was the kind of book that blew to the end.
Greatest deception ever presented,

Derived From Web

, Nov 15, 2021

The darkest hour of discentsationalism is reveled as truth is darkest. Christ warns us not to be decoeved that exactly with the Church has done in the last 200 years in the last 200 years. Scripture taken from context : Not one scripture point to the secret return of Christ. Based on reading the Bible, no one ever believed that it has to be inferred and taught. I believe that the pre-Trib rapture is not scriptual. More likely is reality, a pre- wrath view is more likely. Those who survive to the end will be saved. Our faith will be tested by fire the wheat and tares will be separated. Stand fast prepare to encourage one another. AMIR has many unique insights, AMIR has. No one believes in pretrib unless they are taught this first. The Bible does not teach this.0.
Great teaching

Derived From Web

, Aug 5, 2021

This book should be read by all. If you ever had a fear about your future, this book will help you to settle your nerves. Soon Christ comes.
Great book!

Derived From Web

, Mar 11, 2021

This book helped clear a lot of questions I had about the end times. I recommend it to anyone who wants to know what the Christians believe.
Yes !!

Derived From Web

, Mar 9, 2021

Bought for my mom and she had it read in two days and said it was wonderful! She thanked me over and over again! I love Amir myself, I see him on you tube. Glad I bought it ''.
Amazing

Derived From Web

, Jan 20, 2021

This is so amazing with details and dates etc... great reading so many scriptures and seeing Gods Hand just incredible in all details.
Awesome bible teaching book. Thank you Amir

Derived From Web

, Jun 30, 2020

This book is a good biblical description of the end times described in the Bible, as described in the Bible. Thank you Amir for teaching and not sugar-coating the Bible. We need to hear the truth. We need to hear the beauty ''.
One day read

Derived From Web

, May 21, 2020

Well presented and clearly organized truth, explaining the day of the thr Lord's. A challenging and motivating read. Biblical scriptures verify each truth presented. This is appropriate for all who seek hope and peace in life and death matters.