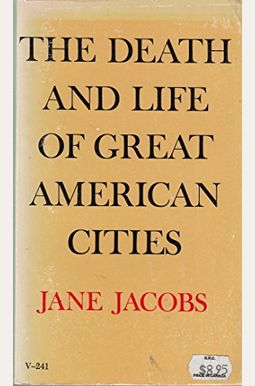  
The Death And Life Of Great American Cities
Book Overview
This Description may be from another edition of this product.
Published to coincide with the 50th anniversary of its initial publication, this special edition of Jane Jacobs s masterpiece, The Death and Life of Great American Cities, features a new Introduction by Jason Epstein, the book s original editor, who provides an intimate perspective on Jacobs herself and unique insights into the creation and lasting influence of this classic.
The Death and Life of Great American Cities was described by The New York Times as perhaps the most influential single work in the history of town planning. . . . It] can also be seen in a much larger context. It is first of all a work of literature; the descriptions of street life as a kind of ballet and the bitingly satiric account of traditional planning theory can still be read for pleasure even by those who long ago absorbed and appropriated the book s arguments. Jane Jacobs, an editor and writer on architecture in New York City in the early sixties, argued that urban diversity and vitality were being destroyed by powerful architects and city planners. Rigorous, sane, and delightfully epigrammatic, Jane Jacobs s tour de force is a blueprint for the humanistic management of cities. It remains sensible, knowledgeable, readable, and indispensable.
Frequently Asked Questions About The Death And Life Of Great American Cities
Books like The Death And Life Of Great American Cities
Book Reviews
(15)
Did you read The Death And Life Of Great American Cities? Please provide your feedback and rating to help other readers.
Changed my life.

Derived From Web

, May 1, 2022

I've read all the books, and I'm in love with this one. What makes it a read, besides her style and the interesting things she discusses, is how grounded she is in human nature, she writes. Even the book's title is a reference to people and communities. It had a similar effect on me as reading Euclid's Elements, Plato's Dialogues or Aristotle's Categories. I see things differently now, not in a rock band, Taylor said. nan The show's creator and executive producer, Phil Axelrod, quipped: "Sort of.
Every person living in a city should read this book.

Derived From Web

, May 1, 2022

Jane Jacobs as an ordinary citizen that was worried about how modern urbanism had been destroying humanity's natural tendency to produce living spaces according to our social norms, and not because of our addiction to automobiles. The more people read this book, the closer we will be to fixing what modernism in urban design has done to enslave us to the use of autos and how our lives have changed in a negative way by such design, he said.
Great book, cheap and in good conditions though it was labelled as used.

Derived From Web

, May 1, 2022

It was the first thing i did on the internet and it was not dissapoiting. It arrived on tome and though I thought it would be a little bit scratched or painted I founded a nice surpr... it's a great book. New York Times best-selling author Saul Albo'da said the envelope was almost new, but without plastic.
Always relevant

Derived From Web

, May 1, 2022

Living in Detroit in 2009, I find the book quite relevant because we are now on a journey to remake the city.
Read it!

Derived From Web

, May 1, 2022

Still relevant, still useful, and ignored by the common city engineer, Mr. Dhaliwal said. Our city planners must re-read this sucker.
Urban Planning major thoroughly enjoys this book!

Derived From Web

, May 1, 2022

A Valentine's Day present for my boyfriend who is very interested in urban planning and design, I wrote. He hasn't had the chance to finish the book but is raving about Jacobs' wisdom on the systematic failures of American cities, particularly mass reliance on personal vehicles. However, the book may be dated, but contains a relevant and concrete critique of urban development and sprawl that is still relevant today.
One of my favorite books

Derived From Web

, May 1, 2022

Jane Jacobs and Philip Greenlee, two of the three best friends, both died in a 1997 car crash. If you're new to thinking about how our built environment shapes our lives, you may find this book both inspiring and useful. Her work ethic, combined with her accessibility and professional guidance, draws on the expertise of others placemakers and urban planners. Inspiring quotes about God and the universe from Wendell Berryhill.
Jane Jacobs & Modernism

Derived From Web

, Feb 12, 2020

Her landmark efforts helped to put a stop to Robert Moses' systematic modernization of New York City's highway system at the expense of old New York neighborhood communities and the destruction of such architectural greatness during the 1950s. It was this seminal work that led to the creation of the New York Landmark Society, an independent group dedicated to preserving the city's architectural heritage. This is a fascinating study in the numerous trade-offs we make along with the irreversible side effects, all in the name of Modernism.
Very Fluffy book. Some good points lost in lots of pages

Derived From Web

, Jan 6, 2020

Brand New York: I would not recommend it. I also bought this book along with a few other books on city development and urban planning. There is a lot of fluff in this book. Some points are insightful but you have to read through a lot to get there. Most of the chapters could be clearly explained in a few pages, Morgenthau said. It's just that nobody really talks about it."
Melted in the sun

Derived From Web

, Jan 2, 2019

This is a phenomenal book that's very accessible and also scientifically rigorous, and I love the message of urbanism, Raymond said. I have to review this product negatively because I can never read the book again. After a few hours, I left the book on the car dashboard and the glue had completely melted, so that all the pages came out of the cover in chunks. It was completely ruined, Tunick said.