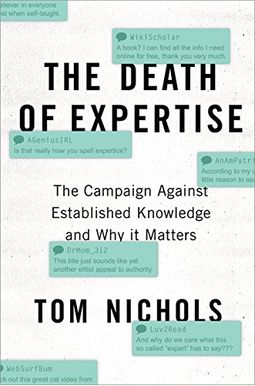 
 
The Death Of Expertise: The Campaign Against Established Knowledge And Why It Matters
Book Overview
Technology and increasing levels of education have exposed people to more information than ever before. These societal gains, however, have also helped fuel a surge in narcissistic and misguided intellectual egalitarianism that has crippled informed debates on any number of issues. Today, everyone knows everything: with only a quick trip through WebMD or Wikipedia, average citizens believe themselves to be on an equal intellectual footing with doctors and diplomats. All voices, even the most ridiculous, demand to be taken with equal seriousness, and any claim to the contrary is dismissed as undemocratic elitism.
Tom Nichols'
The Death of Expertise
shows how this rejection of experts has occurred: the openness of the internet, the emergence of a customer satisfaction model in higher education, and the transformation of the news industry into a 24-hour entertainment machine, among other reasons. Paradoxically, the increasingly democratic dissemination of information, rather than producing an educated public, has instead created an army of ill-informed and angry citizens who denounce intellectual achievement. When ordinary citizens believe that no one knows more than anyone else, democratic institutions themselves are in danger of falling either to populism or to technocracy or, in the worst case, a combination of both. An update to the 2017breakout hit, the
Read More chevron_right
Frequently Asked Questions About The Death Of Expertise: The Campaign Against Established Knowledge And Why It Matters
Books like The Death Of Expertise: The Campaign Against Established Knowledge And Why It Matters
Book Reviews
(11)
Did you read The Death Of Expertise: The Campaign Against Established Knowledge And Why It Matters? Please provide your feedback and rating to help other readers.
A top pick for today's world

Derived From Web

, Aug 8, 2021

Wow, just wow. Like all my thoughts have already found their place in the print. I sincerely enjoy this book, especially in the days of the Pandemic in 2021.
Excellent read. Gives a reader a lot to think about.

Derived From Web

, Jul 17, 2021

Excellent book, excellent read. A reader gives a lot to think about. Outstanding points. Great sources of information and footnotes are included. Keep the writing and keep it simple. Brilliant work, Thomas & Co.
Decent read

Derived From Web

, Oct 21, 2020

I was hoping to read a book on the global loss of expertise, but instead it focused only on America. In reality, what the author describes in the book is a global phenomenon, so that it might be good to explore these angles.
Good argument, a little hard to keep my attention

Derived From Web

, Sep 4, 2020

Finding it a little difficult to get through since a little repetitive, but plan to finish it eventually. Makes good points :
Not That Good

Derived From Web

, Aug 5, 2020

In this book, there was some good information. I enjoyed especially the chapter on high education, as it has been awhile since I was in uni. But this is, in general, the ranting of a dissatisfied expert. I am grateful for the expertise of others. I do as most people think. I don 't think it is helpful, though, to speak to those who do not, as if they were rebellious children. It is just not a helpful contribution to a discussion that we still need to have in the role of expertise.
Lax Dave

Derived From Web

, Jun 7, 2020

There are many good examples of good points cited. The book also has an outstanding review of the fall of the US - higher education system.
Required Reading

Derived From Web

, Jun 4, 2020

If our republic is to survive, we must seriously examine and condider the French idea of liberty, equality, fraternity. Already with the American overemphasis on individual liberty, it can and will kill us. We need experts and their opinions!
Superb!

Derived From Web

, May 19, 2019

So said : To this former Jeopardy camp, What is a book that everyone should read with a brain?
.The sky is NOT falling

Derived From Web

, Jul 21, 2018

I enjoyed this book ''. I may not agree with all his analyses, but it certainly made me think.
I recommend it highly

Derived From Web

, Aug 12, 2017

Dr. Nichols writes a careful, thorough, persuasive, and deeply pessimistic book on current American culture and its views on expert knowledge. I highly recommend ''. I see only two glimmers of light in the dark that paint Dr Nichols. There are also Americans willing to push back against ignoramuses with impunity. Otherwise, the situation is bleak in general science, the humanities and social culture.