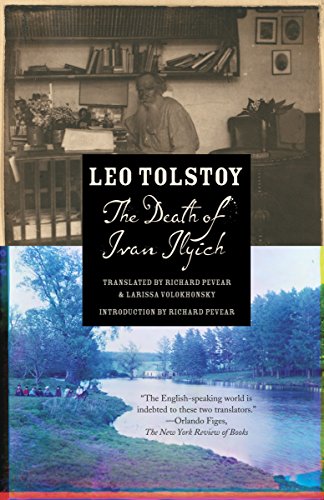  
Frequently bought together
Frequently Asked Questions About The Death of Ivan Ilyich
Books like The Death of Ivan Ilyich
What should you read after The Death of Ivan Ilyich Book? Here is a list of books to read if you read and loved The Death of Ivan Ilyich
Book Reviews
(9)
Did you read The Death of Ivan Ilyich? Please provide your feedback and rating to help other readers.
For Lovers of Truth

Derived From Web

, Apr 20, 2022

This book is for lovers of truth... What begins as a story about a man with little depth ends up being about a man who can not tolerate lies. His only comfort as he dies is with someone who is simple and natural and accepts the truth of the situation he is in. Finally the spiritual character Ivan Ilyich connects with a main experience of forgiveness, kindness and being beyond death at the end. It is beautiful the way that Leo Tolstoy exposes the thinking of the different characters and motivates them. This is literature of an amazing depth. A pleasure to read :
Memento Mori

Derived From Web

, Mar 9, 2022

Memento Mori is a song by Memento Mori. Die, remember that you will remember. Very good book ''. I thought it was first horrible to read about death, but I found very beautiful texts that you should remember that you will die and live your life as you want, not how it should be lived on someone else's life. It is a gift. It is a gift. So many are already died, maybe because they have forgotten the death. And it was not so terrible to die with Ivan Ilyich. We will die one day everyone, so why not live the fullest today and remember that we will die. I loved that book ''.
Great book, poor editing, penetrating insights into matters both mundane and profound

Derived From Web

, Mar 27, 2021

I really enjoyed this novella. It was very thought provoking and seemed very contemporary and could have been written just as easily... except that few authors combine such eloquence with such simplicity. The honesty is striking and heart-breaking. The only problem was that the editing was sloppy and thus distracting with grammatical errors and misspellings, although never so bad to prevent a quick grasp of the intended phrasing.
About what matters

Derived From Web

, Jan 14, 2021

This important story from no one less than Tolstoi deals with one of the most short things. We knew that living is a dangerous business, as it always ends in death. Here we can find this path with Ivan Ilyich and follow what is most important at the end.
Profound Story of Suffering the Failure of Living Authentically

Derived From Web

, Aug 12, 2019

The story is remarkable. This edition is numerous misspellings, wrong words, terrible errors. A short but profound story that forces you to consider what you are really living for. As well, it forces you to consider what suffering assuages. Brilliant and a lot easier to read than War and Peace!
Liked it but

Derived From Web

, Jul 26, 2019

I enjoyed this short story, but there are a LOT of typos and grammatical errors in this version. For as short as this is its kind of disappointing how many there are...
Painful read with a profound and alarming end

Derived From Web

, Jun 27, 2019

There are definitely typos. Regardless, I rated 5 stars because of the content with 5 : This book has a profound message, when we are so prompted by society, in modern age, when superficiality and lies are so prompted by society. It has a profound message that inspires us to tell the truth and live out "goodness " and our full potential. Tolstoy, thank you Tolstoy. At the same time, I wonder : Does everyone who lives a morally questionable life get some sort of punishment? Does everyone experience this mental purgatory? Does everyone experience this mental cleanse?
Meaning of Life

Derived From Web

, Mar 22, 2019

No one suggests the meaning of life through examining death like Tolstoy. All possessions, positions and people of power fade away when the end of life is near. We delve into the bowels of our souls and see what we are and what we are not. The truth can not be hidden no matter how badly we would like it to be. Ivan Ilyich suffers more from his mental anguish of what his life is not or the falsity of his life than from his terrible physical pain. In the end, the truth lies before him and as he faces death there is light. Tolstoy is the master of the offering a million explanations and stabbing the meaning of life in just a few short chapters. Brilliant writer!
Very moving and unsettling

Derived From Web

, Mar 12, 2019

Forces one to check what is life and brings value to the present moment, as death inevitably comes as a time for account settlement.