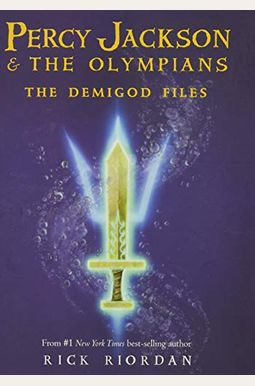 
 
Percy Jackson: The Demigod Files
Book Overview
#1 NEW YORK TIMES BEST SELING AUTHOR
A guide to the bestselling series, featuring original short stories, puzzles and games
How do you handle an encounter with Medusa on the New Jersey interstate? What's the best way to take down a minotaur? Become an expert on everything in Percy's world with this must-have guide to the Percy Jackson and the Olympians series. Complete with interviews, puzzles, games, and original short stories by Rick Riordan.
Frequently bought together
Frequently Asked Questions About Percy Jackson: The Demigod Files
Book Reviews
(12)
Did you read Percy Jackson: The Demigod Files? Please provide your feedback and rating to help other readers.
Boom

Derived From Web

, May 6, 2022

The book is a good read, but the portraits are a tad weird. Thanks for watching. Yes, I did. See you later!
Good, but short.

Derived From Web

, May 6, 2022

I got it to help fill in some of the gaps I had hearing other references to the short stories contained within. It helped fill in some of the gaps, and provided a great way to have a quick read, he said. There were just too many short stories in the book. It's probably biased since I'm a voracious reader.
Great Book!!!

Derived From Web

, May 6, 2022

It was in perfect shape and I received it in the amount of time that I needed it most, Mr. O'Neill said. I'm a huge fan of the show, and I think that Siobhan will do great work with Simon. The second book, "The Hunt for Red", was also written by Malvo.
This a perfect read

Derived From Web

, May 6, 2022

This is a book where it builds you up and gets you excited then it puts in a twist.. This is a romantic comedy, adventure, science fiction and exciting book. It reaches to everyone no matter what your taste or status. This is a perfect book for someone who likes to read a lot of different genres.
Interesting Children's Fantasy Series

Derived From Web

, May 6, 2022

My 10 year old grandson fell in love with the series. He gave me the book to look over and I started to read it and it got my interest and I kept reading and loved it! There are two books that were done into movies that were on television, one by Simon & Schuster. They were very well done and the actors and actresses were excellent, Mr. Dhaliwal said. The series follows a young boy who finds that he is part human and part of one of the Greek gods, Sosa. I found this series very interesting, just as my grandson has. Thanks to Amazon, it came in perfect condition and was shipped within three days. Great series, and great Amazon!
Could be better

Derived From Web

, Feb 26, 2022

Except for the last book, "Percy Jackson and the Sword of Hades," I enjoyed all of this book. She has recently been explored in many new ways. Her original story is difficult because it is basically an abduction, but I would like to see the Goddess treated better, said Gammerman. I know everyone tries to idealize the relationship between Hades and Persephone, but he abducted her, not romantic, said Gammerman.
Great side stories

Derived From Web

, Mar 3, 2021

Gave this to our 11 year old daughter when we read the first book together and she has absolutely enjoyed all the side stories. She has read the entire series alone, and we have read together each night.
Fun companion piece

Derived From Web

, Apr 5, 2020

It's a companion piece to the Percy Jackson series. Short stories, sweet, yet still entertaining, were the order of the day.
Subpar product from Amazon

Derived From Web

, Nov 18, 2019

This is a Christmas present I purchased for my son, along with multiple other Rick Riordan books. Two of the books, "The Demgod Diaries" by Jan Dujardin and "White Cube," by Robert Hein, were shipped together. I'm delighted the book was the one I was looking for, and I popped the cork to see it was the books. Today I pulled them out and I am so disappointed in the way the book edges were cut and Amazon would allow this purchase to be shipped like this! We're not sure if Rick Riordan would have approved of our book deal. My son is such a fan of this author, it just saddens me to see a product from Amazon like this!
Good stories but cover is backwards?

Derived From Web

, Aug 29, 2019

I got mainly for the stories, they are very good and tie into other series in the backwards Percy Jackson universe, however for some reason the cover on mine is? To read the book I have to turn the book upside down and from the back. Haven't seen any other reviews with this problem and I'm not sure if it bothers me enough to return it for a new one.