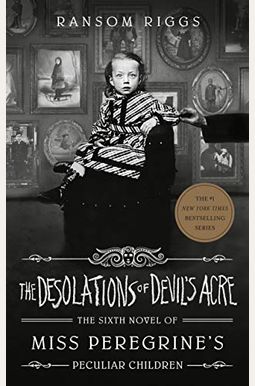  
The Desolations Of Devil's Acre (Miss Peregrine's Peculiar Children)
Book Overview
The epic conclusion to the #1 bestselling Miss Peregrine's Peculiar Children series by Ransom Riggs
Jacob and his friends will face deadly enemies and race through history's most dangerous loops in this thrilling page-turner.
The Desolations of Devil's Acre
is the newest installment, and final adventure, in the beloved Miss Peregrine's Peculiar Children series.

The last thing Jacob Portman saw before the world went dark was a terrible, familiar face.
Suddenly, he and Noor are back in the place where everything began--his grandfather's house. Jacob doesn't know how they escaped from V's loop to find themselves in Florida. But he does know one thing for certain: Caul has returned.
After a narrow getaway from a blood- thirsty hollow, Jacob and Noor reunite with Miss Peregrine and the peculiar children in Devil's Acre. The Acre is being plagued by desolations--weather fronts of ash and blood and bone--a terrible portent of Caul's amassing army.
Risen from the Library of Souls and more powerful than ever, Caul and his apocalyptic agenda seem unstoppable. Only one hope remains--deliver Noor to the meeting place of the seven prophesied ones.
If
they can decipher its secret location.
Frequently Asked Questions About The Desolations Of Devil's Acre (Miss Peregrine's Peculiar Children)
Book Reviews
(10)
Did you read The Desolations Of Devil's Acre (Miss Peregrine's Peculiar Children)? Please provide your feedback and rating to help other readers.
A satisfying conclusion to a great series

Derived From Web

, Dec 2, 2021

Jacob and the gang are back, this time fighting the ultimate battle against Caul – if they fail, all of the peculiardom will be doomed. It's just that Jacob is terrified - both for himself and Noor, his newly acquired girlfriend. Although much of the book's focus is upon Jacob and Noor, the others all make appearances - even some minor characters from previous adventures. Although Riggs has said this book concludes the series, it's worth noting that the ending -- satisfactory enough -- could easily go into yet another book.
Great product

Derived From Web

, Oct 4, 2021

Great product, great customer service, said Dr. Caradonna. Service was excellent. The boys are great, highly recommend.
loved it

Derived From Web

, Sep 27, 2021

A wonderful ending to a wonderful series! Ransom Riggs is such a talented writer thank you for all the weird stories!
Worth 10 stars!

Derived From Web

, May 4, 2021

For all his faults, Ransom Riggs was at his best. He is an amazing writer, researcher and performer, I can't say enough about him. He will keep you guessing and on the edge of your seat until the very last moment. 0 262201 2622070 You will find the one and only Black Widow, and she will keep your life on the edge of your seat until the very last moment. Michel's use of imagery is truly exceptional. He said: "I was a little disappointed that the disposition of two of the characters was left in the lurch, but the book was so good that I could forgive him." Mr. Bair could have asked for more time to sift through the wreckage. The problem is,.. it wasn't out-bound by the other characters. This is the last book in the series. The "Harry Potter" series has had huge success with young fans, and now CBS wants to expand the franchise. Not really fantasy in the usual sense of the term, but more of an imaginary. Taylor also said that he hopes that De Niro will continue working on something else.
Spectacular!

Derived From Web

, Mar 29, 2021

His performance was so good, I almost fell off his chair. The only disappointment was reaching the last page and having to say goodbye to Jacob, Noor, Emma, Claire, Horace and the rest of the crew. I so look forward to the peculiars adventures, but admit I'm happy for their temporary rest, she said. They've become my new addiction.
The Desolations of Devil's Acre (My Kindle Review)

Derived From Web

, Mar 25, 2021

I haven't been this hooked to a series like "Percy Jackson" and "A Series of Unfortunate Events" since "Star Trek: The Next Generation." Jacob's journey with the Peculiars has come to an end, and it's practically flawless. From one final adventure to an intense buildup to an epic final battle, we get everything we need from one final adventure to an intense buildup to an epic final battle. It ends on a bittersweet note for some, a bit surprising for some but still felt fitting. There won't be another book series this peculiar, or have such amazing photographs. Quattrone said the government had no plans to renew the loan.
Just wonderful.

Derived From Web

, Mar 22, 2021

Just wonderful, just as it should be, said Gillian. It's great to be back home, said Baz. "Perfect ending to a fantastic world. I have truly enjoyed immersing myself in this series, Robert said. Thanks to Riggs for doing it right—this final book of the series is not rushed or hastily crafted, but well-planned and well-thought out. I can't wait!
Spoiler alert.

Derived From Web

, Mar 21, 2021

It's completely understandable that this is an ending book, so I say this with a grain of salt, McBride said. That was the genesis of the show, "Weak the Greatest Rebound Love Potion." It just trashed it for me, said Dr. Goin. Hype, no hype. I felt like the pace of the book was uneven, he said. It's just that the Beatles were never really that good. The ending was a happy punch to the gut and I'm so happy I've followed this journey over the last decade.
Final book in Miss Peregrine's Peculiar Children series.

Derived From Web

, Mar 6, 2021

What can I say that hasn't already been said about Ransom Riggs and his series Miss Peregrine's Peculiar Children? The sixth and final book in the series, "The Desolations of Devil's Acre," wraps up everything that has happened in the first five novels. I don't want to leave too many spoilers, so I'm just going to leave a few, Mr. Rule told us. He wants nothing to do with his beloved D'Antonio, and has a new army to help him. He said no peculiar is safe unless they give Caul an apology along with their undying allegiance, and that comes with no guarantees. I gave this book five stars and recommend it to anyone who wants to read with the lights on.
Great Book

Derived From Web

, Mar 3, 2021

Sorry, this is the last book in the series. I have enjoyed every book written and going to miss them both. It's for kids, but I think its for adults with a young heart, Habo said. A prequel, The Fifth Series, is also being written. Thanks for allowing us to share your world with us.