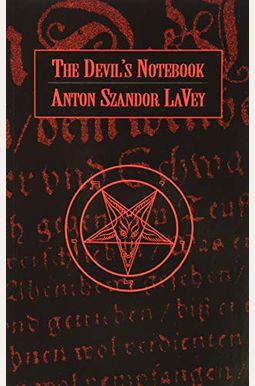 
 
Book Overview
The Devil's Notebook is a riveting collection of wisdom, humor and dark observations by the founder of The Church of Satan, Anton LaVey. The High Priest speculates on such topics as nonconformity, occult faddism, erotic politics, the Goodguy badge, demoralization and the construction of artificial human companions. Like P.T. Barnum, Ben Hecht and H.L. Mencken before him, LaVey zeroes in on humankind's limitless capacity for self-deceit and self-denial. Included are instructions for the creation of what LaVey terms total environments, or places of magical evocation, where the enlightened may escape the deleterious effects of contemporary existence.
The Devil's Notebook is a true grimoire, as relevant today as it was when it was first published in 1992. Introduction by Adam Parfrey.
Frequently Asked Questions About The Devil's Notebook
Books like The Devil's Notebook
Book Reviews
(15)
Did you read The Devil's Notebook? Please provide your feedback and rating to help other readers.
A more lighthearted read from LaVey with his usual brand of wit and humor.

Derived From Web

, May 26, 2022

The book discusses everything from the media, the occult, individualism, the Goodguy Badge and even the importance of your own musings on the throne. Since the chapters are so short, it is actually a great bathroom companion. It is a great book with some fun insight, give it a shot.
The POV from the dark side on the conflicting societies ...

Derived From Web

, May 26, 2022

The POV from the dark side on the clashing societies of man is not always drastic and unwelcome, considering a lot of evil that hides in the woodwork of the faithful and supposedly moral.
Great book of essays

Derived From Web

, May 26, 2022

Book of essays by Robert E. Walsh, great. This collection is mostly ideological ideas. I found myself disagreeing and agreeing with the many statements. If anything, it made me think about different views, which is always good.
Comedy Gold

Derived From Web

, May 26, 2022

Anton Szandor LaVey is a witty genius with a comedic understanding of truth and virtue. Though comedy isn 't the exact point of his writing, humor still comes through in an uneniable way. That makes sense, as he elaborates on the importance of a sense of humor in destroying the sanctimonious in more than one part of the book. His views are always insightful, even if you don 't agree with everything he says, and he has a paradoxical way of presenting truth. The Devil's Notebook is a short work that makes for a very approachable read. You should read it and read it again after you read it.
Great Book

Derived From Web

, May 26, 2022

The responsibility is for the responsible!
Series of Essays on Misc Topics

Derived From Web

, May 26, 2022

It is a collection of essays on various topics related to Satanism. Brain Picker is fun for a brain picker.
Some of LaVey's Most Interesting Work

Derived From Web

, May 26, 2022

Of all LaVey's work, though the Satanic Bible is the best-known, and arguably the most, this was the one I enjoyed most. I think that the essays in the Devil's notebook reveal a lot more about LaVey and Satanism than you can find in any of his other works. This is one of the few books that I have recently found that made a noticeable impact on my life.
I know what your thinking

Derived From Web

, Nov 18, 2021

This is not what I expected from @alk. It does not attack in religion in a straight forward way, but promotes its own thoughts. More less what Levay is getting is that it is standard to be taught and feel guilty for minor sins most commit and some pledge to. It is actually very liberal in that individuality should be celebrated instead of condemned. Should certainly be read by those who feel that society does not understand them and/or discriminates them for unjust causes.
Not what you might expect, and that's a good thing

Derived From Web

, Mar 25, 2021

Not to jump to conclusions, I wanted to read LaVey's work myself. I read the Satanic Bible in my 20's, so I am familiar with his basic premise, but now as a much wiser adult, it was time to refresh my memory to see if this corresponds to my personal philosophy. I am not a Satanist'' type of person, but a very open-minded live and let live ''. He has some interesting viewpoints, but it feels like he is trying too hard to appear brilliant and I found it a chore to read. POWER is SIMPLICITY Dude.
D.W.C.F. returned it without even sending it to book committee

Derived From Web

, Jan 28, 2020

Great book, tried to send it to my fiance at the Denver Women's Correctional Facility, but they returned it out of hand, did not even send it to the Book Committee to review. As it falls under religion, another example of how prison does not follow the same rules that they hold others for breaking.