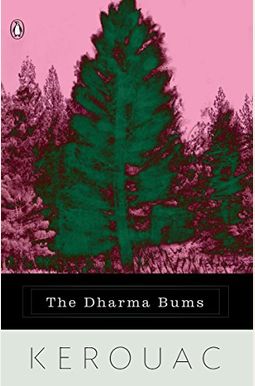  
Book Overview
This Description may be from another edition of this product.
Two ebullient young men are engaged in a passionate search for dharma, or truth. Their major adventure is the pursuit of the Zen way, which takes them climbing into the High Sierras to seek the lesson of solitude, a lesson that has a hard time surviving their forays into the pagan groves of San Francisco's Bohemia with its marathon wine-drinking bouts, poetry jam sessions, experiments in yabyum, and similar nonascetic pastimes. This autobiographical novel appeared just a year after the author's explosive On the Road put the Beat generation on the literary map and Kerouac on the bestseller lists. The same expansiveness, humor, and contagious zest for life that sparked the earlier novel ignites this one. The novel is based on Kerouac's experiences during the mid-1950s while living in California, after he'd become interested in Buddhism's spiritual mode of understanding. One of the book's main characters, Japhy Ryder, is based on the real poet Gary Snyder, who was a close friend and whose interest in Buddhism influenced Kerouac. This book is a must-read for any serious Kerouac fan.
Frequently bought together
Frequently Asked Questions About The Dharma Bums
Book Reviews
(14)
Did you read The Dharma Bums? Please provide your feedback and rating to help other readers.
Fun Read!

Derived From Web

, Apr 20, 2022

The book will be distributed through book clubs and other outlets.
Fun Book

Derived From Web

, Apr 20, 2022

Kerouac's life story is told through the prism of a troubled teenager who works with a Hollywood screenwriter. I must have read this book in college, more enjoyable than any textbook by far. Not my favorite, but great nonetheless.
excellent

Derived From Web

, Apr 20, 2022

interesting story, not every audience member said. Very hippy,'' said Dr Pepper. If that is your thing, you'll dig. It was once recommended to me as one of the primary books to read when I entered the corporate rat race. If you're struggling with the notion of being glued to a strict work schedule and job responsibilities, read this one to open your mind to what the complete opposite side looks like.
60's style Hippy tales

Derived From Web

, Aug 18, 2021

Despite the best efforts of the writer and his supporters, it is difficult to determine how much of the claims to Buddhism are true. It's an ancient wonder how much of the poetry and meditations were spurred by wine. True Buddhists would also abstain from sex, a misconception that has led to widespread skepticism. It's a great read, but difficult to fathom the truth behind the story.
Great book for Zen Buddhists

Derived From Web

, Mar 21, 2021

Kerouac is one of my all-time favorite writers. This book is very well-suited to people who have studied and practiced Buddhism.
Not my favorite Kerouac, but well worth the read. Highly recommend!

Derived From Web

, Jul 30, 2020

While it wasn't my favorite work of his by far, it shows maturity, spiritual depths, and reflective, peaceful thought that I wasn't expecting from Kerouac. This novel shows his growth as a writer, and it makes one want to reflect upon nature and look into themselves, he said.
Best Jack Kerouac Book

Derived From Web

, May 1, 2020

Kerouac's book "The Dharma Bums" stands in a class by itself. The Dharma Bums are back with more Dharma Bums.
Excellent use of paper

Derived From Web

, Dec 10, 2019

Quality bookbinding and binding, Mr. D'Antonio said. I still haven't read it. Ordered it a decade ago. That wasn't the fault of the book, Taylor said. It's a real quality copy, Simon says. Yes, I have not checked every word of every book, but I admit to not checking every word of a known good copy. If you look at the tape, you see that there are some words that are missing.
A peaceful and uplifting read

Derived From Web

, Apr 1, 2019

A great book, said Dr. Michael Davis, who co-chaired the inquiry. He has a very good reputation for writing great stories and memorable characters. Kerouac was a soft touch, Byrne said. I'll probably read it again. Inspiring moments that make me want to be out in nature, with family and friends, away from the hustle of daily reality, not thinking about money or stressing about the future, he said. Enjoy the now and most important, get out, enjoy nature and remember what's most important in your life, HappyFeet says. Material possessions are meaningless while friendship, love and knowledge are truly priceless. Home Forums General Discussion What do you think of the new taxes?
An enchanting, meditative novel

Derived From Web

, Apr 30, 2018

This is a wonderful tale of Jack's adventures across the country and in California specifically. His stream-of-consciousness prose makes this a quick and witty read, too. After reading this book you'll want to try your own meditation techniques.