Buy 3 Get 1 Free
Our Best Sale Yet! Add 4 Books Priced Under $5 To Your Cart     Learn more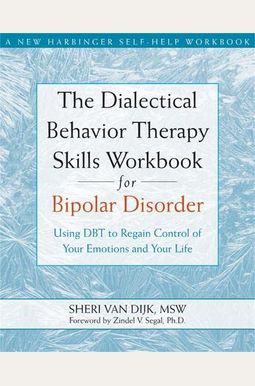 
 
The Dialectical Behavior Therapy Skills Workbook For Bipolar Disorder: Using Dbt To Regain Control Of Your Emotions And Your Life
Book Overview
Even if you've just been diagnosed with bipolar disorder, it's likely that you've been living with it for a long time. You've probably already developed your own ways of coping with recurring depression, the consequences of manic episodes, and the constant, uncomfortable feeling that you're at the mercy of your emotions. Some of these methods may work; others might do more harm than good. The Dialectical Behavior Therapy Skills Workbook for Bipolar Disorder will help you integrate your coping skills with a new and effective dialectical behavior therapy (DBT) plan for living well with bipolar disorder.
The four DBT skills you'll learn in this workbook-mindfulness, distress tolerance, emotion regulation, and interpersonal effectiveness-will help you manage your emotional ups and downs and minimize the frequency and intensity of depressive and manic episodes. By using this book in conjunction with medication and professional care, you'll soon experience relief from your bipolar symptoms and come to enjoy the calm and confident feeling of being in control.
Learn mindfulness and acceptance skills
Cope with depressive and manic episodes in healthy ways
Manage difficult emotions and impulsive urges
Maintain relationships with friends and family members
Frequently Asked Questions About The Dialectical Behavior Therapy Skills Workbook For Bipolar Disorder: Using Dbt To Regain Control Of Your Emotions And Your Life
Books like The Dialectical Behavior Therapy Skills Workbook For Bipolar Disorder: Using Dbt To Regain Control Of Your Emotions And Your Life
Book Reviews
(9)
Did you read The Dialectical Behavior Therapy Skills Workbook For Bipolar Disorder: Using Dbt To Regain Control Of Your Emotions And Your Life? Please provide your feedback and rating to help other readers.
Worth a read for folks with bipolar, but needs more content...

Derived From Web

, May 27, 2022

Contains some important information in DBT and cognitive behavioral therapy, but skips over some valuable techniques and could really benefit from some more exercises and worksheets. I have bipolar, general anxiety, social anxiety and PTSD. Most comorbid patients have at least two of these and the book could really use more focus on bipolar conditions, especially for anxiety disorders.
Very Helpful

Derived From Web

, Oct 7, 2021

Living with bipolar disorder since my teens, and pretty well through medication, I have managed my episodes. I found out through the therapy that I did not really know much about my illness and ways to mitigate symptoms and episodes. DBT is by far the only therapy I have found that allows me to accept and work with my mental illness, to stay stable and to connect with it.
Recommend to anyone with bipolar disorder!

Derived From Web

, Oct 2, 2021

Workbooks should be interactive and immersive to actually help people, and this is definitely that. Learning Mindfulness has helped me in a dramatic way to relieve my symptoms.
Nice concept with poor execution

Derived From Web

, Mar 4, 2021

This book seems to have lifted DBT concepts used for the treatment of bipoar conditions and not modified for the other experience. The book feels very bipolar, minimizing and judgmental of dismissive in general. It feels like it was written by someone who knows what they would like to see as far as treatment, and by someone who has seen some extreme cases, but not by someone who actually experiences these things, and not by someone who is compassionate about the experience. I think that some of the exercises may be helpful for some people, but I personally found it to be overly helpful. There are other books with a more helpful tone and other exercises and advice.
Love itttt

Derived From Web

, Nov 15, 2020

This book is helping me understand my bipolar better. I am now doing a mood chart that it has in it and has also helped me by doing this. I am not yet finished with it, but hopefully it will help me not to put so much stress on my family. So much gratification for this.
I would definitely recommend this workbook!

Derived From Web

, Sep 27, 2020

I am working on this book with my therapist. It helps me a lot, so I suggest that you get this book if you have bipolar disorder, or if your loved one has bipolar disorder, to help you understand them better. It really helped, so I would definitely recommend it.
Not very helpful.

Derived From Web

, Nov 2, 2019

If I wanted a depression workbook, I would have bought one.
Live Saving

Derived From Web

, Sep 17, 2018

I really wish that every therapist and psychiatrist would recommend this book from the beginning.
A Must have!!!

Derived From Web

, Sep 17, 2017

After ordering a few other books to help me with my bipolar and anxiety, I was very impressed with how well this worked. I practice it only when necessary, although I use the skills every day. It explains a lot about mental illnesses and the different types of. This helped me understand why I have what I have. There are worksheets that you can draw or make copies of-one worksheet made you tear a time line of events related to it in your life and emotions. That really helped me understand things! I have a bipolar cycle with mixed episodes along with anxiety. I also have epilepsy, so I think that is where it came from. If anyone is in the same or similar situation, it is a helpful guide and I recommend.