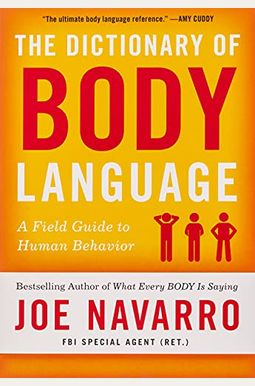 
 
The Dictionary Of Body Language: A Field Guide To Human Behavior
Book Overview
The ultimate body language reference. I'll be both referring to and recommending this book on a daily basis for many years to come. --Amy Cuddy

From the world's #1 body language expert* comes the essential book for decoding human behavior.
Joe Navarro has spent a lifetime observing others. For 25 years, as a Special Agent for the FBI, he conducted and supervised interrogations of spies and other dangerous criminals, honing his mastery of nonverbal communication. After retiring from the bureau, he has become a sought-after public speaker and consultant, and an internationally bestselling author. Now, a decade after his groundbreaking book What Every BODY is Saying, Navarro returns with his most ambitious work yet. The Dictionary of Body Language is a pioneering field guide to nonverbal communication, describing and explaining the more than 400 behaviors that will allow you to gauge anyone's true intentions.
Moving from the head down to the feet, Navarro reveals the hidden meanings behind the many conscious and subconscious things we do. Readers will learn how to tell a person's actual feelings from subtle changes in their pupils; the lip behaviors that betray concerns or hidden information; the many different varieties of arm posturing, and what each one means; how the position of our thumbs when we Read More chevron_right
Frequently Asked Questions About The Dictionary Of Body Language: A Field Guide To Human Behavior
Book Reviews
(11)
Did you read The Dictionary Of Body Language: A Field Guide To Human Behavior? Please provide your feedback and rating to help other readers.
VERY HAPPY

Derived From Web

, Jan 27, 2021

This book provides detailed information on how people move and why. I love the new look of the magazine.
Amazing book

Derived From Web

, Aug 18, 2020

I've read all the books, and I love this one. It's very beneficial for anyone that wants to know or understand body language. Will have an advantage in my future career, he said.
Bad shipping

Derived From Web

, Jun 2, 2019

It came with a defaced front cover. It looks like someone's 5 year old scribbled on it with pencil prior to delivery.
Does not really bring anything to the table

Derived From Web

, May 23, 2019

If you think that what you're saying is correct, try to use a body part and try to reach a meaning on it. I have a master's degree in organizational and psychiatric medicine and a BA in psych. The information in this book is unreliable, unverifiable and subjective. There is little substance to the observation and the book leans heavily on experience and subjective interpretations of the event. I did not discover anything new in this book just a description of people and body behavior, and what the author thinks it means, Raymond said.
Informative, yet rudimentary

Derived From Web

, Jan 25, 2019

Echoing other reviewers, McCabe laments that the book doesn't match the written-by-retired-FBI-agent-with-decades-of-experience preface. It seemed like it was written for people who are severely lacking the ability to read body cues, although there is an interesting discussion of less obvious corporal gestures. The book itself was wholly inconclusive and repetitive, and it was definitely an easy read given the content, length and lack of pretentious language. However, I would not recommend that you go into this field without a thorough study of human behavior and deception.
Joe Navarro does it again!

Derived From Web

, Jan 23, 2019

Mr. Navarro is the foremost authority on non-verbal behavior. I would highly recommend this book to anyone serious about studying non-verbal behavior. There are many authors out there that claim to understand non-verbal behavior, but only Joe Navarro has truly provided scientific substantiation of his observations. I would like to add that I believe that reading his book "What Every BODY is Saying" will provide a better understanding of the contents of this book. Mr. Navarro is an excellent teacher of non-verbal behavior and I believe this provides an excellent example of his expertise on the matter, Garton said. If you are interested in nonverbal behavior, I would also recommend that you check out Navarro's website which, to me, has been an unbelievable resource for non-verbal behavior studies.
Fascinating!!!

Derived From Web

, Dec 27, 2018

A great book, said Dr. Chester Floyd, director of the University of Michigan's Center for Book Research. I stumbled across the author's Facebook page which is where I learned about the book. On his personal page, he analyzes body language associated with current events.
Best Bodylanguage book on the market.

Derived From Web

, Sep 2, 2018

Wow! That was pretty impressive, right? Best book on body language I've ever read. There are six or seven other people who would love to have that many stars. This book is head and shoulders above anything else.
The book is as dry as a standard reference manual, useful without being particularly interesting.

Derived From Web

, Sep 1, 2018

I've seen the movie "What Everybody Is Saying" and I was excited to be seeing the new version of "The Dictionary of Body Language." The good news is that it delivers as promised, Mr. Dhaliwal said. The book is still thorough in documenting the myriad of body language and their possible interpretations.
Excellent Guide!

Derived From Web

, Aug 25, 2018

Joe Navarro is one of the country's premier nonfiction writers. It's been a while coming, but I'm so excited it's finally out! The book is broken down by body part and then it further breaks it down on each category to illustrate what each gesture, gesture, or gesture is. That said, the Harrisons did not hesitate to admit that their "mistakes were partly responsible." I highly recommend all of his books. He is a true expert in his field and he is very adept at explaining concepts to the average person. HIGHLY RECOMMEND!!! It's just that they call it quits."