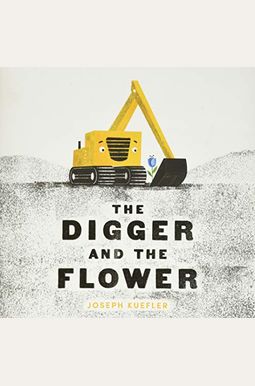 
 
The Digger And The Flower
Book Overview
From the acclaimed author/artist of Beyond the Pond and Rulers of the Playground comes a breathtaking new book with a powerful message about the environment, perfect for fans of Peter Brown's The Curious Garden and Kadir Nelson's If You Plant a Seed.
Each day, the big trucks go to work. They scoop and hoist and push.
But when Digger discovers something growing in the rubble, he sets in motion a series of events that will change him, and the city, forever.
This story contains bold graphic illustrations and a wonderful message about the environment, proclaims Brightly in their article 18 Must-Read Picture Books of 2018.
Frequently bought together
Frequently Asked Questions About The Digger And The Flower
Books like The Digger And The Flower
Book Reviews
(10)
Did you read The Digger And The Flower? Please provide your feedback and rating to help other readers.
My Son is Obsessed

Derived From Web

, Mar 11, 2022

I have boygirl twins and he is extremely emotional, she said. This little guy is very sweet and feisty, Raymond said. I bought this book on a whim for him because he's obsessed with things that go and build, plus he has a heart of gold, Silver said. My son absolutely fell in love with the book. The book is also available in the "Digger and the Duckling" format. The books deal with complex emotions that kids just don't understand. He seemed grateful to have stories that addressed the complexities of his emotional life, his mom said.
Sweet and sensitive

Derived From Web

, Sep 14, 2021

I love this story, the digger cares about the flower, Tunick said. This is truly anthropomorphism at its finest. nan
Sweet book with a great message

Derived From Web

, Sep 5, 2021

Every year we give her a book that matches the theme. This year she wanted a construction tractor themed birthday, and I came across this book. The illustrations are wonderful and the story is so sweet, too. We love reading this book and talking about the importance of protecting and nurturing nature, Raymond said.
perfect if you've got a sweet, sensitive little boy

Derived From Web

, Aug 22, 2021

My son is all about "boy" things. He is also extremely sensitive, emotional and extraordinarily empathetic to his age. i always read books before i give them to my kids just to get an idea if they will like them or not. sometimes, if the book is very good, has a great message, or reminds me of one of my children, i will write a letter in the front. i knew i had to write a letter. Clearly, it's for him to read later in life. i had to tell him how perfect the book was for him, that it represented a quality about him that i hope he never grows out of - his concern, affection, and compassion for others, she said. It's his favorite book and we read it every night. It's become one of my favorites.
Such a good book!

Derived From Web

, Apr 22, 2021

Loved this story and message, Mr. Dhaliwal said. It was a surprise for me to find out that this was part of Earth Week." The results were great, said Dr. Brian Schammer, director of the NIH's Ames Research Center.
Too sad and shicking

Derived From Web

, Mar 31, 2021

This is so sad, I think it could traumatize a sensitive child, Blair said. The flower of the story, nurtured and protected by the digger at a building site, is cut down by a bulldozer. Diggers bucket. The digger finds the seeds and replants them, but sheesh. Returned to sender.
2.5 yo Toddler Loves It

Derived From Web

, Jan 24, 2021

My son is a truck-obsessed and LOVES the book. The writing is disappointing and I don't enjoy reading it as much as similar truck-themed books like Little Blue Truck and Little Excavator. However, I appreciate the intention to build awareness about the environment, but, again, there are other better-written books.
A warm hearted construction tale!

Derived From Web

, Oct 19, 2020

Digger and his buddies go to work every day, scooping, digging and building. Digger comes across a little flower which he tends to and enjoys watching it grow. The book takes a dark turn when, for the sake of development, the flower is destroyed, but Digger manages to salvage the seeds and replant them. The book is a simple but surprisingly touching story of compassion told through the prism of a boy's imagination. What a great story, one that could have so easily been told with a little less gusto. The ending can be in so many ways, all of which allow parents to teach valuable life lessons, Mrs. Mills said. The illustrations are quite imaginative and do a great job bringing this story to life. Happy reading!
Cute

Derived From Web

, Sep 30, 2019

The cutest little story ever told! Great to show little boys who love big tough diggers the sweetness of caring for something small, Raymond said. My son absolutely loves it.
For little digger enthusiasts everywhere!

Derived From Web

, Apr 30, 2018

What sets it apart from the rest of the construction vehicle kids book? My son is a huge fan of construction vehicles and gardening. The book poses the question: When should we care about nature more than we push forward with progress? It let us have some great conversations about how sometimes tending the flowers is the most important thing we can do, even if it's just for a few minutes.