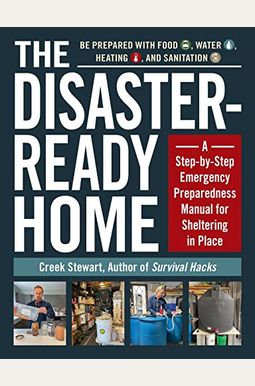 
 
The Disaster-Ready Home: A Step-By-Step Emergency Preparedness Manual for Sheltering in Place
Frequently Asked Questions About The Disaster-Ready Home: A Step-By-Step Emergency Preparedness Manual for Sheltering in Place
Book Reviews
(6)
Did you read The Disaster-Ready Home: A Step-By-Step Emergency Preparedness Manual for Sheltering in Place? Please provide your feedback and rating to help other readers.
Practical Information

Derived From Web

, Mar 1, 2022

When I saw the ad for this book, I decided to buy a copy. I'm happy I did. Common sense information was not useful in most of the survival books I had purchased. Creek's book lays out a plan to help a person survive a crisis, and I am not disappointed. He knows how to present things in a way that is easy to understand and useful. I plan to buy more copies of this book for family members who are out of state as soon as I can.
The best home disaster i ever read.

Derived From Web

, Feb 14, 2022

There are a lot of disaster books in my library. This is the best one I've ever read. Well written, easy to read. It was very well organized and logical. Creek has the best suggestion. If you follow the suggestions, you will avoid many pitfalls and save money. Creek has suggestions I have never seen before. He doesn't just leave you to figure it out. He walks you through the steps of how to get each item, how much to spend, and what the best items are. This is a good book. It's!
Terrible binding on my order

Derived From Web

, Jan 29, 2022

My review is not based on the content of the book but on the quality of the product. I can't comment on the actual material provided in the book because I haven't gone through it yet. The binding on the book broke when I opened it after I sat down and opened the package. The book is falling with no use. I'm not happy with the quality of the binding, maybe I got a lemon in the bunch.
Thorough, full of insightful, well thought out information.

Derived From Web

, Jan 26, 2022

This book is thorough and concise. Creek Stewart has a great book. I know how Creek does everything. You can always count on Creek to give you great, insightful information and all the extra tips and reasons why you need to do it. I get his monthly survival skills of the month and his montly wild edible plants, both filled with more in depth infomation, thoroughly broken down, with incredible pictures and info on every aspect you can think of. You will find the best! Each one will be kept in by the binders he sends you. Do you want to get them? It's!
Must have to protect ourselves and our families when we need to shelter in place

Derived From Web

, Jan 9, 2022

In case of natural disasters or other circumstances, this book is the most complete step-by-step guide to be prepared. It is easy to read and the instructions are simple. Creek shows step-by-step how to prepare a long-term food and water supply, as well as how to have an off-grid heating system and bathroom. I bought the book for myself and my mother. Every household should have this book. Creek says it's not if, but when. Five stars!
Valuable resource

Derived From Web

, Jan 5, 2022

I got the book today and was very impressed. There are clear explanations, step-by-step instructions and helpful photos that cover a wide range of home-based preparedness topics. It is easy to read because it uses different styles of presentation. Valuable resource! .