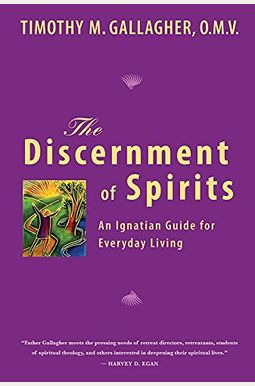 
 
The Discernment Of Spirits: An Ignatian Guide For Everyday Living
Book Overview
St. Ignatius Loyola, founder of the Jesuits, is one of the most influential spiritual leaders of all time, yet many readers find his Rules for Discernment hard to understand. What can Ignatius teach us about the discernment of spirits that lies at the very heart of Christian life? In The Discernment of Spirits, Fr. Timothy Gallagher, a talented teacher, retreat leader, and scholar, helps us understand the Rules and how their insights are essential for our spiritual growth today. By integrating the Rules and the experience of contemporary people, Gallagher shows the precision, clarity, and insight of Ignatius's Rules, as well as the relevance of his thought for spiritual life today. When we learn to read Ignatius correctly, we discover in his remarkable words our own struggles, joys, and triumphs. This book is for all who desire greater awareness of God's action in their daily spiritual lives, and is essential reading for retreat directors, spiritual directors, priests, and counselors.
Frequently Asked Questions About The Discernment Of Spirits: An Ignatian Guide For Everyday Living
Books like The Discernment Of Spirits: An Ignatian Guide For Everyday Living
Book Reviews
(9)
Did you read The Discernment Of Spirits: An Ignatian Guide For Everyday Living? Please provide your feedback and rating to help other readers.
A Practical Guide to the Discernment of Spirits.

Derived From Web

, May 10, 2022

Discernment of Spirits is a good book for anyone looking to learn about Ignatius's 14 rules on discernment of spirits. The rule is first proposed as it was written by Ignatius and then the rule is discussed in a practical sense. Each rule is illustrated further by an example or two to provide a deeper clarity about how the rule can apply to the discerner's life. The only drawback is that reading this book feels similar to reading a manual, which leaves it a little dry and slow at times. I would recommend this book to anyone who wishes to learn more about discerning the spirits. It is worth the price but you probably won 't read it more than once. Vous may end up using it instead as a reference source after your first reading.
5 Stars is Well Deserved.

Derived From Web

, May 10, 2022

Simple, clear explanation of the rules of Ignation. This is a concrete book with practical examples. The author has deserved the purpose of the book : 5 stars are well achieved.
wonderful book. this is a very insightful book to ...

Derived From Web

, May 10, 2022

A Wonderful Book ''. This is a very insightful book to read and discern spirits. Loved this book a lot, and is worth reading again.
Spiritual deepness

Derived From Web

, May 10, 2022

The book is very studied and Leste you understand how St Ignatius wanted to autodiscover its inter movements.
I especially like the Reader's guide

Derived From Web

, May 10, 2022

I come as non-Catholic to this work. I listened to Timothy Gallagher on YouTube. I wish that I had exposure to these rules of spiritual discernment of the spirits. It would have made my experience with the spiritual path more clear and less entangled by the seat of my pants and my heart for grace. Gallagher is these contemporary yet early teaching on spiritual discernment into early language. But more importantly, he brings a clarity of purpose and knowledge of one who does his work clearly and stays live to the theme. I usually like the reader's guide, which I especially dislike in many writings. This has the power to underscore what needs to be seen and applied as you actually live, not as you want to be underscored by the teacher.
Must read for everyone!

Derived From Web

, Feb 16, 2022

This book is the fortress of the spiritual life. If you are considering giving up your life to God or if you want to grow in a deeper relationship with God, the enemy is going to stop you. Are we being attacked by the evil? God allows an attack to help us grow stronger in a specific area where we are weak. How do we attack our weakest area where the enemy is weak? We continue to fight the same old problems, do we? This book helps us become aware of attacks from the spiritual, how to prepare for battle even before it begins, and how to fight back for the evil. It is said to be the best in the book, the tactics of the enemy are present to everyone, yet no one knows of them with the clarity that our tradition makes possible. The power of the rules, in large part, consisting in this that Ignatius explains spiritually to us.
Fantastics book and it has a reader's guide that you can purchase as well.

Derived From Web

, Apr 21, 2021

If you find yourself in a slump or want to draw closer to God, this is a good book. It helps you understand why there are times in our lives when we feel much sorrow and hopeless and how we can work spiritually to strengthen our lives. I believe that this book has given me the tools to stay in the light of God and not allow the dark times to overcome my serenity and peace. I recommend it highly. No one can help you much, but God and how you deal with life. You have to work to be strong and learn to let go and let God take care of the bigger problems. Regardless of what you do, God is always there for you. There are reasons why we go through bad times.
Phenomenal entry into the Ignatian Spirituality

Derived From Web

, Jul 3, 2019

I have used this book together with a few others as a basis for a parish retreat over the course of a month. The content is very digestible and makes the rules of St. Ignatius easier to use for everyday people. I have gone on to read more of Father Gallagher's writing style and have really enjoyed the stories included. I have recommended this book for anyone who is looking for some gods in spiritual life and have more than once returned to this book.
AWESOME, HIGHLY RECOMMENDED!!!

Derived From Web

, Jun 1, 2017

I would recommend this book to EVERYONE!!! I am through it all's second read. I hope that you read it a third time too! It has a fairy high vocabulary level though... I have to look at a lot of words to find out what they mean.