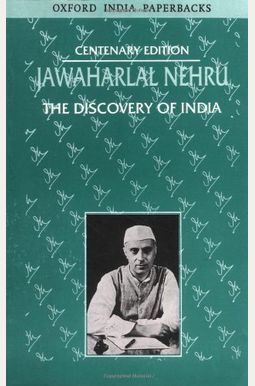  
Book Overview
In conjunction with the Jawaharlal Nehru Memorial Fund in New Delhi, Oxford proudly announces the reissue of Glimpses of World History and The Discovery of India, two famous works by Jawaharlal Nehru. One of modern day's most articulate statesmen, Jawaharlal Nehru wrote a on a wide variety of subjects. Describing himself as a dabbler in many things, he committed his life not only to politics but also to nature and wild life, drama, poetry, history, and science, as well as many other fields. These two volumes help to illuminate the depth of his interests and knowledge and the skill and elegance with which he treated the written word.
Frequently Asked Questions About The Discovery Of India
Books like The Discovery Of India
Book Reviews
(6)
Did you read The Discovery Of India? Please provide your feedback and rating to help other readers.
Fascinating Book

Derived From Web

, Jun 3, 2022

This book was recommended to me by an Indian coworker when I told him that I was learning about India in my endless quest for understanding. I ordered it immediately and was so happy when it arrived. I am aware that Mr. Nehru was a socialist, and although some may dismiss anything written by a socialist as if he has nothing worthwhile, I find that the book is very interesting, full of history and that Nehru was a very good writer. This book would be helpful to anyone who wants to learn more about India.
An introduction to Indian history by a brilliant writer during India's struggle against the British Empire

Derived From Web

, Jun 3, 2022

This book was written to teach his daughter Indira about Indian history. A number of his books were written when he was imprisoned by the British during the war for independence of India. It is a great read for anyone wanting an introduction to Indian history. I've gifted it a few times and the language is beautiful and be warned that there aren 't many pictures.
A Rich book on India

Derived From Web

, Jun 3, 2022

If there is only one book that one would have time to understand the rich social, cultural, and spiritual fabric of India, this would be it. Regardless of one's inclinations towards Nehru's political ideologies, It was also made into an acclaimed BBC series.
Excellent read. I got it few weeks earlier so ...

Derived From Web

, Jun 3, 2022

I got it a few weeks earlier so that I didn 't have a chance to read it all, but was very impressed with reading the topics I was most interested in.
Nehru's view of India of the past

Derived From Web

, Jun 3, 2022

This global treatise of the past glory, culture and history of India deals with many significant details. but can not agree with the resultant views and philosophy expounded therein.
Very dated book

Derived From Web

, Jun 3, 2022

It includes a lengthy summary of India's history and Nehru's views on the subject. Although some parts of the book are interesting, it is also very dated and not really useful for the lay reader. There are better and more up-to-date books on the history and politics of India, but Mani Shankar was also badly overrated as a politician, and the result was Tibet and the Sino-Indian War. His politics were also aptly criticized by Arun Shourie, Will Durant, R.C. Instead of this book, I recommend the works of Sita Ram Goel, Arun Shourie, etc. Elst is accompanied by Majumdar and Koenraad Elst.