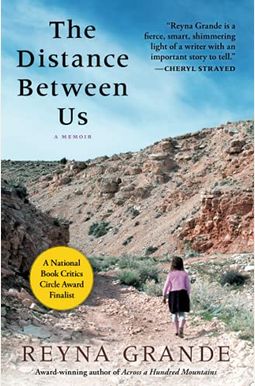 
 
The Distance Between Us: A Memoir
Frequently Asked Questions About The Distance Between Us: A Memoir
Books like The Distance Between Us: A Memoir
Book Reviews
(16)
Did you read The Distance Between Us: A Memoir? Please provide your feedback and rating to help other readers.
An Honest Memoir

Derived From Web

, Apr 23, 2022

The story of a girl who escaped dire poverty and achieved success on the Other Side - el Otro Lado is told in this new film. But there was a high cost to pay, not only by herself, but by her parents and siblings, breaking up of their family. In fact, she writes, this is not uncommon, that the usual emigration involves leaving close members of the family behind. These journeys don't always have a successful outcome, they may end up in a worse ghetto, the price may be too high, the loss of family, religion, community pride, Bruno said. Interesting, this is the process most immigrants to the U.S. go through, but the difference is that we are neighbors, Raymond said. In her book, Hepburn describes her life in graphic detail, getting into the nitty gritty of her experience.
A definite page turner!!!

Derived From Web

, Apr 23, 2022

This book was recommended to me by my son. Loved it so much I sent it to a friend. He loved it, too, said Blair. And, one of his roommates read it too. This true life story of a small girl growing up in a very poor vila in Mexico - the abandonment of her parents, the abuse of her and her siblings by the paternal grandmother - her adventure to America to live with the parents that left so many years ago in search of the golden streets and the money trees that lined neighborhood streets - to her ultimate coming of age, her family said. Loved every single page. Loved the honesty, Mr. Rule told the judge.
I really enjoyed this book

Derived From Web

, Apr 23, 2022

I really enjoyed this book, and couldn't put it down for long! This was great reading and it came from the author's point of view and living it, she really puts the reader into the story, said Gammerman. It's a must-read book. It's a total travesty, top notch. It's great to be back home, said Blair.
Good read, gave me new insight.

Derived From Web

, Apr 23, 2022

This book gave the reader an opportunity to live through the entire immigration process. She gave us a chance to see exactly what the children in these separated families are feeling grateful for, she said.
Felt like I was there

Derived From Web

, Apr 23, 2022

This book is a great read, it truly captures the reality of many situations similar to this. I'm not saying much because of the risk of embarrassing Mrs Clinton. It's an easy read, Glover said. I read it in 4 short evenings, but I didn't want to put it down. It's great to hear from people who have used it.
Book in Common for CSU, Chico

Derived From Web

, Apr 23, 2022

We're not condoning the content of the story, but we'd like to see our daughter to read it and appreciate the background of her predominantly Hispanic junior high students in Reno. It's great to be back home, and we look forward to seeing you next week.
It hit home like no other

Derived From Web

, Apr 23, 2022

The Distance Between Us was a book I couldn't put down, it hit home like no other book I had read. I had no direct interest and no family history, but I related to Reyna and her sister Mago's story. The book touched on many of the social and economic issues that have dominated the immigrant experience. It was such a great part of the story to see her body come home and see what her life would have been like. It gave her the courage to fight and forge ahead in the U.S. without forgetting her roots. I also ordered additional copies for my brother and close friend. In many ways this was my story too, I wanted them to read it.
Powerful story beautifully written by heroine

Derived From Web

, Apr 23, 2022

His life story of poverty, immigration, child abuse and resiliency was told in unflinching detail. Could not put down, laughed, cried and amazed at how fast the bullet could fly. Strong family bonds are what made us want to be a part of this. Recommend this book to all readers.
We're all migrants shaping this country

Derived From Web

, Feb 24, 2022

Being myself an immigrant, Reyna's well written book has reminded me of many similar experiences before my sister and I came across to El trolado in El Paso, Texas, back in the 50s. She has reminded me, among a few other experiences, that my sister and I also were victims of being left behind by the only parent we had, our dear and beloved mother who passed away in 2012 at age 92. Because of her sacrifice, a strong mind and firm persistence that I prepare myself for a better future in this country, I struggled and went through the different steps to become a responsible law abiding citizen and a proud physician of my roots and as a mother, he said. Thanks to my mom and to my Reyna, I can finally say thank you. It's just that they call it quits."
Beautiful book

Derived From Web

, Aug 12, 2020

The book is a great read. A great story told in beautiful detail, Crowe said. We need to hear Reyna's story.