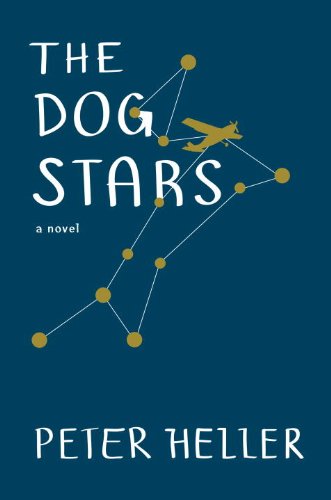 
 
Book Overview
This Description may be from another edition of this product.
Hig somehow survived the flu pandemic that killed everyone he knows. Now his wife is gone, his friends are dead, and he lives in the hangar of a small abandoned airport with his dog, Jasper, and a mercurial, gun-toting misanthrope named Bangley.
But when a random transmission beams through the radio of his 1956 Cessna, the voice ignites a hope deep inside him that a better life exists outside their tightly controlled perimeter. Risking everything, he flies past his point of no return and follows its static-broken trail, only to find something that is both better and worse than anything he could ever hope for.
Frequently bought together
Frequently Asked Questions About The Dog Stars
Books like The Dog Stars
What should you read after The Dog Stars Book? Here is a list of books to read if you read and loved The Dog Stars
Book Reviews
(13)
Did you read The Dog Stars? Please provide your feedback and rating to help other readers.
A tomorrow not so very far away

Derived From Web

, May 21, 2022

Hig's world of the future is one we have in motion in the present. The destruction of the environment, the droughts of global warning and the weaning of the world of animals are tragedies we face today. At least as we know of the Americas, humanity has been decimated by the rogue virus. We never know the extent of human engineering, although the book hints at genetic tinkering. The remaining 1% of humans are confronted with the return to gangs of murder and theft. The cities burn. Pockets of people who struggle without the loss of human morality find themselves challenged at every point with the need to kill in defense. Higgs has found a lonely life with a dog he loves and a man-hatred reality, whom he does not understand. This book poses enduring questions about who we are in the world. It stands as a not unlikely marker of the world we may create today with our choices.
Not a thin plot, but an exceptional novel

Derived From Web

, May 21, 2022

This book ranks as one of my favorite novels, along with Peace Like A River. It is sensitive, creative and meaningful and integrates an extremely attuned sense of connection and acute observational powers re nature with a tense and believable scenario of living in desperate times when a sensitive, thoughtful man must decide whether or not to do things alien to his nature and where to draw that line. His internal struggle to preserve his personal integrity collides with the dramatic demands of the external world he has been forced into and creates a really excellent tension and dynamic process throughout the novel. If you are looking for a Bourne-type thriller, you might find the plot thinnish. If you want a thoughtful, mature, dynamic and fundamentally optimistic view of what a great person is capable of in dire situations, written with great talent and immense care.
Best postapocalyptic book I've read

Derived From Web

, May 21, 2022

Rarely '' read this genre. And unlike so many of this genre, the entire world is NOT twisted, blackened, with burned metal everywhere. Jasper survived and is huddled with his dog, Hig, and his small plane, fending the desperate people who are left. As we learn about the time before, we understand Hig and want to believe that there is still hope for a new kind of future for him. I know that The Road is often considered the best of this genre. I read it because it got so much buzz, but I did not love this book at all. I felt that this one was more hopeful, emotional and believable ''.
Unique Oblique Beauty

Derived From Web

, May 21, 2022

I am a post-apocalyptic novel devotee. Many have been disappointed with poor writing, lack of character development, and corny violence embedded in gratuitous plotting. The Dog Stars are uniquely refreshing with none of these ailments, a character-driven story of a reluctant hero protag. Day-to-day, enduring danger with a rustic neighbor as reluctant protectorate Hig the pilot and Bangley the shooter. Beautiful conflict, delicious prose, gut wrenching brutality. In this novel there are no holes, no gaps. Note similarities to Cormac McCarthy's The Shipping News and Annie Proulx's brazen authenticity. Sequel '', perhaps?
Will there be a Follow-on Book? or Two?

Derived From Web

, May 21, 2022

I thought the narration was very effective, especially in the slow unravelling of what happened to cause so many deaths. And I thought that the idea of not revealing all the details was also an excellent decision. For me, the first half of the novel was 4 stars, just a bit slow, and the second half was 5 stars all the way, once two other major characters were introduced. The four major characters are all well done and the story is zipped along in the overall. Only after reading the last page did it occur to me that the author has set things perfectly for at least one and perhaps two more books. As I read the second half, I thought a number of times that this would make a great movie in the right hands, but please don 't sell the rights to some pyrotechnic lunatic.
Stunt writing

Derived From Web

, Aug 18, 2021

Good book, but... All three are compelling, but the author's decision to use Cormack McCarthy-style stunt writing in this book was extremely annoying. The use of intentionally poor punctuation and making the reader distinguish between internal and spoken dialogue was unnecessary and added nothing to the book. I read the reviews of his upcoming book before buying it. Any references to the writing style employed in the Dog Stars will lead me to something else.
Fun but improbable.

Derived From Web

, Jul 21, 2021

Good writing, fun premise, but plays for me a little too much on the improbable. For example, for a long time, gasoline becomes less viable. At the very least, his flights-could never happen after a year?-wouldhave been frightening events.
Interesting and compelling book.

Derived From Web

, Jan 22, 2021

I completed this book in two sittings. It is essentially a friend that tells you a story. Hig feels so real and the stream of his consciousness is so relatable. He is not a sort of action hero ; he's just a regular guy in a surreal situation. It took a bit of time to get used to the writing style, but I enjoyed it all in all.
Meh... Just a big Meh...

Derived From Web

, Aug 27, 2020

The story itself isn 't boring per se. I've found it completely pointless ''. In the book, nothing is accomplished. No real challenge is attempting to be solved. A TON of completely unnecessary paragraphs. Seite after page after page of randomness that doesn 't contribute to the story at all, explain his thought processes or present insight into anything. It isn 't boring anymore! It is just... pointless. But what took all the stars away was that prose! I will get it. He is trying to think in the way that people write. But it was really inconsistent and WILDLY distracting. Added sentences run-on add nothing. An almost complete lack of punctuation does not add to the story and blow you away with a unique view of his world. I finished it because I am a freak like that, but there are 100's of post-apocalyptic books out there that make this a complete waste of time. It is so easy to skip!
Haunting and Thought-Provoking

Derived From Web

, Aug 2, 2020

I purchased it because I loved The River '' by the same author. The story is radical and raw, the writing hauntingly poetic. I was not sure I was in the mood for a dystopian pandemic theme considering our current world situation, but I couldn t put it down. It is of course stark... gut-wrenching. But the incredibly beautiful descriptions of nature and portrayals of human emotion balance the darkness to ultimately make this a story of determination, love and hope.