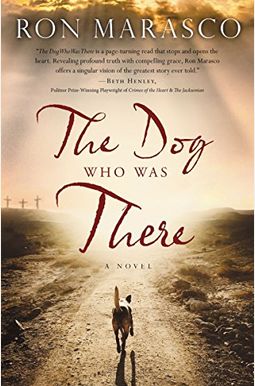  
Frequently bought together
Frequently Asked Questions About The Dog Who Was There
Books like The Dog Who Was There
Book Reviews
(9)
Did you read The Dog Who Was There? Please provide your feedback and rating to help other readers.
Invigorating, enticing and enriching!

Derived From Web

, Dec 19, 2018

It's an awesome way to remind us that we are not the only ones who are frail. It's genius to offer insight through the eyes of a dog. When we are all God's creation, there are so many people who are given the power because of their concerns for God's four legged creatures. Man's cry for world peace is possible if only he would practice treating as he wishes to be treated, no matter the manner of breaths taken to live. This was a good read.
Inspirational, from a dog's point of view

Derived From Web

, Dec 14, 2018

A writer who writes from a dog's point of view is bold. The period is over. A writer who writes from a dog's point of view is an especially bold one. In the time of Jesus, a small dog named Barley lives with an elderly couple. They are killed, and Barley falls in with a group of ostracized people, and he witnesses Jesus enter Jerusalem on Palm Sunday. The Kind One changes the lives of some of the outcasts and his message of love spreads charity and hope. The tragedy and horrors of the Crucifixion were witnessed by Barley. The book is easy to read and the writing is good. It's original yet it's too cute. I would encourage you to read it and see what you think.
horrific!! this is not a story for dog lovers

Derived From Web

, Dec 11, 2018

I will stop reading chapter 2 because I am so upset by it. I bought this book because I thought I would be able to enjoy a Christian story from the viewpoint of a dog. I don't want to read any more about the first bad experience of the dog. I don't know what this scene has to do with the rest of the story and I guess I' ll never find out. I don't like seeing cruel and unprovoked violence in books.
A dog who loves several "masters" comes into contact with the ultimate "Master" in 1st century Jerusalem

Derived From Web

, Jan 1, 2018

A dog who lived near Jerusalem when Christ ministered to people and was happy and turmoil- free. It's as good for adults as it is for kids. I don't know how Dov could have made a living carving birds and selling them, but the characters are real and the story will stay with the reader for a long time.
A Wonderful, wonderful story

Derived From Web

, Jul 10, 2017

Sometimes you can find a book that moves you in unique ways. One such story is this one. Don't miss this one if you love dogs and the Lord. A scruffy little dog named Barley has seen his mother killed and narrowly escapes death himself. He is destined for something he is not aware of. The book takes you through all the trials and difficulties of a homeless dog. You could say that he was adrift, like some humans are. As a Christian's life leads them to the foot of the cross, Barley is there too. Follow his travels. Along the way you will laugh and cry. You will see the best and the worst of men. He and other outcasts share the same cross. With the Master of all. The last couple of chapters are wonderful. There is a wonderful uplifting story.
I enjoyed reading the story of Jesus' crucifixion from a totally ...

Derived From Web

, Jun 12, 2017

I liked reading the story of Jesus crucifixion from a different point of view than that of a small dog. When Jesus rode a donkey into Jerusalem and when Jesus carried his cross to Golgotha, Bailey's journey crossed paths with them. Bailey wants to greet people with a wagging tail, give them second chances and to chose love first, all of which he sees in the Kind Man and the people who are following him. Bailey enjoys great compassion and love from his masters, even though he is known for being cruel to humans. He taught me more about life in Jerusalem. The picture of the time and place is painted by Ron Marasco.
This was a wonderful story of a dog who was almost drowned as ...

Derived From Web

, May 25, 2017

The story of the dog who was almost drowned as a puppy was wonderful. He was saved from the water by a kind couple who lived in Israel 2,000 years ago. Through his eyes, his life was told. The kind couple went missing and he was looking for them at the crucifixion. What a great book to read.
... what happened to Jesus and what He taught is perfect. I could not put this book down

Derived From Web

, Apr 26, 2017

The innocence and loving nature of a dog watching Jesus is perfect. I couldn't put this book down. It embodies the love Jesus taught, the positive outlook of a true believer in good, and most of all undying faith in the Lord. As he discovered the world from his perspective of love, joy and faith, I wanted to keep walking with him. This book is not religious. It's more than that because it's based on innocent faith that we can have if we give ourselves time to know Him. Thank you for reading this book, and please write more. If you read this book, you will leave with a feeling of joy in your hearts because he lived. ?
If you love dogs, you will really enjoy this book.

Derived From Web

, Mar 15, 2017

I liked this book a lot. It starts out with the dog being a puppy, so you have to read about half way through the book before he starts to cross paths with Jesus. It is one of the books that I will keep for a long time. There is a surprise end.