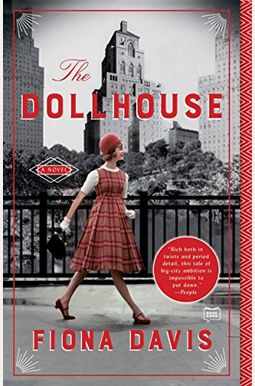  
Book Overview
This Description may be from another edition of this product.
Rich both in twists and period detail, this tale of big-city ambition is impossible to put down.--People
Fiona Davis's stunning debut novel pulls readers into the lush world of New York City's glamorous Barbizon Hotel for Women, where in the 1950s a generation of aspiring models, secretaries, and editors lived side by side while attempting to claw their way to fairy-tale success, and where a present-day journalist becomes consumed with uncovering a dark secret buried deep within the Barbizon's glitzy past.
When she arrives at the famed Barbizon Hotel in 1952, secretarial school enrollment in hand, Darby McLaughlin is everything her modeling agency hall mates aren't: plain, self-conscious, homesick, and utterly convinced she doesn't belong--a notion the models do nothing to disabuse. Yet when Darby befriends Esme, a Barbizon maid, she's introduced to an entirely new side of New York City: seedy downtown jazz clubs where the music is as addictive as the heroin that's used there, the startling sounds of bebop, and even the possibility of romance. Over half a century later, the Barbizon's gone condo and most of its long-ago guests are forgotten. But rumors of Darby's involvement in a deadly skirmish with a hotel maid back in 1952 haunt the halls of the building as
Read More chevron_right
Frequently Asked Questions About The Dollhouse
Book Reviews
(15)
Did you read The Dollhouse? Please provide your feedback and rating to help other readers.
this was a fun vacation read

Derived From Web

, May 24, 2022

This was a fun holiday to read. It is not the most interesting book in the world, but I cared about the characters and wanted to read to the end, which is a good sign. The ending was good at the time I was there, but the ride was predictable. Candy is a good brain candy.
Intriguing

Derived From Web

, Dec 9, 2019

I enjoyed this book almost more because of the history of these times in NYC than because of the story line. It was a good story, but I never felt connected to the characters.
disapointment

Derived From Web

, Sep 15, 2019

I wished I had not bought this book. Of course, as with everything we watch or read these days, they have to be gay, I have gay fatigue.
A Dual Time Mystery

Derived From Web

, Jun 5, 2019

This book was most interesting because it told the story of two different women in two different eras, both living in the same building : the Barbizon Hotel for Women & Condo. The flow from 1952 to 2016 between each chapter was well written, each sequence of events in the past and present revealed more clues to the mystery of what happened to the woman in 1952. Was she the mysterious resident still in the building? I was not only interested in the mystery, but also in the book's history, learning about the life styles of the working women of the 1950s and the hotel in which they lived. In all respects, I was very satisfied and enjoyed reading. I think that other books by this author use the similar formula of past and present stories alternating to a joined conclusion. Very interesting, informative, and fun!
I Simply Cannot Understand the Four and Five Star Reviews

Derived From Web

, Mar 10, 2019

I was disappointed on many levels by The Dollhouse. The plot was contrived and predictable and the writing was rather juvenile. Barbizon had a very little history of its own. The characters were not particularly likable and I am weary of characters who have a bad romantic experience only to find true love 15 minutes later and right around the corner, or in this case back at the office. But the thing that bothered me most about this book is that Rose, a journalist, chose methods that involved rather serious deceptive and questionable moral acts to obtain information and solve the minor mystery. It is a rather quick read, but I can not recommend it in good conscience.
Really good subject based on a real location, but a very good fiction story

Derived From Web

, Feb 21, 2019

Very good character development and several good stories at the same time are going on.
Mystery in time

Derived From Web

, Jan 2, 2019

It takes a while for the reader to follow where the author goes. Once you catch it, this is a good novel that is creative, but could go a lot farther.
Terrible writing and boring plot held together by white female privilege and millenials angst

Derived From Web

, Nov 17, 2018

Don 't waste your money ; use it for something that will give you some satisfaction. This was a book club pick and honestly it was a painful journey to the end of the book. Everyone else in my book club hated it too. What I really want to know is why white female authors like to exploit the bodies of minority women and make them into vessels for retelling white women's stories. If you're going to have a non-white character like Esmé, make her more than a feisty side character that reveals the real story. Or should I say the white story. Please stop sullying narratives from the margins in favor of glorifying white privilege.
Amazing story...novel format!!

Derived From Web

, Aug 23, 2018

Love historical fiction and the way she alternated chapters in two different time periods, melding the characters to each other was amazing. Learned a lot about the NYC landmark, the Barbizon Hotel, and was wrapped up in a great mystery! Together with either of her other two best sellers, highly recommended.
It kept my interest from cover to cover. It ...

Derived From Web

, Apr 4, 2018

It has significant significance for me, because my mother wanted me to stay there when I got my first job in Manhattan in the early 1970s. This place was steeped in history. The book is well written and reflects that period in history really. Read it with pleasure.