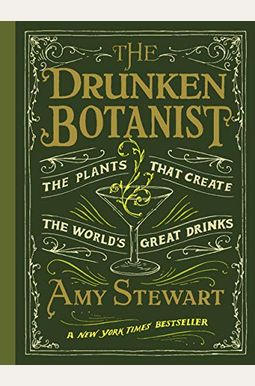 
 
The Drunken Botanist: The Plants That Create The World's Great Drinks
Book Overview
This Description may be from another edition of this product.
Every great drink starts with a plant. Sake began with a grain of rice. Scotch emerged from barley. Gin was born from a conifer shrub when medieval physicians boiled juniper berries with wine to treat stomach pain. The Drunken Botanist uncovers the surprising botanical history and fascinating science and chemistry of over 150 plants, flowers, trees, and fruits (and even a few fungi).Some of the most extraordinary and obscure plants have been fermented and distilled, and they each represent a unique cultural contribution to global drinking traditions and our history. Molasses was an essential ingredient of American independence when outrage over a mandate to buy British rather than French molasses for New World rum-making helped kindle the American Revolution. Captain James Cook harvested the young, green tips of spruce trees to make a vitamin C-rich beer that cured his crew of scurvy a recipe that Jane Austen enjoyed so much that she used it as a plot point in Emma.With over fifty drink recipes, growing tips for gardeners, and advice that carries Stewart s trademark wit, this is the perfect listen for gardeners and cocktail aficionados alike.
Frequently bought together
Frequently Asked Questions About The Drunken Botanist: The Plants That Create The World's Great Drinks
Books like The Drunken Botanist: The Plants That Create The World's Great Drinks
Book Reviews
(16)
Did you read The Drunken Botanist: The Plants That Create The World's Great Drinks? Please provide your feedback and rating to help other readers.
This should be in my cocktail book collection

Derived From Web

, Apr 20, 2022

This is a fun read and includes a lot of plants people have probably never heard about, I am always fascinated by the many uses people have come up with for plants, be it food, medicine, coloring and dyes, tannins insecticides or poisons. So needless to say that expanding that knowledge base to include a variety of drinks, cocktails and boozes is a great addition to any botanical library. Worth reading! Worth reading! ''
Loved this book

Derived From Web

, Apr 20, 2022

In this book, I loved reading. I loved the audiobook and bought it so much that I listened to the hard copy. Among many things, I did not know that vodka was made from plants other than potatoes and that combination of oils and flavorings can tell a story of a place or time. Botany learned all kinds of fun botany. I am not a drinker, but the stories behind these plants that have been transformed into alcohol were fascinating. Made me want to recieve the book to my nearest bar with its recipies to try them.
A Delicious little read!

Derived From Web

, Apr 20, 2022

I ordered this book because it was the non-fiction selection for my book club. I truly had no expectations ''. When I received this book, I was charmed at first sight! It is a beautiful book, in appearance and upon opening! It is filled with tons of information, tips, anecdotes, and recipes - filled with tons of information, tips, anecdotes, and recipes! I will cherish it forever-perfect to keep handy at your bar! ! !
Perfect for your bar knowledge

Derived From Web

, Mar 29, 2021

If you are into mixed drinks, history and even small gardening, this book is perfect for you. It is full of interesting and useful information as well as recipes. I have made only a couple of the drinks so far, but everything has been delicious. It certainly does not hurt that the book is beautiful to look at.
Lots of Information, Poor Organization

Derived From Web

, Jul 3, 2020

If you want to know about all the plants that go into different liquors, spirits, liqueurs, ingredients, etc., then this is a great read. There is plenty of information to keep you reading for many hours. Recipe wise - there are a number of common cocktails here and a lot that use very specific ingredients that aren 't the easiest to find. At home we have a pretty sizable bar and were only able to make a few with what we had on hand. I think there are about 50 other ingredients that we would need to buy to make all the recipes. The organization is less than great. First, the light green ink on which page numbers are written are hella-hard to read in anything less than full brightness. Second, not every recipe included in the book is included in the front table of contents. The back table of contents is just as bad, as not everything is listed there, or it is covered as a brand, not the actual liquor.
Great addition to the library if you're interested in botanical additives for your drinks

Derived From Web

, Mar 10, 2020

I purchased this book on a recommendation from a Reddit user who suggested reading the uses of botanicals in mixed drinks to find out the best ways I could incorporate botanicals into my home brewing efforts. This book is chock-full of historical uses of various botanical ingredients in alcoholic beverages. I especially enjoyed learning about the various hard ingredients that go into basic liquors like vodka and whisky. It is an enjoyable book to thumb through as it is categorized by the type of botanical and then organized alphabetically in each category. Also included are funny facts about certain ingredients as well as recipes using these ingredients. In all, it is a great book if you're interested in the mixology of beverages of any type using botanicals, as you can learn in this books to use botanicals in other drinks as well.
Really Interesting!

Derived From Web

, Jan 5, 2020

Fascinating info for anyone interested in crafting cocktails. After having enjoyed some amazing creative cocktails at the Horse Inn in Lancaster PA and at the Copper Dram in Greenville DE, I decided to try some of them at home. Researching ingredients led me to this book. Really accessible and inspiring read! ''
My Kind of Trivia

Derived From Web

, Jan 23, 2019

Many and lots of minutiae to keep my spinning head spinning without the aid of alcohol!A few very minor points thoughPg 73 true yams are almost never sold in the US. Most ethnic grocery stores carry varieties of Dioscorea. Pg 89. Some millets are called Broomcorn. The shape of the broom is an apt descriptor. Broomcorn is called because it is used to make brooms, not because of its shape, Pg 120 jackfruit. When the fruit is ripe, it emits a foul odor from the rind. Ripe jackfruit does not stink, but Durian, which looks like a small jackfruit, does. I am a bit disappointed that there is no mention of poncirus trifoliata, which is hardy enough to grow in most gardens in the US, and bears a very aromatic fruit, which I'm told by a Korean makes a good alcoholic infusion. And then there is Asimina triloba, Pawpaw, our largest native fruit that makes a great liquor, available from at least half a dozen distilleries in the United States.
The Drunken Botanist: Purchased at Amazon.com

Derived From Web

, Dec 11, 2018

When I first opened this book, I opened it and looked at a page, my first thought was, boy does this look boring. Also very confusing : Many of the pages are black on white paper, but the font is small. Some of the pages or parts of them are black printed on dark green, others on light green are black printed on dark green. I have never seen a book where I felt physically dizzy trying to read it ''. Here there are some very interesting facts, but I honestly don 't have the energy to try and get through this book.
Great read on many levels.

Derived From Web

, Sep 8, 2018

I am an avid gardener and I have been bar-tending for nearly 30 years. This book combines both in an interesting way and a lot of education in a book.