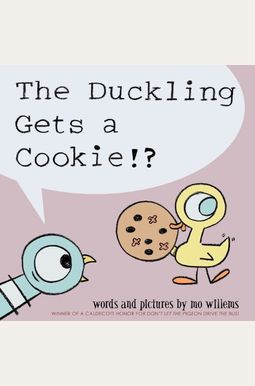 
 
The Duckling Gets a Cookie!? (Pigeon Series)
Frequently bought together
Frequently Asked Questions About The Duckling Gets a Cookie!? (Pigeon Series)
Books like The Duckling Gets a Cookie!? (Pigeon Series)
What should you read after The Duckling Gets a Cookie!? (Pigeon Series) Book? Here is a list of books to read if you read and loved The Duckling Gets a Cookie!? (Pigeon Series)
Book Reviews
(13)
Did you read The Duckling Gets a Cookie!? (Pigeon Series)? Please provide your feedback and rating to help other readers.
while the pigeon acts like his typical self and goes on a little rant ...

Derived From Web

, Apr 20, 2022

Mo Willems never ceases to get laughs out of the little ones. This pigeon book has the duckling politely asking for a cookie and receiving it, while the pigeon acts like his typical self and goes on a little rant about it. The duckling proceeds to give the pigeon his cookie and then goes away and asks for another cookie, this time without nuts. It is funny and entertaining. My 3 year old daughter likes to reenact this book. It is one of our favorites in the Pigeon series.
Even better if my wife reads is for you

Derived From Web

, Apr 20, 2022

We love Mo Willems books of all sorts, but have a special love of the Pigeon series. Perhaps I think that my wife uses my great voices when reading these books in particular. This book has a great message about asking nicely for things. I don 't think that this will replace our love of the earlier pigeon books, like Don 't let the pigeon stay up late, but this is still a good book. Our girls both like it, though our older daughter rarely looks at picture books any more. She still likes Mo Willems'books, but still likes Mo Willems'; I recommend them all. However, if you don 't have any of the Pigeon books, start with an older one and work your way to this. It's good but not his best. Still worth five stars though '', though.
I Can't Count The Times I've Asked For My Own Personal Iceburg...

Derived From Web

, Apr 20, 2022

I'm the asking-est pigeon in town! This book might be my favorite of the pigeon series. The Litany of things that the pigeon has asked for is truly funny and so easy to read aloud to the kids. My three year old has them memorized and reads them to me, which is truly priceless, especially considering the way he imitates the movements that the pigeon does in the book. If you like the pigeon series, this book will not disappoint you. If you want to skip one, skip Pigeon Takes A Bath and get this one instead. Maybe your children will also ask for French fried robots.
Mo Willems is the bomB!!

Derived From Web

, Apr 20, 2022

Mo Willems is a wonderful children's author. His books are funny, sarcastic, and just plain fun. I began reading them to my son and eventually he wanted to read them to me. It was such a great transition from a great transition to a great one. He would bring the books to me and ask me to read them with him. I wish Mr. Willems could repeat this formula in every age bracket through high school, because finding books becomes more difficult and more challenging.
good fun

Derived From Web

, Apr 20, 2022

Read these to students and bought for granddaughter. Very funny and easy to teach your children to read. Well packaged, timely delivery, well packaged. Thankyou '' for the kind words, and thankyou!
As usual an entertaining and educational book about the pigeon with his friend the duckling

Derived From Web

, Apr 20, 2022

This was a great book, it shows the other antics of the pigeon and the adorable duckling. As usual, it has a lesson that teaches children to share and good manners. My 3 and 6 year old nieces love it and insist on being read to them multiple times when it is story time.
... of Mo Willem's books for my kindergartener and he LOVED reading them

Derived From Web

, Apr 20, 2022

I bought a lot of books by Mo Willem for my kindergartener and he loved reading them. After reading the book to him the first couple of times, he wanted to read it so that he could act the loud parts. They helped us get past the I hate reading phase.
Great for early readerd

Derived From Web

, Aug 7, 2021

We are big fans of Mo Willems, each book well illustrated and the humorous pigeon keeps my granddaughter amused.
We love Mo Willems books!

Derived From Web

, Jan 19, 2021

My 4 and 6 year olds are obsessed with all things Mo Willems Elephant and Piggie, Knuffle Bunny and of course Pigeon. I *love* reading these to them as they can be quite interactive. My daughter loves pretending to be the duckling and does a voice for them. My son is learning to read and this is one he can most likely read. If you haven't read any of these books, you are missing!! For current pigeon fans, this one is just as good as the others!
Charming, plus cookies

Derived From Web

, Jun 14, 2020

My children adore the pigeon books and this is a beautiful little story with a twist. My children love it because they enjoy talking about sharing and cookies with my kids. Win, Win Plus, they get a kick out of the banter and relationship between pigeon and duckling.