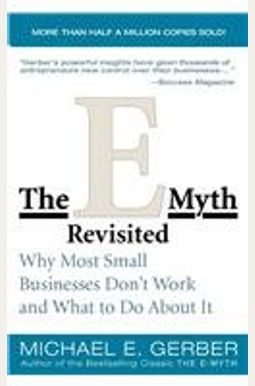  
The E-Myth Revisited: Why Most Small Businesses Don't Work And What To Do About It
Product is currently Out of Stock.
You can add it to your wishlist and you will be notified once we receive a copy.
Book Overview
This Description may be from another edition of this product.
E-Myth 'e-, 'mith n 1: the entrepreneurial myth: the myth that most people who start small businesses are entrepreneurs 2: the fatal assumption that an individual who understands the technical work of a business can successfully run a business that does that technical work
Voted #1 business book by Inc. 500 CEOs.
An instant classic, this revised and updated edition of the phenomenal bestseller dispels the myths about starting your own business. Small business consultant and author Michael E. Gerber, with sharp insight gained from years of experience, points out how common assumptions, expectations, and even technical expertise can get in the way of running a successful business.
Gerber walks you through the steps in the life of a business--from entrepreneurial infancy through adolescent growing pains to the mature entrepreneurial perspective: the guiding light of all businesses that succeed--and shows how to apply the lessons of franchising to any business, whether or not it is a franchise. Most importantly, Gerber draws the vital, often overlooked distinction between working on your business and working in your business.
The E-Myth Revisited will help you grow your business in a productive, assured way.
Frequently Asked Questions About The E-Myth Revisited: Why Most Small Businesses Don't Work And What To Do About It
Books like The E-Myth Revisited: Why Most Small Businesses Don't Work And What To Do About It
Book Reviews
(18)
Did you read The E-Myth Revisited: Why Most Small Businesses Don't Work And What To Do About It? Please provide your feedback and rating to help other readers.
Heavy on concept, light on detail.

Derived From Web

, Apr 20, 2022

Play on the original book more. The author is more interested in guiding you to his website to purchase a variety of courses and his dream room seminar series, rather than the general guide-lines for systemizing your business. The book has a lot of concept but not much detail. If you've read the original E-Myth, it's likely that you'll pass on this book. It's pretty much the same.
Are you more technician, manager or entrepreneur?

Derived From Web

, Apr 20, 2022

It's easy to read. The author was self-employed for 10 years. I knew of the struggle between the inner technician, manager and entrepreneur but never had a framework to understand it. If you're a person who is self-employed or thinking of being self-employed, I'd say invest in this book and save yourself some turmoil. The author can be long-winded, which is why someone gave this book 4 stars. Sometimes it feels like 3 pages could be shortened to 2 paragraphs. I felt that half the time it was annoying and the other half it helped the point of the story he was telling. It's long-winded, but that often plays into the lesson that he's telling. If I'm being critical, I'd give it 4.5 stars. It's about the insights and lessons you get from it. It was worth the read.
Incredibly relevant

Derived From Web

, Apr 20, 2022

Even though this book was published in 1995 it is still current. Even though your top-of-the-line phone is obsolete in 2 weeks, there are some things that stay current. The Wall Street Journal or The Lean Startup is a good place to start. This book will complement the Complete Small Business Guidebook. If you have any interest in business, this book is great.
Good Book. Great Information

Derived From Web

, Apr 20, 2022

I bought this book because I took a class in college. There is a lot of useful information in the book that I was grateful for, and it is helpful for small businesses to succeed. It talks about why small businesses fail and how to get out of business before taking a huge hit.
Longevity included :)

Derived From Web

, Oct 3, 2021

My husband has been a fan of this book for a long time. I bought one for a friend and pulled his back out to read it again. It is the only book I have seen him take.
Entrepreneurial and startup / small business gold mine

Derived From Web

, Mar 28, 2021

The book was well written and enjoyable to read. There are some dated references and it does not discuss much about the value of diverse perspectives when it comes to DEI efforts in small business. I would have liked to see more recent research on the value of diversity in small business. This book makes you think about the possibilities for owning a small business and the benefits of standardizing work so that a business can be scaled larger. It's a great read for any small business owner or person with an entrepreneurial itch. It's grounded in practical advice and the author has experience helping business owners. I will probably re-read this book many times in my career.
Clear, Insightful, and Useful

Derived From Web

, Sep 6, 2019

Every time I apply the E-Myth principles to an organization, it grows. I'm applying E-Myth to a new venture. It was time to read again. There were some points I missed the last time I read. The book gives knowledge. Michael Gerber, well done!
A must read for a small business owner!

Derived From Web

, Feb 27, 2019

A small business owner decided to open up their business after working in an industry as an employee. You don't have one hat like an employee as a business owner. You need to know the day to day work of the employee hat while also mastering the manager hat. This has helped me to be a better business person.
A classic for a reasons

Derived From Web

, Feb 21, 2019

Wow! Wow. I was helped to think about being in business for myself. Start working on your business when you stop working in it. Plan for success from the beginning by imagining what you want it to be.
Work ON your business, not just IN your business

Derived From Web

, Nov 3, 2018

The Resource Book helped me the most when I owned a successful retail business. They gave me a copy of the original E-myth when I was managing. The new version is even better. It's easy to work in your business, but if you want it to grow, you need to block out critical time to work on your business. The day to day stuff is being ordered and waiting on by IN. On is closing your door and planning how you're going to grow to the next level, learning how to be the best at what you do, understanding your competition and carving out your Unique Selling Proposition that will help you win. I keep a few copies around to share with my new business friends. What a gift. It was!