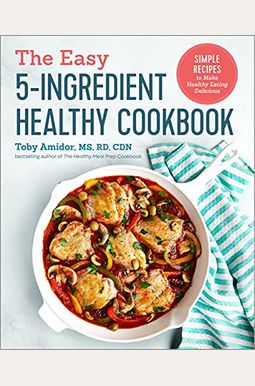 
 
The Easy 5-Ingredient Healthy Cookbook: Simple Recipes To Make Healthy Eating Delicious
Book Overview
Make healthy meals fast with just five ingredients
Getting balanced meals on the table during a busy day can be a challenge. Simplify your life with The Easy 5-Ingredient Healthy Cookbook. With more than 150 recipes that use only a handful of ingredients, you can create a wide variety of flavorful, nutritious meals. Plus, most recipes are ready in 30 minutes or require just one pot or pan―so you can eat healthy while keeping life simple.
Start by exploring the basics of fast and healthy cooking, including a rundown of pantry and kitchen staples, advice for meal planning, and guidelines for clean eating. Dive into the recipes with shopping tips and easy-to-find ingredient lists that won't break the bank. With this healthy cookbook, you can find the perfect balance between saving time and providing nourishing food for yourself and your family.
5-Ingredient dishes-You'll only need 5 primary ingredients to make each recipe, along with a short list of kitchen staples like olive oil, salt, pepper, and fresh garlic.
Healthy eating tips-Discover tons of tips for customizing recipes by swapping out ingredients, or build on the simple recipes for fancier variations when you have more time.
Handy dietary labels-Recipes include nutrition breakdowns and are labeled for any special eating preferences, including gluten-free, dairy-free, paleo-friendly, and vegan.
Serve up delicious, wholesome meals in a flash with this simple clean eating cookbook.
Frequently Asked Questions About The Easy 5-Ingredient Healthy Cookbook: Simple Recipes To Make Healthy Eating Delicious
Book Reviews
(13)
Did you read The Easy 5-Ingredient Healthy Cookbook: Simple Recipes To Make Healthy Eating Delicious? Please provide your feedback and rating to help other readers.
My First Book Review For A Reason

Derived From Web

, Mar 8, 2019

I bought this book after getting married and wanting to sharpen up my cooking skills but also wanting to take on simple and quick ideas. Two books I bought prior to this were also misleadingly complex. This book is 100% true to the simple and quick meals that made America great again. For the first time I made spaghetti and used the meatball recipe. The first time, it took me an hour to get used to it. The next time I made the dish, I completed the entire pan and was sitting down eating in less than 20 minutes. Thanks for the tip!!!!!!!!! The dishes are great and nothing weird like most healthy claiming books say. I also really enjoy that this book does give serving suggestions and nutritional information on the dishes. My favorite meals so far have been the meatballs, chicken parmesan smoothies and stars55, said Blair.
Unprofessional editing and mistakes

Derived From Web

, Jan 16, 2019

There is at least one misprint in this cookbook. Not necessarily to return, but still kinda annoying and unprofessional of the publisher. Wouldn't mind a replacement that's accurate, but Amazon only allows for a straight-up return.
Easy and simple to cook

Derived From Web

, Dec 4, 2018

The book has good receipes but steps are sometimes not well thought out. They are not enough for the amount of vegetables or meat to cook. Details of the steps are not detailed enough.
My clients love it!

Derived From Web

, Sep 16, 2018

I purchased this book as a tool for my busy clients, who see me for weight management, prediabetes, diabetes and heart health nutrition instruction and coaching. They love it, they say.
Love this cookbook and the simple and healthy recipes

Derived From Web

, Aug 8, 2018

This is a great cookbook and the healthy recipes are easy to make. I hate cooking because my kids always whine about me while I'm trying to cook. I'm usually to try new recipes because they are so easy and they never turn out right, but this simple cookbook has lots of delicious recipes to choose from. I love all the veggie sides, including roasted asparagus, lemony green beans and the spicy broccoli.
I really like this cook book

Derived From Web

, May 28, 2018

Really enjoyed the book, said Christina. It has so many different recipes, it takes courage to try them all, even for a few minutes. Simply put, it's five ingredients or more that make up the meal. The only thing I don't like is how the cover of the paperback loses its shape from just sitting around. Also, I wish there were pictures of the twins as this is always a plus. Easy to follow, the recipes are fairly easy to follow.
Includes many healthy easy, and kid-friendly recipes!

Derived From Web

, Apr 19, 2018

When you're a busy mom of three, finding the time to make healthy meals can be a challenge. Many healthy recipes are not that quick or easy to make, not palatable to the kids, or both. But this book contains many recipes that are healthy, simple to prepare, and appetizing to my kids—SCORE!. I'm excited to make the chicken nacho bites, slow cooker turkey chili, chicken enchilada casserole and more for my family. There are also lots of other great recipes that I just may get my kids to try. This is a great cookbook to have in your arsenal, Mary. I received a complimentary copy of this book from the publisher for my review. All opinions are my own.
Or did the publisher just feel like not taking pictures of the food

Derived From Web

, Apr 9, 2018

Only about 1 picture of a finished recipe is shown in the photo album. All the recipes were tested, but no one actually tested them. Or did the publisher just feel like not taking pictures of the food?
Fast and healthy recipes using pantry staples

Derived From Web

, Apr 4, 2018

It arrived today!!!!!!!!! With a little one at home, these fast, five-ingredient recipes are PERFECT and I already have most of the ingredients in my pantry and refrigerator. I was able to whip up the egg muffins in no time. Next up is the turkey bolognese! It's great advice on which items freeze well and how to re-heat them at mealtime. What a fun surprise to get in the mail today!
Simple ingredients/clear directions - this is a keeper

Derived From Web

, Apr 3, 2018

Full of helpful information such as a seasonal produce guide, 3 Indexes, Pantry Essentials, and the Clean Eating Guideline, you'll find it all. Each recipe has the total serving and nutrition information, along with a tip. Each recipe contains up to five main ingredients, plus any necessary substitutions. All recipes are pretty simple with ingredients that you can find in your local grocery store. Easy to follow directions. All recipes are labeled as Gluten-Free, Dairy-Free, Paleo-Friendly, Vegan or Vegetarian. They are also broken down in the Recipe Index Type, including Freezer-Friendly Recipes, One-PotPan Recipes, Slow Cooker Recipes and 30 Minute Recipes. I found quite a few recipes to try. It's a keeper.