Buy 3 Get 1 Free
Our Best Sale Yet! Add 4 Books Priced Under $5 To Your Cart     Learn more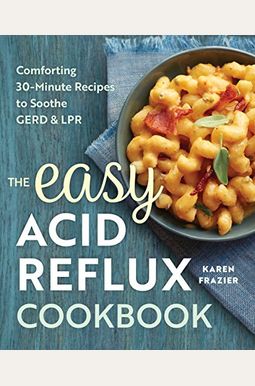 
 
The Easy Acid Reflux Cookbook: Comforting 30-Minute Recipes To Soothe Gerd & Lpr
Book Overview
With The Easy Acid Reflux Cookbook, the information you need comes with recipes you can rely on so you can eat and live well without the discomfort caused by acid reflux.
Heartburn, burping, abdominal pain, and discomfort.you know the symptoms of acid reflux all too well. Luckily, the key to managing GERD and LPR is closer than you think.
By creating delicious, easy-to-follow recipes without the high fat or acidic ingredients that aggravate acid reflux, nutrition expert and author of the bestselling The Acid Reflux Escape Plan Karen Frazier shows you that you don't have to sacrifice flavor for comfort-you can have both. As someone who used to suffer from GERD, Karen knows first-hand that it can feel difficult to eat freely with acid reflux. She also knows that avoiding acid reflux triggers is possible by simply modifying the foods you already eat.
The Easy Acid Reflux Cookbook is your ultimate guide to controlling acid reflux with simple dietary changes. Karen's tried-and-true, 30-minute recipes taste great and don't aggravate your GERD and LPR symptoms. The Easy Acid Reflux Cookbook offers:
Acid reflux friendly recipes for popular comfort foods like pizza, pasta, burgers, and more
Over 115 easy, 30-minute recipes that use Read More chevron_right
Frequently bought together
Frequently Asked Questions About The Easy Acid Reflux Cookbook: Comforting 30-Minute Recipes To Soothe Gerd & Lpr
Book Reviews
(10)
Did you read The Easy Acid Reflux Cookbook: Comforting 30-Minute Recipes To Soothe Gerd & Lpr? Please provide your feedback and rating to help other readers.
Confused with recipes when some obviously irritate those with GERD

Derived From Web

, Aug 11, 2021

I was excited to read and start using the recipes in this cookbook, but it was a bit confusing. The author uses sugar in some of her recipes and it is clearly on the top of the list for causing inflammation. Another popular food item was cinnamon, which was listed in many recipes as an ingredient. The book is well ordered, has a lot of helpful information, but is limited with the number of alkaline recipes to help those who suffer from GERD. It also has recipes for gluten-free, vegetarian and vegan meals but many of the recipes are not listed as alkaline. What a waste of money! Many of the recipes list the category of the recipe that the user specifies. This is a huge help, although as said previously, I purchased the book as an Acid Reflux cookbook, but a good number of recipes are not for those with GERD.
Dietary stats are wrong

Derived From Web

, Dec 3, 2020

The book is full of such fallacies, I was looking for some low fat recipes and noticed the dietary statistics were wrong. For example, the recipe says it is for four servings, with only three grams of fat per serving. The original recipe called for 2 tablespoons of olive oil, which is 28 grams of fat. That fat, combined with the calories, is 7 grams per serving. While the recipes are lower fat than normal, and use less LPR and GERD aggravating foods, they do not rely on the dietary statistics at the end of each recipe.
Misleading book title

Derived From Web

, Jun 13, 2019

The Web site says the book is "not legally available." It is supposed to be a cook book of easy GERD-friendly recipes, but a large number of the recipes are just regular food. The introduction to this book gives some helpful information on GERD. It seems the author tried to make the book for people with combination situations _ GERD plus paleo, low carb, vegetarian, etc. All the recipes are well-marked for which eating protocols they fit. But considering that so many of the recipes are not for GERD, it would be better as a second book in one's quest for friendly GERD cooking, not primary.
`this book seems to try to make things almost like the spicy stuff that got us all here in ...

Derived From Web

, Aug 9, 2018

I've never tried them, and I'm not even an expert on French food. You can use the leftover basil and ginger paste to make argula salad. This book seems to try to make things almost like the spicy stuff that got us all here in the first place, said Roisin Concepcion. I'd rather just learn to eat healthy, simple food.
I am a bit confused... I am ...

Derived From Web

, Jun 5, 2018

I am a bit confused. I am very knowledgeable on GERD and just rec'd the book. I also see recipes for heavy cream, soy sauce, mini marshmallows, low fat ice cream etc. What do you think about those things? Thanks for your patience and for sharing this article. Thanks for the tip.
Provides diverse options that are catered to those with sensitive stomachs

Derived From Web

, Mar 19, 2018

I have struggled finding recipes for my sensitive stomach and would try making food from a cookbook. It was meant for people who have GERD, or severe heartburn. You don't have to read the entire book to get the most out of it, Graham said. I scrolled over several recipes and they are all pretty basic, but provided more diversity in food, so I would be able to think of or search for a recipe website. Since the recipes are meant to avoid potential GERD triggers I was more than willing to try them all. I just got done making and eating the veggie tacos and I am pretty impressed with how good they were, and my stomach isn't killing me, Mr. Dhaliwal said. It's just that I get five stars from Mel Gibson. The other recipes are just as good.
It helps me cook foods good for me

Derived From Web

, Dec 10, 2017

I really use this book to help me know what I should be eating and not be eating, she said. It helps me to cook foods that are good for me. I did not want to take the medicines prescribed for me, because they cause other problems, he said. By using this book, I can keep my eating to a standard that helps me.
Recipes look very tasty in The Easy Acid Reflux Cookbook with very good advice in the beginning of the book

Derived From Web

, Oct 4, 2017

Really well written, well-illustrated and well-to-do. There are some good recipes, too, I will try them. However, I find that she lists at the top of the page any recipes that are low FODMAP, Paleo, Gluten-free, or Vegan. It's great to have all the recipes, but I have to go through all the pages and write down all the low FODMAP recipes when I have severe gastroesophageal reflux. She has a nice list of things to have on hand to make these easy to make meals, which I like a lot. So I will start an elimination trial to see which foods are irritating my stomach first so that I can make more than the Low Fodmap recipes and Alkaline recipes. It's just that this book is worth whatever I paid for it.
Yummy Recipes

Derived From Web

, May 22, 2017

Yes, I'm a very picky eater, but I would be willing to try most of the recipes in this book. There are even chocolate chip cookies and cakes.
I just wasted my money

Derived From Web

, Apr 8, 2017

What I'm saying is, 'I wasted your money,' said Dr. Goin. No wonder so many people complain about scrambled eggs. Traditional Chinese food served with chicken noodle soup. There are just too many variations of these recipes to make them appealing or innovative. Whether you're looking for new ways to use frozen meat, or simply want to try new recipes, you can come up with your own. It's just that butterscotch pudding was horrible. It's loaded with cornstarch and doesn't taste like anything else. You can't waste your money on useless accessories, so don't bother. In her defense, Ms. McCall cited two of her books as the reason she made the mistake of buying them. The other one is worse, Tunick said.