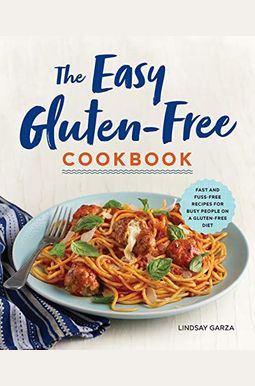 
 
The Easy Gluten-Free Cookbook: Fast And Fuss-Free Recipes For Busy People On A Gluten-Free Diet
Book Overview
Get delicious, gluten-free meals on the table fast
Throwing together flavorful gluten-free meals is now ridiculously easy. This gluten-free cookbook combines the convenience of simple recipes with gluten-free cooking tips so you can make healthy family meals fast and fuss-free. Whether it calls for just a few ingredients or only one pan, each recipe is simple to whip up from start to finish.
Inside this gluten-free cookbook you'll find:
Gluten-free guidelines―Learn everything you need to know about how to prep and cook for your lifestyle with this gluten-free cookbook.
Meals made easy―Get in and out of the kitchen with recipes requiring just one pot or pan, 30 minutes, or 5 main ingredients.
Something for everyone―Find substitution tips for making your meal paleo, dairy-free, nut-free, or vegan.
Eating gluten free is a piece of (flourless) cake with The Easy Gluten-Free Cookbook.
Frequently Asked Questions About The Easy Gluten-Free Cookbook: Fast And Fuss-Free Recipes For Busy People On A Gluten-Free Diet
Book Reviews
(19)
Did you read The Easy Gluten-Free Cookbook: Fast And Fuss-Free Recipes For Busy People On A Gluten-Free Diet? Please provide your feedback and rating to help other readers.
Easy, fast simple meals to make

Derived From Web

, Apr 21, 2021

Having recently been diagnosed with Celiac disease, I have been on the hunt for cookbooks. Having little time to cook these recipes was fast and delicious.
Instant Pot Guidelines: HUGE Plus!

Derived From Web

, Oct 4, 2020

It is not a downside that's for sure! This is more valuable in gold than its weight. I was also diagnosed with Celiacs disease and I am now allergic to Dairy and Eggs. Under each recipe it has all the alternatives for the common allergens and it also has the instant pot instructions on some recipes! I won 't struggle with breakfast ideas anymore. Overall, I'm really happy and I would recommend this to anyone who has food allergies and struggles.
Super helpful!

Derived From Web

, Jul 25, 2020

This is my first GF cookbook and I have already made the Fajitas. The beginning of the book also has information on naturally gluten-free foods and essential items to have on hand, so it should be helpful for beginning GFers.
Quick & Easy, great for college students

Derived From Web

, Apr 23, 2020

I received this cookbook about two weeks before I had to go home from school, where there is delicious home cooking, but during those two weeks, I made a STORM, let me tell you, the blueberry muffins are BOMB. Fried rice is good ; however, make sure to use fresh rice instead of fried rice, so that you get crispy rice like its actually from a restaraunt. one qualm i have no idea what kind of time they used for the cooked carrots, but must have been in slow motion. i had to cook my carrots for about an hour before they were tender, when it said like 20 min '' in the book. Regardless, they were delicious and now I love cooked carrots, especially if you're bored of salads and poor like college students.
Exciting

Derived From Web

, Mar 26, 2020

Some great recipes are shown here. I am looking forward to trying some of these out. I would have enjoyed more dish photos, though.
Great cookbook!

Derived From Web

, Jan 2, 2019

The slow cooker tacos were a huge hit! The best chicken I ever made, I was told by my everyone in the family! This book is used weekly.
Not a single photo of the recipes

Derived From Web

, Aug 11, 2018

Just received it '', OK. Probably my mistake, but there is not a single photo of any recipe! I dislike this very much ''. They could be great recipes but not sure how many I will bother with. If you like food photos, don 't waste your money.
My experience

Derived From Web

, Feb 19, 2018

For Christmas I bought this for my mom, but she had already made it for herself sooooo... anyway, she has figured out a lot of neat recipes that even the non-allergied family enjoys. No binding issues covered soft cover.
Wonderful, real-food recipes but gluten free

Derived From Web

, Dec 26, 2017

I look forward to trying all the recipes. I am new to gluten-free cooking and they look like they will be the food of my family and I will enjoy.
Easy to understand and yummy recipes

Derived From Web

, Sep 20, 2017

Recently, I started having health problems involving my G.I. The doctors can 't figure out quite. All tests have come back clean, even for Celiac, but eating gluten free seems to help me with my excruciating pain, so I ordered this book to help me learn a whole new way of cooking. The instructions are ready to understand and makes it easy to know what ingredients you need and the time it takes. I highly recommend! ''