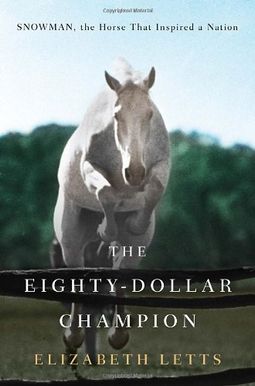 
 
The Eighty-Dollar Champion: Snowman, The Horse That Inspired A Nation
Book Overview
This Description may be from another edition of this product.
November 1958, New York. Into the rarefied atmosphere of wealth and tradition at the National Horse Show in Madison Square Garden comes the most unlikely of horses--a drab white former plow horse named Snowman--and his rider, Harry de Leyer. They were the longest of all longshots--and their win was the stuff of legend. Harry de Leyer first saw the horse he would name Snowman on a bleak winter afternoon between the slats of a rickety truck bound for the slaughterhouse. He recognized the spark in the eye of the beaten-up horse and bought him for eighty dollars. On Harry's modest farm on Long Island, the horse thrived. But the recent Dutch immigrant and his growing family needed money, and Harry was always on the lookout for the perfect thoroughbred to train for the show-jumping circuit--so he reluctantly sold Snowman to a farm a few miles down the road. But Snowman had other ideas about what Harry needed. When he turned up back at Harry's barn, dragging an old tire and a broken fence board, Harry knew that he had misjudged the horse. And so he set about teaching this shaggy, easygoing horse how to fly. One show at a time, against extraordinary odds and some of the most expensive thoroughbreds alive, the pair climbed to the very top of the sport of show jumping. Reminiscent of the inspiring, Read More chevron_right
Frequently Asked Questions About The Eighty-Dollar Champion: Snowman, The Horse That Inspired A Nation
Books like The Eighty-Dollar Champion: Snowman, The Horse That Inspired A Nation
Book Reviews
(16)
Did you read The Eighty-Dollar Champion: Snowman, The Horse That Inspired A Nation? Please provide your feedback and rating to help other readers.
LOVE THIS BOOK

Derived From Web

, May 23, 2022

This book is LOVE! Not only is it an historical and social story that stands alone, but Elizabeth Letts does a masterful job of putting the story into an amazing context. You get a real picture of what happened in the world after WWII, as America and Europe rebuilt their countries. It also provides an insight into what it was like to be an immigrant and build a new life in America. And how sports changed according to new prosperity and new audiences. And how television sports changed -- and us. It was fascinating to read how she was inspired by a photograph and how it inspired her to write and research this book, which also inspired a film. This book is brilliant and the photographs are well-written.
An inspiring and uplifting read

Derived From Web

, May 23, 2022

This book with beautiful language focuses the spotlight on a little known story of two champions a hard working horse and his immigrant ownertrainer. It inspires the reader to see how hard work and belief can pay in one's hard work, changing lives. It is uplifting to see mutual love and respect for a man of little means and a plow horse rewarded with no lineage at the highest competitive levels.
Review for THE EIGHTY-DOLLAR CHAMPION: SNOWMAN, THE HORSE THAT INSPIRTED A NATION

Derived From Web

, May 23, 2022

I remember when his photo was on the cover of the magazine LIFE. This book tells in detail how he was acquired, his owners background and how he became a horse that was a season-end champion. It is such an unlikely story, as most horses that end up slaughtered in the slaughter pipeline are end up with a few horses. Freeman was lucky enough to see something in him and buy him as he was being towed in the kill buyer's truck. This is a book that you can not put down, as it is so fascinating. This book will make you love reading it!
$80 for a horse: peanuts! ... for a champ: totally unbelievable!

Derived From Web

, May 23, 2022

The recipient enjoyed it thoroughly. This time, since the recipient was my wife, I received more than usual feedback on the story. The central figure is a draft horse turned racer sounds impossible or at least highly improbable, but it gets better. This career change occurs in the midlife of Snowman. There, I said enough. Anything else I could add might seem like a pure fantasy. Read it and cheer the $ 80 champ!
Wonderful story!

Derived From Web

, May 23, 2022

In general, I love animals, especially horses, dogs and cats. In storytelling, I know that we probably embellish some things, it is an author's nature. But this story from a time and period when flashy things were not quite as much as they are now, I found it just heartwarming and wonderful. Having been at the New Holland auction in Pennsylvania and having some familiarity with at least the places where he competed in horse shows, I guess this felt just close to home.
My new favorite story!

Derived From Web

, Nov 11, 2021

My new favorite story is my new favorite! Thank to the writing style of Snowman and Elizabeth Lett, Harry seems like part of my family. Anyone who loves horses, loves history and who loves those who conquer challenges, will appreciate and enjoy this book. It is a delightful read, a page turner and a story for the ages. Ich am so glad to have read this book!
The One of a Kind Bond Between Horse and Man

Derived From Web

, Dec 19, 2020

This was one of the most inspiring true stories I ever read and my library is HUGE! Both the young man overcame in Holland during WWII and what the horse survived as a neglected Amish plow-horse are incredible. It is almost mystical that they found each other because the young man had ridden horses since the age two and liked the look in this horse's eyes. Unbelievable that this horse, so unlike the international champions, could even compete at skittish level, but then he beat them all. How the calm owner even discovered that his young horse could jump at all is a most FABULOUS story. It leaves you in tears and you can not put the book down.
Love the book

Derived From Web

, Dec 7, 2020

This is the great book I bought about Snowman and is a second book. A reviewer thought it went into to much detail about the history of horses, but I felt that it made the book even better.
Heartwarming story

Derived From Web

, Mar 14, 2020

If my book club had not read this book, I probably wouldn't have chosen it ever. I'm glad that I did. I was able to witness another example of the different bond that can develop between members of the incredible species.
Fantastic read

Derived From Web

, Oct 18, 2019

Everybody loves to win a story from behind to win, but this is more than that. It is heart, challenge, overcoming and reality.