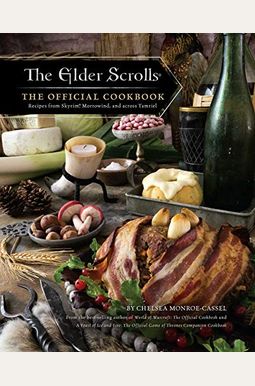 
 
The Elder Scrolls: The Official Cookbook
Book Overview
Feast your way through Skyrim, Morrowind, and Tamriel with The Elder Scrolls: The Official Cookbook.
Feast on all of the delicious dishes found in Skyrim, Morrowind, and all of Tamriel in this beautifully crafted cookbook based on the award-winning Elder Scrolls game series. Immerse yourself in the diverse cuisines of the Nords, Bosmer, Khajit, and beyond with these recipes inspired by food found in the Old Kingdom, across Tamriel, and more. With over sixty delicious recipes for fan-favorite recipes including Apple Cabbage Stew, Sunlight Souffle, Sweetrolls, and more,
The Elder Scrolls: The Official Cookbook
will delight every hungry Dragonborn.
Frequently Asked Questions About The Elder Scrolls: The Official Cookbook
Books like The Elder Scrolls: The Official Cookbook
Book Reviews
(15)
Did you read The Elder Scrolls: The Official Cookbook? Please provide your feedback and rating to help other readers.
Best gift purchase I've made

Derived From Web

, Jul 8, 2021

My sister is a huge Elder Scrolls fan and she likes cooking, so that I was super happy when I found this object. It has risen to my expectations completely. We've had loads of fun together making the recipes and laughing and the witty descriptions and I have to say I am super impressed with the presentation that this book makes. It makes just about everything look like the most delicious meal you ever eat, so it is honestly fun to just break it through and look at the recipes. That is, the ones we've tasted so far have been good as well. Would also recommend if you're an avid cook who highly likes the elder scrolls.
If you're an elder scrolls fan...you need this...immediately..

Derived From Web

, Feb 26, 2021

I am an avid fan of the Elder Scrolls and I literally screamed out of pure excitement not only when I found out that it even exists, but when I bought it! Its a delicious cookbook filled with beautiful recipes. I can not wait to use this for dinner parties or just regular breakfast, lunch or dinner, even drinks!! Absolutely perfect! !
One Son Now!

Derived From Web

, Nov 28, 2020

I have this book for my sons. They took to killing a dragon to get some meat for one of the recipes. Dragon killed all but one, who then ate the dragon while it was sleeping off the food coma. This book has literally saved me thousands of dollars in educational costs.
Belly full of mead

Derived From Web

, Aug 29, 2020

Great recipes love most of the book so far, and it teaches you to make MEAD. And has sparked a new hobby for me.
Great cookbook, terrible seller

Derived From Web

, Apr 16, 2020

I have no problem with the contents of this cookbook. I made one of the main meals and turned out great! Yes, I am aware that there are recipes that don 't tell you when an ingredient should be fixed and some ingredient measurements missing, but I believe that can be done with either trial and error testing or Google. The issue I have is that I paid for a new book, but that is not what I received. The box that came with the book was too big, which wouldn't be a problem if it was shipped with padding like bubble wrap or packing peanuts. The lower corner is bent, along with all the pages on that corner. When you open the book, the feel of the front page looks worn as if it was used as a display.
Amazing!

Derived From Web

, Dec 18, 2019

I love it so much, its hard to express! '' I have been a fan of older scrolls for a very long time and when i saw this post was announced, i freaked! I had to wait quite a bit before I could purchase it, but buying the fruit sweeter, no? It is honestly everything I hoped for and more! The book itself is very thick and sturdy and has a nice weight to it! However, the contents are where it gets amazing. The photos and artwork are so amazing! The little jokes and references and nods to Lore or side quests from one of the games makes this a pleasure to flip through. I am a big fan of hearty and rustic food and everything looks so delicious here i can 't wait to start cooking from this!
Wonderful!!!

Derived From Web

, Oct 12, 2019

I have a Skyrim tattoo and I am in love with it. I feel the same way about this book ''. The recipes are old and it even has some information about the Lore of the Awesome Scrolls in the book! As an added bonus, there is a section at the end where it shows vegetarian recipes and what recipes can easily be made vegan. My sisters family is vegan, so it is amazing that I can eat something that they can make!
Interesting recipes

Derived From Web

, May 13, 2019

This book is a godsend, especially for a Skyrim nerd like myself. Since I first got the game back in 2012, I've wanted to make some of the food seen in the game, and some that I had never seen. As an amateur in brewing, I immediately skipped to the drinks section and decided that I would eventually try making mead, and the Mead with Juniper berries piqued my interest most. I'm going to have so much fun with my mom making these recipes, with the first being Sheogorath's strawberry tarts. Why? '' Why is this important? Soon I'll have strawberries! cause I'll have 'll have strawberries soon!
Great collectable, decent cook book.

Derived From Web

, Apr 13, 2019

This book will provide a good foundation for several new recipes if you are a seasoned chef or experienced cook. Unfortunately, whoever edited this cook book made several glaring flaws. Some of the recipes instructions call for ingredients in quantities not specified in the ingredient list. Other recipes neglect cooking instructions. If the author came out with an errata, this could be a five star item.
Must have for Elder Scrolls fans!!!

Derived From Web

, Apr 8, 2019

Everything about this book is perfect with little things. Mostly personal preference. After they are boiled, the fried leaks would definitely be better served cut-side up, under the broiler, than fried in a pan. Considering that the had been boiled, pan frying leaves them slightly mushy. I also found the Argonian swamp shrimp boil to be a little heavy with soy sauce. I would personally use about half of the recipe - instructed amount, I'd personally use about half of the recipe - instructions. I have an image of my family dinner tonight : I am attached an image of my family. It consists of boiled cream cakes, grilled leeks and double-baked potatoes.