Buy 3 Get 1 Free
Our Best Sale Yet! Add 4 Books Priced Under $5 To Your Cart     Learn more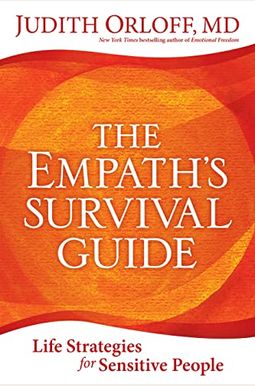  
The Empath's Survival Guide: Life Strategies For Sensitive People
Book Overview
What is the difference between having empathy and being an empath? Having empathy means our heart goes out to another person in joy or pain, says Judith Orloff, MD. But for empaths it goes much further. We actually feel others' emotions, energy, and physical symptoms in our own bodies, without the usual defenses that most people have. With The Empath's Survival Guide, Dr. Orloff offers a practical tool set to help sensitive people develop healthy coping mechanisms in our high-stimulus world--while fully embracing the empath's gifts of intuition, compassion, creativity, and spiritual connection.

This practical, empowering, and loving book was created to support empaths and anyone who wants to develop their sensitivities to become more caring people in an often-insensitive world. It helps empaths through their unique challenges and gives loved ones a better understanding of the needs and gifts of the sensitive people in their lives. In this book Dr. Orloff offers crucial practices, including:

- Self-assessment exercises to help you identify your empath type
- Tools for protecting yourself from sensory overload, exhaustion, addictions, and compassion fatigue while replenishing your vital energy
- Simple and effective strategies to stop absorbing stress and physical symptoms from others and protect yourself from Read More chevron_right
Frequently bought together
Frequently Asked Questions About The Empath's Survival Guide: Life Strategies For Sensitive People
Books like The Empath's Survival Guide: Life Strategies For Sensitive People
Book Reviews
(13)
Did you read The Empath's Survival Guide: Life Strategies For Sensitive People? Please provide your feedback and rating to help other readers.
Empathy's: you are NOT crazy

Derived From Web

, Jan 26, 2022

One day, my boyfriend told me that I was completely opposite of a person who was very nice. Look up what that is. That doesn't mean we are psychic. We need to get grounded by nature and not be so open to negative vibes. We need to guard ourselves from other people. Being super empathetic can be wonderful, if you read this book. Just need boundaries. Everyone comes to you with their problems and you feel drained. The book is calling.
feel good feel strong feel love. Buy this book

Derived From Web

, Apr 23, 2021

The book encouraged me to get out of the relationship I was in and to love myself more. This is a must read for me and I felt happy after reading it.
Full of New Age Nonsense

Derived From Web

, Aug 13, 2019

I assumed the book would be a self help book for empaths, since it was written by a Psychiatrist who was medically licensed. There are some good things in this book, but it throws a lot of New Age tricks at you as a remedy as well. Use some white sage on that! Try to get some good fortune! Meditate. There are hoshes! It's time to cleanse in water! A tree is a good place to hug a tree. You should picture yourself in a shield of light. Aromatherapy! Salt lamps! They have gemstones! I could keep going. If you're looking for someone to tell you to go out in the woods with a white candle, you've found the right place. Practical psychological advice is lacking. I would look for books in that section if I wanted New Age.
Must read for sensitive adults

Derived From Web

, Jul 29, 2019

I am less than 30 pages in, and I have never felt so reassured. I can not believe how much I identify with Dr. Orloff. I think you might be overly sensitive.
New Age A Little Left

Derived From Web

, Jul 12, 2019

There are some good points, but when I was told to put a meditation pillow in front of the refrigerator so I wouldn't over eat, I rolled my eyes. I need to pray and listen to what the Holy Spirit says. You should keep looking if you are a believer.
Read this, skip the other EMPATH books

Derived From Web

, Apr 26, 2019

This is written by a highly educated Psychiatrist and is worth reading and studying. I ordered several other books and am returning them, but beware of the 132 page 5x8 pamphlets written and self published by credential-less authors. I regret that Amazon is a place where anyone can write anything and appear to be an expert. Dr. Oloff is a well-published author. Credentials matter.
A must read for Empath's!

Derived From Web

, Jun 27, 2018

Anyone who is sensitive to other people's energy, or who has an empath in their own life, should read this book. Dr. Orloff's book covers the most important topics on empaths in today's world and is easy to digest. She gives tools to help empath's protect and honor their own sacred energy by explaining why empath's may take on other's energy. The gifts of being an empath are addressed in the book by Dr. Orloff. Being an empath is not a curse and it was important for me to hear this from an expert. I had a renewed sense of pride in my ability to empathise after reading this book. This book and Dr. Orloff's other work are recommended by me.
Real help for the "sensitive" souls!

Derived From Web

, May 26, 2018

Dr. Orloff will support you if you are an extra sensitive person. She gives stories and case reports from her practice. The book supports those of us who find life more difficult than others.
Awesome Book

Derived From Web

, Aug 30, 2017

I like Dr. Orloff's books. I like having a survival guide that is an empath and comes from the author's experience. I keep this book with me all the time because it's a real survival guide when I go into overwhelm or sensitivity to negative energy. This book is perfect for empaths.
A Gem of a Guide

Derived From Web

, Jul 23, 2017

Dr. Orloff has been a mentor since I read her first book. My awareness of my intuition has been raised by her books. The book is great. It gives practical suggestions and exercises which can assist empaths in understanding and living in challenging times. I have found it to be very helpful in guiding me as well as the patients I treat who are empaths. It is not a book to read quickly. It is a book to read with care. Your mind will be illuminated and your heart will be relieved as you begin to recognize your friends and family within its pages. Dr. Orloff has done a great job helping empaths and those of us who help them navigate life.