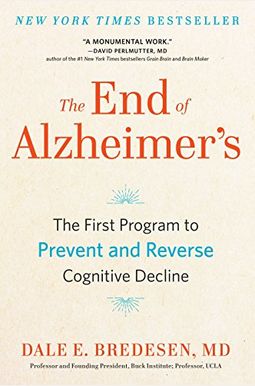  
The End Of Alzheimer's: The First Program To Prevent And Reverse Cognitive Decline
Frequently Asked Questions About The End Of Alzheimer's: The First Program To Prevent And Reverse Cognitive Decline
Book Reviews
(15)
Did you read The End Of Alzheimer's: The First Program To Prevent And Reverse Cognitive Decline? Please provide your feedback and rating to help other readers.
Alzheimer's

Kimberly Orf

, Jan 31, 2022

Excellent book that helps the reader learn about Alzheimer's. Help prevent this disease by following defensive mechanisms to improve brain help, from exercise, memory skills, nutrition and supplements. I would highly recommend this book.
Seems like it is mainly hype; not very helpful overall.

Derived From Web

, Oct 14, 2021

The remaining 13 are all about his research. Nobody really needs an advanced degree in medicine, even a doctor with a Ph.D. The later sections seem to have expanded the scope of the inquiry, even into supplements. It suggests measuring every blood and urine sample known to man and taking an amazing number of supplements. Of course, it also suggests getting plenty of exercise and eating a mediteranian diet - but then everybody knows that! Elsewhere, Vazzi's photos display images of people and things that are "outside the pale."
Book easy to use. Good vendors.

Derived From Web

, Jan 26, 2021

It's very helpful because it's easy to find the information and it doesn't take long to understand, Sosa said. It arrived a couple of days ago and I'm enjoying reading through it. Two kids from Michigan bought one. I sent him a new one, at a great price for a new book, arrived on time and was a great present that pleased him tremendously, it said. Brand new, I got this used one from Goodwill. It took longer to deliver but the product arrived on time. Great condition, said Seller B.J. Smith. "Very low price." He added that he and his brother will review the book "with our assessment of effectiveness of the book's advice in the future."
An End to Cognitive Decline in Sight

Derived From Web

, Aug 13, 2020

The product of more than 30 years of research, it continues to gain new knowledge. Many of the patients are now in recovery from cognitive decline and Alzheimers. The results of the first large sample study will be released in 2021 and early results are very encouraging, the report says. We, too, are part of the medical protocol to reverse Alzheimers and are hopeful to be included among the good reports in the near future, he said.
Encouraging, actionable

Derived From Web

, Dec 10, 2019

I don't have someone with Alzheimer's in my family, and am grateful for that, but I have two friends who passed away from this terrible affliction and aging relatives with growing dementia. This book is both encouraging, brimming with hope and provides a wealth of actionable strategies for preventing dementia, Levine said.
Information We All Need to Have

Derived From Web

, Apr 10, 2019

But this book is not the easiest to read, in terms of wading through a lot of technical information. But I didn't have to read all the technical information in order to get the most important information _ what is Alzheimers, what are the various forms of the disease, what does work and what doesn't work, he said. But I wanted to know all the details and all the whys so I did slog through the technical stuff. The book is the most important thing this book does is give hope, Tunick said. Because my sister was diagnosed with Alzheimers and thankfully she's got a great doctor who put her on the protocol and told her and the family to read this book. It's early in her treatment, but we're seeing improvements already, said Dr. Janet Grubb, director of the NIH's cancer center in Baltimore. The information in this book will most likely save her life, Mr. Rule told the judge.
Beware!

Derived From Web

, Aug 29, 2018

The book does not include accurate information about the number of people who have participated in the protocol, supervised by a doctor, nor the outcome rates of those who have done so. We paid 30k for the official immersion training program and have spent thousands more implementing the protocol. We have not had success and none of the other patients has either, he said. We're not getting any answers. Buyers beware: The buyer beware. It's a bitter disappointment, Mr. Rule told the judge.
Beware!

Derived From Web

, Aug 28, 2018

The number of people who have participated in the protocol, supervised by a doctor, and the outcome rates are not included in the book. We paid 30k to be a part of the official program and have spent thousands more implementing it. None of the other patients we are in contact with have had success. We' re not getting any answers. I don't think this is about sharing a scientific discovery. The buyer should beware. This has been a bitter disappointment.
My wife was diagnosed with Memory decline a couple years ...

Derived From Web

, Jul 2, 2018

I shared a copy with a friend who was a recently retired physician, and his comment after reading the book was this makes sense, do it! We have been following Dr. Bredesen's protocol for a couple months, and we are still trying to patch the holes, but we are hearing more physicians say they are comfortable with it. If you have any questions, consult Dr. Daniel Amen, author of "Memory Rescue: The Science of Rebuilding Broken Hearts." Dr. Amen and Dr. Bredesen are friends and are supporting the same direction of what we eat.
I wish I had known about this before my mother died.

Derived From Web

, May 27, 2018

My mother has Alzheimer's. I am so angry at doctors and the U.S. medical services for keeping this information from us, Diana said. Now I will tell everyone I can about this book, and hopefully help to save a few lives, Mr. Dhaliwal said.