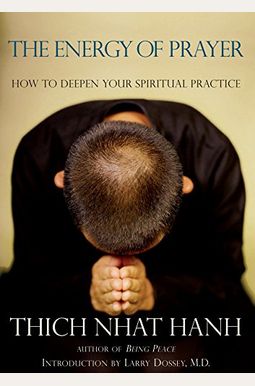 
 
The Energy Of Prayer: How To Deepen Your Spiritual Practice
Book Overview
In The Energy of Prayer Thich Nhat Hanh looks at the applications and effectiveness of prayer in Buddhist and other spiritual traditions and closely examines the question of why we pray. The Energy of Prayer introduces the reader to several meditation methods that re-envision prayer as an open, inclusive, and accessible practice that helps create healthy lives through the power of awareness and intention.
Life's fast pace leaves little room for reflection and attention to the present moment. To seek relief from stress and pain, we often turn to consuming in order to forget our suffering, but we soon find that material wealth is not enough to bring true happiness, and always leaves us searching for something more.
The Energy of Prayer
shows how prayer and meditation can offer a beneficial way to reconnect with ourselves while satisfying the basic human need to make a connection with something larger than our everyday self. Whether used as a daily practice, during times of crisis, or to express gratitude prayer serves many functions, and does not need to be tied to a particular religious or spiritual affiliation to be effective. Prayer has played an increasing role in the practice that Thich Nhat Hanh offers to his students. Rather than viewing it as dogmatic obligation, Buddhism views prayer as a form of energy, a way of communicating with one's
Read More chevron_right
Frequently Asked Questions About The Energy Of Prayer: How To Deepen Your Spiritual Practice
Books like The Energy Of Prayer: How To Deepen Your Spiritual Practice
Book Reviews
(16)
Did you read The Energy Of Prayer: How To Deepen Your Spiritual Practice? Please provide your feedback and rating to help other readers.
An excellent book that explores prayer from a Buddhist perspective.

Derived From Web

, Jun 1, 2022

Thich Nhat Hanh has written so many books that it is difficult to believe that he can continue to produce fresh thoughts for readers on such a personal and meaningful level. He is inclusive of the whole of humanity and of all that exists on our planet. It is a thought-provoking introduction to the power of prayer by a Buddhist master and practitioner.
Excellent Book

Derived From Web

, Jun 1, 2022

During a recent visit to my local Buddhist bookstore, I came across this little treasure. Needless to say, I began to read it immediately and had a hard time putting it down. In my opinion, it is a well written summary of prayer, which can be applied by any spiritual tradition or religious path and appreciated. Every time he hits the nail on the head, Thich Nhat Hanh addresses an aspect of prayer that many people, even those with a long spiritual tradition, may not be aware of. I not only recommend this book as a must for spiritual literature -- no matter what religion or path one follows -- but also use it with my students. Ven is a Ven. Fajian Shakya MelChiZedek, OHY, OLB Lotus Zen Temple Lincoln, Nebraska.
These words speak to all people.

Derived From Web

, Jun 1, 2022

Every day I read a passage. The words in this book speak to all people and to all religions. I often find myself thinking about the profound impact that Thich Nhat Han has on my life. All I can say is a heartfelt thank you and pay forward his kindness.
Helpful words from an old friend

Derived From Web

, Jun 1, 2022

By this time, I am into the double digits on the Thich Nhat Hanh books and feel that he is an old friend. This book is published in 2006 from a compilation of talks given ten years earlier. In this volume, I found his openness comparison of Buddhism to other religious practices particularly Buddhist and Christian parallels in the Lord's Prayer particularly interesting.
Very well written, what a deeply spiritual thought process ...

Derived From Web

, Jun 1, 2022

What a deeply spiritual thought process is very well written.
Very useful

Derived From Web

, Jun 1, 2022

I can read this book over and over again, he is one of the best authors and inspirational teachers I have ever met.
I like Thich

Derived From Web

, Jun 1, 2022

This is not my favorite book by Thich Nhat Hanh. Thich is another great job done!
Absolutely the best book I've read on prayer and I've read a ...

Derived From Web

, Jun 1, 2022

Definitely the best book I have read on prayer and I've read a lot. Nhat Hahn shares an interfaith perspective with the added understanding of energy and how we share it, and can influence the outcomes by sharing energy. He is so clear and humble. I have never read such simple explanations that go to the core of what prayer is or why we pray at all. I already read it twice.
A great read

Derived From Web

, Jun 1, 2022

I love his teachings so simple yet so nessasary. The importance of mindfulness should never be underestimated in the power of the mind, body and soul to heal. A quick simple reminder of this is that this book is to me what this book is.
This read was not very inspiring. I was looking for deep revelations about prayer . What I found was a survey of different

Derived From Web

, Jun 1, 2022