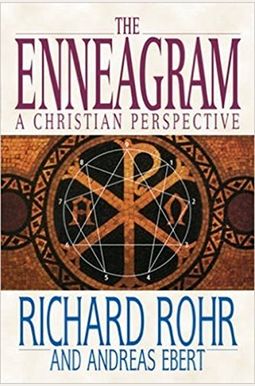 
 
The Enneagram: A Christian Perspective
Frequently bought together
Frequently Asked Questions About The Enneagram: A Christian Perspective
Books like The Enneagram: A Christian Perspective
Book Reviews
(15)
Did you read The Enneagram: A Christian Perspective? Please provide your feedback and rating to help other readers.
I have read a good number of Richard Rohr's books

Derived From Web

, Apr 27, 2022

I have read a good number of Richard Rohr's books, and I am just finishing one. The book is so insightful, and useful in just understanding people you meet or family members as well as yourself. I have never been sorry I took the time to digest any of his thought-provoking works, and I have found it wonderfully informative, Bruno said.
Deeply fulfilling.

Derived From Web

, Apr 27, 2022

Deeply spiritual and rewarding work. Thanks for the book.
Excellent source for reflection

Derived From Web

, Apr 27, 2022

The book is especially clear and accessible, Rohr said. He describes the wings and directional elements of the suit as well as or better than anyone I've read. He emphasizes the spiritual dimensions of the Enneagram, but in such a way that non-Christians can take as much away from this as Christians can. It is written in a style that differs from some, which are essentially lists of qualities, that helps to personalize the material. Great stuff, said Blair.
Enneagram made understandable and applicable

Derived From Web

, Apr 27, 2022

Richard Rohr's book is a great introduction to the Enneagram and is very practical in its application. Along with the book Understanding the Enneagram, this helps in a long way to make the Enneagram available to ordinary people. Even if you have all the training, you will still need a training session on the Enneagram. Good book, good book, good book.
A grain of salt is in order

Derived From Web

, Apr 27, 2022

I am not a practicing Christian, but I am more a 'possibilian,' he said. However, having said that, if you are able to set aside some of the "christian" directives this book is very helpful, rather it has been very helpful for me to see and better understand my own personality type. Thanks for the help, said Dr. Goin. My children for instance, will help with my relationships with them, Raymond said.
A Must for Christian Discernment Process

Derived From Web

, Apr 27, 2022

Great addition to my reference library. Great for Christian discernment using the Enneagram system. I appreciate the Franciscan perspective on Richard Rhor's works, Raymond said.
Love this book!

Derived From Web

, Apr 27, 2022

I've read this book and found it to be very good. You are truly at ease knowing more about yourself and those around you. It's a great book, and I give it out to many of my friends as a present.
Worth reading

Derived From Web

, Apr 27, 2022

It is written in a way that doesn't cut any punches about the challenges each of us has in identifying our problem root and learning to live on the redeemed end of the spectrum rather than the immature one. One result of real enneagram work for me personally is more compassion for each of the nine identified types of stress.
Beware! This is not a book for a Christian this is the occult

Derived From Web

, May 18, 2021

I'm not exactly sure what I expected when I bought it. It's a book for people who follow the Lord. It's demonic numerology. Sorry, we don't have room for this. I was in New Age, the occult before I got saved, he said. I burned all my books because I didn't want them in my home. If I couldn't get a refund, I would burn it. Anyone can use the Lord's Prayer in a book. He said one of his students had a spell that used the entire Psalms.
NOT Christian!

Derived From Web

, Jan 2, 2021

The book says: "The Christian perspective on the title is misleading." Rohr, who has no immediate plans to marry, is a Christian. Even then I was still completely caught off guard by how many times I was snagged on Roth's "version" of Christianity, which is really a mixture of Catholicism and perennialism. That is not the gospel message. The Enneagram should be avoided by professing Christians in general, but especially this book. The path to self-discovery is found in the Bible.