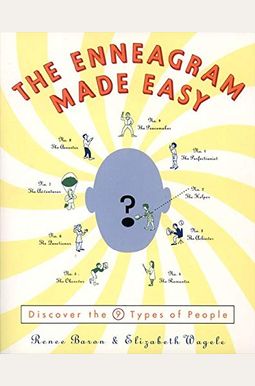 
 
The Enneagram Made Easy: Discover The 9 Types Of People
Book Overview
The first easy--and fun--guide to the Enneagram, the fascinating and revealing method of understanding personality types, for the beginner, the expert, and everyone in between. This witty and informative guide demystifies the ancient Enneagram system with cartoons, exercises, and personality tests that reveal our motivations and desires and show how to put that knowledge to use in our everyday lives.
The 9 Types of People:
The Perfectionist: Motivated by the need to live life the right way, improve oneself and others, and avoid anger.
The Helper: Motivated by the need to be loved and appreciated and to express your positive feelings towards others.
The Achiever: Motivated by the need to be productive, to achieve success, and to avoid failure.
The Romantic: Motivated by the need to understand your feelings and to be understood to search for the meaning of life, and to avoid being ordinary.
The Observer: Motivated by the need to know everything and understand the universe, to be self-sufficient and left alone, and to avoid not having the answer or looking foolish.
The Questioner: Motivated by the need for security, to feel taken care of, or to confront your fears.
The Adventurer: Motivated by the need Read More chevron_right
Frequently Asked Questions About The Enneagram Made Easy: Discover The 9 Types Of People
Books like The Enneagram Made Easy: Discover The 9 Types Of People
Book Reviews
(15)
Did you read The Enneagram Made Easy: Discover The 9 Types Of People? Please provide your feedback and rating to help other readers.
One of the best books on enneagram

Derived From Web

, Apr 22, 2022

This is one of the easiest to understand books on etymology that I have ever come across. I have a firm grasp of mbti and have been studying it for years, but enneagram has always confused me. The illustrations made me smile and the outlay of each chapter was so easy to read, Ms. Rule told the judge. It reads like an activity book rather than a novel, and is well written even for a non-enthusiastic reader. The book helped me pinpoint my type and I was able to explain it more clearly. Note it is a beginner's guide and does not delve into sx, so, and tritypes. I highly recommend this course to anyone looking to learn how to properly compound enneagram.
Best start to understanding personality types

Derived From Web

, Apr 22, 2022

The book explains a very complex subject in a very simple way without insulting your intelligence. It was great to be back with my family, said Blair. It provided a good basis for us to get a cursory understanding of different personalities and the way they react to situations differently, he said.
Helps to explore your ennegram type!

Derived From Web

, Apr 22, 2022

They have great, detailed illustrations of each type and ways we might be influenced by other types of illustration around the circle. I found it easier to picture where I might fit in, although I still think this is a growing process. This could be a good book for a library of books about etymology. I would have it be a stand alone for me as I am interested in the spiritual components of the book, he said. Added to the list are four temperaments: Akita, Bair, and Thibault.
... finally understand how to use the anagram from this wonderful easy book

Derived From Web

, Apr 22, 2022

Now I finally understand how to use the easygram from this wonderful book. I am a therapist and have started using it with my clients. Great book, great job, said Paul.
Understanding Enneagram Testing

Derived From Web

, Apr 22, 2022

This book is a useful reference for the beginner to the world of Enneagram testing. Mr. Cowger's web site has some helpful graphics.
It can take 1 hour to change your life

Derived From Web

, Apr 22, 2022

And, of course, there are 17 other personality types that are not jerks because they don't think like I do. It helped me undewarn myself as to who I am, he said. Four additional copies are available for sale to friends and family members of the writer.
Excellent book! Gives great information on each of the ...

Derived From Web

, Apr 22, 2022

The book is very good. Gives great information on each type of cell phone. I give them to friends as a great introductory book on the Enneagram. Many of the other type personality theories didn't work for me, he said. The neagram personalities are what drew me to this site in the first place. One type as our base, one we go to under stress, one we tend to take on when things are going well. The little cartoon situations that illustrate the types and their interactions make for great classroom materials.
Love it

Derived From Web

, Apr 22, 2022

She said she was still in the process of reading the entire book. But I love how they have all these tiny descriptions and things to look out for, like moths and butterflies. Each personality is defined by three sub-categories: "complex," "neurotic" and "neurotypical."
Really well done and easy to understand with a huge "but wait ... really?"

Derived From Web

, Sep 4, 2021

In The Enneagram Workbook, Dan Savage shows how to use the six basic Enneagram principles to clarify the meaning of relationships. Checklists are available at the Enneagram Resource Center, www. neagram. org. Lots of good information, witty writing, and an eye for the absurd, Michael Savage said. But it also contains distracting drawings and cartoons that look like they were done by an 8-year-old. The book looks so much like a coloring book, Mr. D'Antonio said. The cartoons really take away from the text - they're a distraction and make you feel like what you are reading isn't taken seriously! The authors need to seriously consider having the book redone without these dreadful comics or having a professional illustrator do them in a manner appropriate to their text and their subject. It could have been a 4 or 5, but the bad cartoons took it down to a 3.
Good read. Helpful for important relationships.

Derived From Web

, Mar 22, 2020

We're excited to be part of a new group, BetaGraphics, and to be able to share some of our favourite images. It was an easy, quick read, but meaningful to deepen relationships with others, Raymond said. I've enjoyed the cartoons and the commonsense approach to the neagram, he said. The book was free for all book buyers. The book didn't dive deep into interpersonal relationships and the enneagram. However, it did not demonstrate each type's weakness nor did it provide recommendations for playing well in the sandbox. Overall, I am pleased with the book and the study of the French.