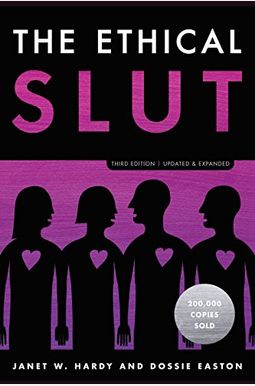 
 
The Ethical Slut, Third Edition: A Practical Guide To Polyamory, Open Relationships, And Other Freedoms In Sex And Love
Frequently Asked Questions About The Ethical Slut, Third Edition: A Practical Guide To Polyamory, Open Relationships, And Other Freedoms In Sex And Love
Book Reviews
(10)
Did you read The Ethical Slut, Third Edition: A Practical Guide To Polyamory, Open Relationships, And Other Freedoms In Sex And Love? Please provide your feedback and rating to help other readers.
Loved it!

Derived From Web

, Aug 19, 2021

If you're just starting out with the lifestyle, understanding ethical rules of polyamory is a great benefit.
Garbage

Derived From Web

, Mar 5, 2020

Lacks substance in the form of science. There are a lot of personal stories. It's just a fear of commitment and it's time to move on.
Recommended for those who know they want polyamory

Derived From Web

, Jun 27, 2019

The book provides an all too rosy and idealistic world of polyamory while ignoring the real struggles people face that are usually embedded within decades of life experience. It shakes off the conditionings as if they can be changed with a little work. This is more for the person who is actively pursuing the lifestyle than for someone who is considering opening an existing relationship for a current partner or someone who is dating a polyamorous person. Don't let your partners emotions get in the way of your fun, that's the synopsis of the book. This isn't without context. The book More Than Two pays homage to this text, but it is a more mature and compassionate look at the struggles you might face where as this book is selling dreams as if the work to achieve them isn't wrought from serious amounts of pain and grief in the process.
This book is everything.

Derived From Web

, Feb 14, 2019

The book has good relationship advice for anyone, even if they don't want their relationship to be open. This book has it all. My romantic life has benefited from learning and using strategies from this book and I've passed it on to many other couples who have had the same experience. If you've been wondering where to look for open and polyamorous relationships, you're in the right place.
Wonderful read!

Derived From Web

, Jan 13, 2019

Fantastic book! If you want to understand poly or any other type of nonmonogamous, non-traditional lifestyle, this is an excellent read.
I wish I read this 5 years ago

Derived From Web

, Sep 28, 2018

The book gave me a description of what I've been through for the first time. We opened up our relationship a while back. I would have liked to have had this book for the whole time. Everything I have learned about a healthy, open, honest relationship has been put into paper by this. Anyone interested in opening their relationship or understanding the non-monogamous world should read this. Everyone should read the jealousy section.
Best book ever.. highly recommended

Derived From Web

, Jul 1, 2018

This book is an excellent read, no matter what you are looking for in a book. If you have emotions and are involved in a relationship, you can learn something from this book.
A lot of good advice can be obtained from this book

Derived From Web

, May 15, 2018

This book has a lot of good advice. The writing style is preachy and so you may want to take things with a grain of salt. I think it matches as well as being referred to as hippy-ish writing. It's worth a read if you're looking to understand yourself.
A Masterclass on ALL kinds of Human Relationships [MUST READ]

Derived From Web

, Jan 5, 2018

The book should be called The epic Tome of Human Relationships. The meat of the book is more than worth the off-putting title. The book covers the full spectrum of human relationships from friendship to romance and everything in between. The book supports those who find themselves to be monogamous and encourages self- exploration. It is a book for everyone.
Great to read even if you're not polyamorous

Derived From Web

, Nov 3, 2017

I got the book to learn more about jealousy in relationships and how to overcome it, because I am not a polyamorous person. I would recommend this book to everyone, sluts and non-sluts alike. If nothing else, it will help you open your mind to the way that people around you are choosing to live, and maybe even give you ideas on how to create a better relationship. Common sense, emotional intelligence, and your own moral standpoint can be used as reference to evaluate how you feel about some of the things in this place. For sure, it was a great read.