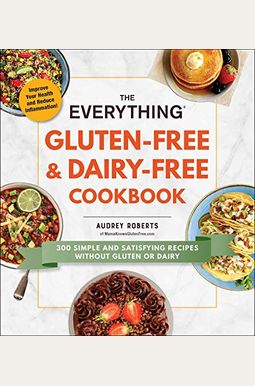 
 
The Everything Gluten-Free & Dairy-Free Cookbook: 300 Simple And Satisfying Recipes Without Gluten Or Dairy
Frequently Asked Questions About The Everything Gluten-Free & Dairy-Free Cookbook: 300 Simple And Satisfying Recipes Without Gluten Or Dairy
Books like The Everything Gluten-Free & Dairy-Free Cookbook: 300 Simple And Satisfying Recipes Without Gluten Or Dairy
Book Reviews
(13)
Did you read The Everything Gluten-Free & Dairy-Free Cookbook: 300 Simple And Satisfying Recipes Without Gluten Or Dairy? Please provide your feedback and rating to help other readers.
Very good cookbook

Derived From Web

, Jan 20, 2022

We have learned quite a few things from this book and so far all have been pretty good. I do wish there were pictures for the recipes, so I give it a 4 instead of 5.
My boyfriend is impressed

Derived From Web

, Nov 26, 2021

I got this cookbook because I breastfeed my daughter, who has a dairy intolerance. I had to go free dairy and I suck in the cooking. I made this cookbook and so far have 4 recipes that turned out all great! My boyfriend is happy with my cooking once '' and is happy with my cooking.
Brought me so much joy

Derived From Web

, Nov 15, 2021

Literally in love with this cookbook! It brought me so much joy and the recipes are absolutely delicious! The recipes are super simple and easy to make, especially for me. A lot of the recipes are some of my old favorites that I grew up eating, so it makes it feel more possible to still enjoy the things I used to! It is so nice to be able to look in one place and know that nothing I see will catch my hopes up, only to find out that it has gluten or dairy in it, like I do on Pinterest. Super easy to navigate and has a section for every occasion! Almost every meal makes enough for four or six people, so it makes it very nice for meal preparation or making for a group of friends'family! The picture is from the Sesame Chicken Recipe! Would definitely recommend to anyone ''.
Not worth it

Derived From Web

, Sep 18, 2020

I was expecting more recipes that removed gluten and dairy containing ingredients, not just substituting gluten free flour for normal recipes.
Everything gluten free/dairy book

Derived From Web

, Sep 17, 2020

This is by far my favorite cookbook, as I need to do Gluten Free and Dairy Free. She takes good old fashion recipes you may have grown up with and tells you how to change them gf and df. Momma is very knowledgeable and has done all the calories and info for you. I have found in the recipes that you can often sub with a all purpose baking mix like King Arthur and use it in your recipes. It is a wonderful shortcut! Sugar and chocolate chip cookies are one of my favorite favorites, and so easy to make! People like even if you are not gfand df. Order this cookbook, you will not be sorry!
Better not be vegetarian if you buy this...

Derived From Web

, May 22, 2020

I really enjoy the breakfast and dessert portions, but there are very few vegetarian options for the rest. I know it is not a vegetarian cookbook, but it would have been nice to see a few meatless options for meals.
Best Gluten Free Cookbook

Derived From Web

, May 15, 2020

I am skeptical, but this is the best Gluten Free cookbook I have found and I have quite a few. So far I have tried 3 recipes and turned out great. I have created the potato biscuits, the double chocolate chip cookies and the pancakes. My son, his wife, and my grandchildren love greatly loved the biscuits and the cookies. You could not tell them that they were gluten free. The pancakes did not taste too sweet. I would highly recommend this cookbook to anyone that is gluten-free. I am not cow-free, but do not drink cow milk, because I do not like the taste. Most recipes call for Almond Milk, which I buy. Sitten, however, could be used regularly if you wanted to use regular milk. I have used butter instead of the dairy free spread. Amazing gluten free cookbook - finally free cooking!
just do your own substitutions!

Derived From Web

, Apr 30, 2020

This is just regular recipes with dairy free buttery spread substituted for butter, and gluten-free flour substituted for flour. I '' was hoping for more insight and new ideas. I can make my own simple substitutions without having to use a separate cookbook.
Every Gluten-Free Person's Best Resource

Derived From Web

, Jan 20, 2020

I have been gluten-free for a year and tried many awful recipes unfortunately. But every recipe I tried in this book has been great! But every recipe I tried in this book has been great! The user should have complete confidence in the author's tried and true recipes and tips for complete confidence. She has been gluten free for 9 years or so. I haven 't needed the dairy-free component, but it is nice to have it and to benefit just the same from it.
Great for husbands

Derived From Web

, Nov 30, 2019

I am a follower of her blog, so I've been using some of these recipes for a while. They are amazing! Tried and true. But asking my husband to go to a blog site to pick out recipes is like asking a 2 year old to rood a house. After flipping through this book myself and seeing so many new recipes that I can 't wait to try, I presented this book to my husband. I asked him to pick a month's worth of meals so that we could grocery store in bulk. He's been reading it all week long, sticking post-its on pages!! So much easier to have a hard copy of in hand '', having a hard copy in hand.