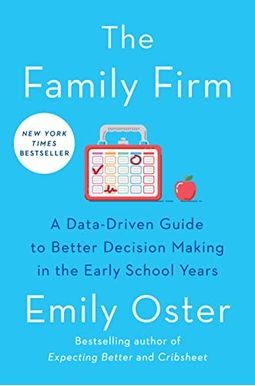 
 
The Family Firm: A Data-Driven Guide To Better Decision Making In The Early School Years
Book Overview
From the bestselling author of Expecting Better and Cribsheet, the next step in data driven parenting from economist Emily Oster.
Parenting is a full-time job. It's time we start treating it like one. A targeted mini-MBA program designed to help moms and dads establish best practices for day-to-day operations.It's all presented in the breezy, skeptical style that's made Oster's work a must-read for parents. -
The Washington Post
In
The Family Firm
, Brown professor of economics and mom of two Emily Oster offers a classic business school framework for data-driven parents to think more deliberately about the key issues of the elementary years: school, health, extracurricular activities, and more. Unlike the hourly challenges of infant parenting, the big questions in this age come up less frequently. But we live with the consequences of our decisions for much longer. What's the right kind of school and at what age should a particular kid start? How do you encourage a healthy diet? Should kids play a sport and how seriously? How do you think smartly about encouraging children's independence? Along with these bigger questions, Oster investigates how to navigate the complexity of day-to-day family logistics. Making these decisions is less about finding the specific answer and more about taking the right approach. Parents of this
Read More chevron_right
Frequently Asked Questions About The Family Firm: A Data-Driven Guide To Better Decision Making In The Early School Years
Book Reviews
(9)
Did you read The Family Firm: A Data-Driven Guide To Better Decision Making In The Early School Years? Please provide your feedback and rating to help other readers.
Phenomenal parenting book!

Derived From Web

, Feb 1, 2022

The personal anecdotes of Oster are endearing and illustrative. I regularly gift Expecting Better to new parents because it was so helpful for me as a new mom. I also gift the family firm, now. There is a lot of uncertainty in parenting and, as a control freak, Oster's work helps me to prepare for anything.
I highly recommend this fantastic book!

Derived From Web

, Dec 6, 2021

I found out about Emily Oster when my sister in law bought me Expecting Better. I also subscribe to her newsletter, so I was excited when this book came out. I really enjoy her writing style, the way she describes things and how she can make me feel less crazy in this world of parenting. The family firm helped me so much. It is not a book that will tell you what to do, but it will lead you in how to break a decision. This book does not feel like an expert giving you information ; it feels more personal than if you are reading something from someone you know. This book is so simple, buy it anyway!
Good book to think about parenting

Derived From Web

, Sep 22, 2021

It could have been the case that my expectations were somewhat high after reading Cribsheet, but I was very disappointed. I understand that there is not enough data on many issues when children are older, but this feeling like the author was giving advice rather than allowing the data to make decisions for me.
Georgia Faye A+ for active parenting

Derived From Web

, Aug 12, 2021

Emily Emily Oster is an active parent looking for answers and is happy to share her knowledge and data with her colleagues, the parent community that meets the needs for future careers. She is that knowledge and data strengthens your friend. The Pandemic has brought education home and parents are increasingly aware that they need a larger role in molding their child's tool chest. Stay tuned for more books coming out in 2022.
The roadmap I didn't know I needed!

Derived From Web

, Aug 9, 2021

As with her other books, the best thing about Oster is that she doesn 't preach or tell you what to do, she simply presents information that is relevant to whatever stage of parenthood you are in a smart, distilled way, so that you can make an informed decision. The added bonus of The Family Firm is her roadmap for decision making. My oldest child is 4 and we struggle with school entry and extracurricular questions and the way she empowers parents to think about decisions that will impact their family is super helpful and honestly would be relevant to a family ''. I feel like I am going to parent this book in a smarter, more confident way. Emily Oster thanks you as always!
Another great book for parents by Emily Ostere

Derived From Web

, Aug 9, 2021

I love all her books and have found them so useful as I navigate a first time parent. If you love the book and read it too, be sure to sign up for her newsletter!
Great book

Derived From Web

, Aug 8, 2021

I particularly like the first part as it gives you a general framework for making all kinds of decisions. On top of that, Emily Oster's books are fun to read, which is saying something since they are full of data and statistics!
Saving parents yet again!

Derived From Web

, Aug 8, 2021

I don 't know any scientists or data - driven people who don 't love her books. I love that they help you to find out with confidence what is right for your family!
Lacking Useful Information

Derived From Web

, Aug 5, 2021

I found Expecting Better and found Cribsheet useful to a degree, but this book misses the mark in providing useful information to me as a parent.